I've been watching Andrelton Simmons play shortstop since he came up with the Braves back in 2012. From the moment he burst onto the scene it was clear that he was an otherworldly defensive talent. His arm was incredible. His range was astonishing. His sense of where he was on the field and his instincts about what to do with the ball were unmatched.
I'll admit, however, that I've seen him less in the past couple of seasons than I used to. It's understandable: he no longer plays for my favorite team and he now plays most of his games after old men like me go to bed back east. The numbers have shown that he's still the best defensive shortstop around and the highlights which get circulated are still astounding, but I've not appreciated him on a day-to-day level like I once did.
But that just makes me more grateful for the highlights when I miss him in action. Like this one, from last night's game against the Astros. You can see it in high resolution here, but if you can't click over there, here's the play as it was tweeted around:
I didn't see last night's game, but my friend Dan Lewis tweeted this out a bit. His observations about it in this thread explain why what Simmons is doing here is so amazing: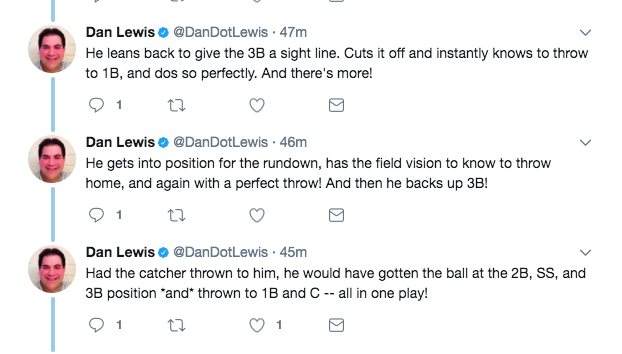 The lay-outs, the bobble-saves, the jump-throws and all of that spectacular stuff are understandably appreciated, but the various skills Simmons displayed in just this one play — not to mention the freakin' hustle he displays backing up third base after it all — is just astounding.
There hasn't been one like him for a while. We should all appreciate him while he's still in his prime.