Here are the scores. Here are the highlights:
Yankees 11, Twins 3: The Twins took a 3-0 lead, but after that it was all Yankees. Aaron Judge hit his AL-leading 45th home run and crossed the 100 RBI mark. Gary Sanchez went back-to-back with him in the third. Didi Gregorius hit a three-run shot. The Yankees are rolling at just the right time. Or at least that's what I'm reading everywhere, despite the fact that momentum is a false construct. And despite the fact that, hey, the world is probably going to end on Saturday.
Athletics 3, Tigers 2: Daniel Mengden tossed seven scoreless innings and continued to test my theory that, if they wanted to, sports writers could totally make up names for Oakland A's players and most of us would nod and say "hmm, OK . . . Mengden." Marcus Semien homered and drove in three as the A's swept the Tigers. Who, after a decade or so of being a team full of famous players, is about to enter a period when we could play the same game with their relatively anonymous players as we've played with teams like the A's for so long.
Marlins 9, Mets 2: Giancarlo Stanton hit his 56th homer and drove in three. In keeping with the silly trend of people pretending that passing Roger Maris at 61 would somehow be a significant record as opposed to merely a neat accomplishment, I am going to officially proclaim that Stanton NOW has the home run record. Hey, if subjectivity matters for things like this, so too does my personal subjectivity. The rundown:
Ken Griffey Jr. hit 56 twice, but he once used a Bed Bath and Beyond coupon that was expired, sullying it;
Luis Gonzalez and A-Rod at 57? They were Freemasons;
Four players hit 58 in a season once — Foxx, Greenberg, Howard and McGwire — but that sounds like a law firm, undermining the purity of the accomplishment;
Babe Ruth hit 59 and 60, but he purchased alcohol during prohibition, setting a terrible example for lack of temperance;
Roger Maris' 61 was hit in front of a half-empty Yankee Stadium crowd. The Yankees were amazing in 1961 and everyone was talking about him passing Ruth, so something fishy was going on. I'm going to guess radiation contamination on site scared people away and, in turn, powered Maris artificially, like someone in a comic book;
That just leaves Sosa, McGwire and Bonds and they murdered all of those people so it'd be wrong to honor them.
Congratulations, Giancarlo Stanton: The Single Season Home Run Champ!
Giants 4, Rockies 0: The Rockies lose their third in a row. Thanks to the Brewers losing too they keep their one-game lead for the second Wild Card, but they really need to cut this out. Brandon Crawford hit a solo homer and Matt Moore and four relievers combined to shut Colorado out.
Red Sox 9, Orioles 0: Chris Sale tossed eight shutout innings and struck out 13. In so doing he became just the second pitcher to strikeout 300-plus batters in a season in the last 15 years, joining Clayton Kershaw. Before that Curt Schilling and Randy Johnson accomplished the feat in 2002 (Johnson also did it in 2001 and 2000 as well). Sale is just the second Red Sox pitcher to do it, following Pedro Martinez, who did it in 1999. Mookie Betts and Deven Marrero went deep for Boston. The Red Sox have clinched a playoff spot.
Phillies 7, Dodgers 5: Aaron Altherr hit a tying, two-run homer in the seventh. The Dodgers added a run, so Altherr hit a tiebreaking, two-run single in the eighth. That's three in a row over the Dodgers for Philly. They go for the sweep this afternoon. The Dodgers have lost four straight and 20 of 25. Their magic number for the NL West remains at two.
Pirates 6, Brewers 4: Adam Frazier hit a two-out, two-run, walkoff homer off of Corey Knebel, averting extra innings and giving the game to the Buccos. Knebel's streak of 21 consecutive save chances converted ended just before that when his own throwing error allowed the Pirates to tie it. We all have a bad day sometimes.
Royals 15, Blue Jays 5: Mike Moustakas broke the single-season home run record for the Royals. But, like I said above, this is all apparently subjective now, so I'm gonna stick with Steve Balboni's 36 as the true mark, because this: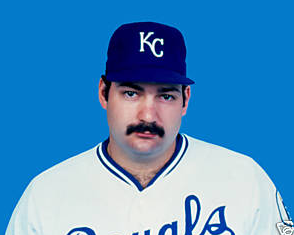 Salvador Perez and Whit Merrifield also went deep as the Royals victimized Brett Anderson for eight runs on seven hits in an inning and a third and rattled off 18 hits on the night.
Cardinals 9, Reds 2: Dexter Fowler homered for the third straight game. Matt Carpenter and Paul DeJong also went deep, Tommy Pham had three hits and two RBI and Yadier Molina added a two-run double. Luke Weaver allowed two runs in five innings to win his seventh straight start, making him the current active leader in consecutive wins.
Rays 8, Cubs 1: The Cubs seven-game winning streak comes to an end thanks to Blake Snell's two-hit, seven shutout inning performance. The Cubs now open a four-game series in Milwaukee. They have a three and a half game lead over the Brewers and can either put them away or give us an exciting last week of the season. So, nothing personal Cubs fans, but let's go Brewers.
Nationals 7, Braves 3: The Braves had a 2-1 lead heading into the eighth and then the Nats went and put up a six-spot. Three of those runs came on bases loaded walks from Arodys Vizcaino. Maybe Brandon Snitker is a fan of the movie "Tin Cup" or something. I don't know. I'm just glad I wasn't feeling well last night and took a NyQuil at 9:30 and missed it.
Astros 4, White Sox 3: That's six straight wins for Houston. Yuli Gurriel had three hits, including a two-run double, Brad Peacock allowed two runs on only one hit in six innings.
Diamondbacks 13, Padres 7: Hunter Renfroe hit three homers. Wasn't enough, though, as the Dbacks overcame a 6-2 deficit and scored 11 runs in the final four innings. J.D Martinez, A.J. Pollock, David Peralta and Jake Lamb all went deep for the Snakes.
Indians 6, Angels 5: Four wins in a row for Cleveland who is now 26-1 over their past 27 games. They haven't lost a road game since August 20. This is just crazy stuff. Francisco Lindor snapped a seventh-inning tie with a two-run homer and  Edwin Encarnacion and Jose Ramirez added RBI singles. The Angels remain one and a half back of the Twins for the second Wild Card.
Rangers 8, Mariners 6: Rougned Odor hit a grand slam to cap a seven-run fourth inning and the Rangers held off Seattle. Alex Claudio earned a six-out save. The Puerto Rican native was distracted and worried about his family and homeland in the wake of the destruction wrought by Hurricane Maria. I have no idea how anyone could concentrate under such circumstances, but he did.