Here are the scores. Here are the highlights:
Indians 3, Royals 2: Amazingly, the Indians never ending winning streak had not featured a walkoff win. They changed that last night by rallying from a 2-1 deficit in the bottom of the ninth and then winning via Jay Bruce's RBI that drove in Jose Ramirez. Ramirez, by the way, was only able to score because he hustled his butt off to turn his single into a double. Every little thing counts when you're winning 22 games in a row, of course. Not that anyone is alive who would know that before now.
White Sox 17, Tigers 7: Avisail Garcia had a five-hit, seven-RBI day. He's the fourth player this season to have five hits and seven RBI in a single game. He did his damage via a two-run single, two RBI singles, and a three-run home run. Garcia is batting .333/.380/.509 with 17 home runs, 77 RBI, and 67 runs scored across 503 plate appearances this season. Back when he was with the Tigers they used to call him Little Miguel, due to his resemblance to Cabrera. He's finally grown into that moniker. And yesterday he showed the Tigers what they're missing.
Yankees 13, Orioles 5: The Baltimore Orioles were owned by Peter Angelos until April of this year. Since then, they have been owned by Aaron Judge. Jude hit two more homers against the O's last night — both three-run shots — brining his season total against the Orioles to 11. He's batting .472/.611/1.170 versus Baltimore in 2017, which is practically obscene. Overall his homers were numbers 42 and 43 on the season, brining him to within six of Mark McGwire's rookie record.
Phillies 10, Marlins 0: After Wednesday's game, which the Marlins lost 8-1, Don Mattingly said "My whole career, playing, coaching, that was the worst feeling I've ever had after a game." Then he walked into the ballpark last night and saw his men get slaughtered 10-0. As was the case Wednesday, Rhys Hoskins homered.  Freddy Galvis and Jorge Alfaro also went deep as the Phillies scored two in the first and seven in the second to give Mattingly ample time to stew. Or, based on his comments after this one, maybe he used the time to ascend to some higher plane where such things don't matter:
"I didn't have any problem with tonight except for the first two innings," Mattingly said. "The guys kept fighting all night."
The Marlins lost their fifth in a row and 15th in their last 17 games.
Nationals 5, Braves 2: Rookie Victor Robles tripled and scored in the fourth. Most players would've had a double on the ball he hit there. His speed may have also been a contributing factor to a throwing error that allowed him to take second and another runner to take third later in the game. Both of them would then score. Quite the spark plug the Nats have in Robles.
Red Sox 6, Athletics 2: Andrew Benintendi went 3-for-4 with two doubles and three driven in. Drew Pomeranz won his 16th game with one-run ball over six innings. It was close the entire time Poemeranz was in the game, though. Indeed, he finished his outing by striking out Matt Olson, who had taken him to a full count with two men on in a 1-1 game. Boston scored two while Pomeranz was still pitcher of record in the bottom half of the sixth to give him the win and then added more late.
Cardinals 5, Reds 2: Luke Weaver threw six innings of two-hit, one-run ball and Tommy Pham drove in two and stole two to join the 20-20 club. Not bad for a couple of guys who began the year in Memphis. The Cardinals have won five of their last six and nine of 12.
Diamondbacks 7, Rockies 0: Zack Godley tossed eight shutout innings, scattering five hits and A.J. Pollock capped a five-run first inning for the Dbacks with a bases loaded, bases clearing double. He'd add another RBI later to give him four on the day. Also: both teams were wearing vests: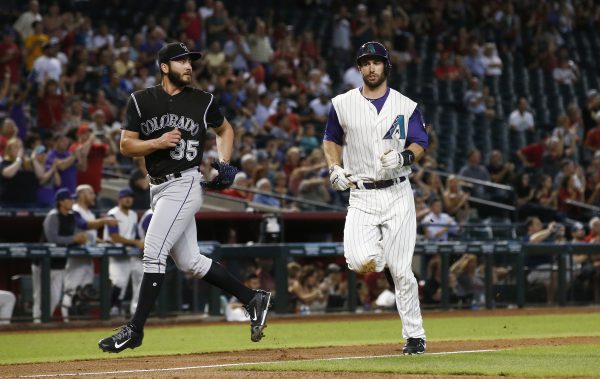 That's just . . . eww.
Mariners 10, Rangers 4: Nelson Cruz went 4-for-4 with a home run and Kyle Seager hit a two-run homer. Felix Hernandez made his first start since the end of July and, though he was limited to 54 pitches, having him back on the mound was a boost to the M's, who have won three straight.
Cubs 14, Mets 6: Anthony Rizzo homered and had three hits, Kris Bryant drove in a couple and Jason Heyward homered and drove in four. he Cubs sweep the Mets, outscoring them 39-14 in their three-game series. The Cubs extended their NL Central lead to three games over Milwaukee and St. Louis. The Cardinals come to Chicago for a big three game series this weekend.
Twins 3, Blue Jays 2: Byron Buxton hit a 10th-inning homer to give the Twins their second straight walkoff win. Buxton has hit four homers in four games against Toronto this season. If Aaron Judge owns the Orioles, he's at least put a down payment on the Blue Jays.
Astros 5, Angels 2: Yuli Gurriel had three hits and drove in a run, Marwin Gonzalez added a two-run double and Brad Peacock was solid as the Astros reduce their magic number to three. The Angels, meanwhile, have fallen three back of the Twins for the second Wild Card.