UPDATE — 3:00PM: Major League Baseball has issued a press release acknowledging that the replay officials messed up the call and that Brandon Crawford should have been credited with a home run. MLB "regrets the error."
9:58 AM: Last night the San Francisco Giants were trailing the Cardinals by four runs in the bottom of the ninth inning. Buster Posey reached second base and Brandon Crawford came to bat. Crawford hit a screamer down the right field line that was on its way into the seats, just by the foul pole. A fan reached out and grabbed it with his glove.
Sometimes that's bad, but here it shouldn't have mattered because of where the fan caught it: several feet above the green tin overhang in right field. If he had let it drop it was already clearly a homer, either because it would've made the seats, hit the foul pole or, most likely, hit that green tin. The umps on the field recognized this and called it a homer.
Cardinals manager Mike Matheny challenged the call, however. After a four-minute review, they overturned it, called it a ground rule double and sent Crawford to second base. Watch the play here and ask yourself how in the heck they got this wrong:
If you don't want to watch all of that, just look here, at the moment he fan catches the ball: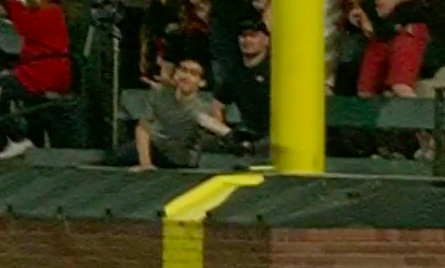 Again: anything on the green is a homer. Hitting the foul pole is a homer. In the seats is a homer. The fan didn't pull it back fair from the other side of the pole, he's catching it on the fly and not jerking it back toward him. How this isn't a homer is beyond me.
I'm generally OK with replay, despite its many problems, but I have no idea how this is not a homer. Especially given that the umps on the field called it one, which would require conclusive evidence that it WASN'T to reach the call the replay officials made.
The Giants season is essentially over at this point, but you still gotta get the calls right. They got boned here.