Earlier today we wrote about how the replay officials covering last night's Cardinals-Giants game messed up the replay review of a ball hit by Brandon Crawford. The call on the field was a home run but the replay crew overturned it, awarding Crawford a ground rule double. For reasons explained in our post, the call was totally blown and should've remained a homer.
A little bit ago Major League Baseball issued a press release acknowledging the mistake: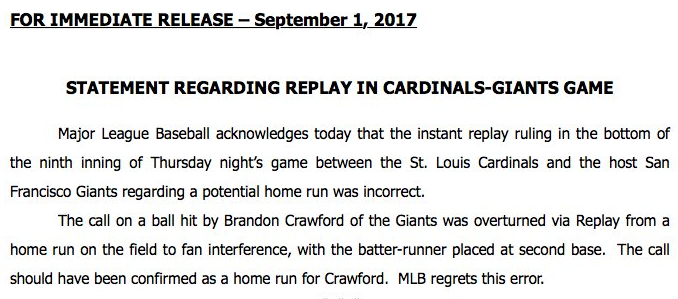 That's cold comfort for Crawford and Giants fans, but it's not like there's a mechanism in place to replay the game or give him the dinger. And, of course, given where the Giants are right now, the mistake has no impact on the playoffs or anything. We'll shed a tear if Crawford falls one homer short of some epic milestone, but until then it just kinda stinks. Life kinda stinks sometimes. There's not always a satisfying remedy.