Today the Braves, like a lot of teams, made a series of roster moves in order to shift players around and/or make room on the 40-man roster. One of the moves they announced was their designation of 26-year-old infielder Micah Johnson for assignment.
That, in and of itself, would not really a big deal. Johnson has only played in four big league games this year and has only had four plate appearances. He's hit well in the minors, but it's not like he was forcing himself into the Braves future plans. He's a nice guy, it seems, but baseball is a business and sometimes players get cut.
The only problem? The Braves didn't actually designate him for assignment, even though they announced that they did. They chalked it up to "internal confusion," resulting from club officials talking about DFA'ing Johnson but ultimately deciding against it. The confusion led to a bit of awkwardness when Johnson himself learned of the alleged DFA via Twitter: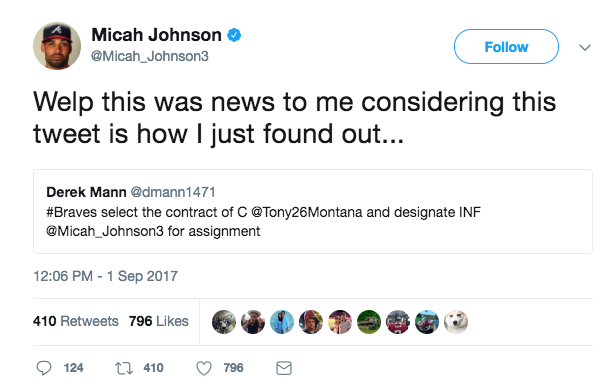 A few minutes ago the Braves retracted the DFA:
That has to make Johnson feel a bit better. But only a bit, I'd assume. I mean, imagine if your boss said "No, we're not firing you. We only discussed it so seriously that one person left the room with the impression in his head that we were firing you and said so via a press release." It certainly wouldn't make you want to bring in some new knickknacks for your credenza.