Here are the scores. Here are the highlights:
Dodgers 5, White Sox 4: Yu Darvish was OK, but not great in his Dodger Stadium debut and his teammates could only manage two runs off of White Sox starter Carlos Rodon, so they found themselves down 4-2 heading into the bottom of the ninth. As has so often happened this year, however, L.A. rallied. Cody Bellinger singled, Logan Forsythe doubled him in, Austin Barnes singled to put men on second and third and then Yasiel Puig came up to bat and doubled both Forsythe and Barnes in for the tying and winning runs. In so doing, Puig — who has been both hot and a consummate team player of late, will wonders ever cease? — becomes the ninth different Dodger to have a walkoff hit in their ten walkoff wins this year. They're now on pace for 116 wins, which would match the all-time record.
Ok, let us all note right now that four games finished with the final score of 7-6 last night. This is important. This means something.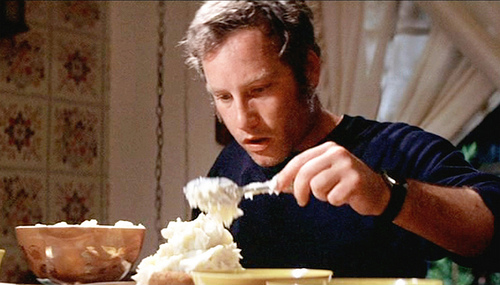 Brewers 7, Pirates 6: Milwaukee hit five homers yesterday, with Manny Pina's two-run shot in the eighth putting them over and giving the Brewers their fourth straight win. Keon Broxton homered twice and Neil Walker and Travis Shaw also went deep as Milwaukee moves into sole possession of second place in the central, a game and a half back of the Cubs.
Royals 7, Athletics 6: Oakland tied it in the bottom of the eighth with a Matt Chapman two-run homer but Alex Gordon hit a go-ahead RBI single in the top of the ninth to give the Royals the win. Here's A's manager Bob Melvin after the game, offering comments which basically mirror my internal monologue every time I have to recap a 7-6, 9-8, 10-7 (or something like that) game with lots of lead changes and crap pitching:
"It just was an ugly game all the way around. There was no pace to the game, and it just seemed like one of those games that was just blah."
I've been recapping scores for a decade now and I can say that such games are the hardest to recap, mostly because there's no great through-narrative. The easiest to recap are ones where a starter dominates. Not the best, just the easiest ("Shlabotnik tosses eight shutout innings, striking out 11 as . . ."). The best are ones are ones with big dumb fights and controversies or bad ump calls or something. Dramatic walkoffs are a close second. I should probably do a post some time with a bunch of bullet points discussing all of the dumb little things about writing these recaps that y'all probably don't realize. The only thing stopping me is that you probably don't care.
Mariners 7, Orioles 6: Yonder Alonso hit his first homer for Seattle and drove in three runs, Leonys Martin homered to give the M's what would be their winning run and Marc Rzepczynski struck out Chris Davis with the bases loaded to end an O's threat and the game.
Cubs 7, Reds 6: This game had everything. A first-inning grand slam, a stolen base from John Lackey (followed by Lackey getting picked off because he flew too close to the sun, apparently) and a walkoff wild pitch:
Mercy. I mean, really, how often do you see a game end when a catcher can't handle a throw to the plate?
Red Sox 5, Cardinals 4: Oh, well, more often than I imagined, I suppose:
That was Mookie Betts lining that two-run double off the Green Monster with two outs in the ninth inning, capping Boston's three-run game-winning rally. Xander Bogaerts opened the ninth with a solo homer. In between all of that, one of the weirdest things I can recall happening went down: Cards reliever John Brebbia was in his motion, when home plate umpire Chris Segal called timeout, negating the pitch and, you assume, messing with Brebbia's rhythm. It wasn't because the batter called time and Segal simply granted it too late — that happens a lot. No, it was Segal calling time on his own because "needed a break." Really. That's what he said to Mike Matheny when he came out to ask for an explanation. Matheny understandably went nuts and got ejected, saying "it's not your show." I'm no Matheny fan, but I'd be just as pissed in his place.
Padres 3, Phillies 0: Clayton Richard had a three-hit, complete game shutout. See: those are easy to write up. That's really the whole story of the game. Next!
Ah, damn, not the whole story:
Wil Myers' feat marks the first time a player has stolen all three bases in the same inning since Dee Gordon did it in 2011.
Yankees 5, Mets 3: Aaron Judge hit a massive homer into the third deck of Citi Field — I've been up there, brother, and let me tell you it's far — and Didi Gregorius broke a seventh-inning tie with a two-run double. I was watching this game at someone else's house as I had been drafted to babysit their toddler. Observations: (1) it's been almost ten years since I had a toddler, and no matter how cute and adorable they are (and this one is) I forgot how much is sucks to not be able to turn on a game until the fifth inning or so because of the playing and bedtime rituals and all of that, but I managed it; and (2) being forced to watch a Rick Sutcliffe-called game because you're in a place where you can't access your MLB.tv account is a high class problem to have but, buddy, it's a problem. Lord he's awful.
Blue Jays 3, Rays 2: Marcus Stroman allowed two runs while pitching into the seventh inning and Steve Pearce homered and scored twice. The Rays have scored two or fewer runs in nine of their past 12 games. They're 1-8 in those games, which makes a lot of sense.
Rangers 12, Tigers 6: Texas sweeps the three game series thanks to Elvis Andrus' four RBI, which included the go-ahead run in the form of a solo homer. Joey Gallo (natch), Nomar Mazara and Adrian Beltre also went deep for the Rangers.
Astros 9, Diamondbacks 5: Josh Reddick hit a two-run homer in a four-run eighth inning and Charlie Morton allowed one run in six and a third. The Astros win back-to-back games for the first time in three weeks.
Rockies 17, Braves 2: Well that was a beatdown. Trevor Story had two homers and knocked in six, Mark Reynolds homered and drove in four, knocking four hits in all, and Gerardo Parra added three hits and four RBI. This was only the second-highest run total for the Rockies this year because Rockies.
Marlins 8, Giants 1: Giancarlo Stanton's home run streak ended but he still had two hits, scored a run and stole a base, so maybe he'll now go on some crazy small-ball tear. Tomas Telis drove in three for Miami. Jose Urena allowed only one unearned run over five and three Marlins relievers held San Francisco scoreless for the final four frames.
Angels 3, Nationals 2: Ryan Zimmerman hit a two-run homer in the first but Luis Valbuena hit a solo shot for the Angels in the fifth and Cole Calhoun hit a two-run blast in the sixth and that was all the scoring there was. The Angels have won seven of eight and sit alone in the second Wild Card spot in the American League. Who woulda thunk it?
Indians vs. Twins — POSTPONED:
I've been loving you a long time
Down all the years, down all the days
And I've cried for all your troubles
Smiled at your funny little ways
We watched our friends grow up together
And we saw them as they fell
Some of them fell into Heaven
Some of them fell into Hell
I took shelter from a shower
And I stepped into your arms
On a rainy night in Soho
The wind was whistling all its charms