Here are the scores. Here are the highlights:
Red Sox 12, Indians 10: The wildest game of the year. The Indians somehow scored seven runs off of Chris Sale. The Red Sox beat up Carlos Carrasco too, and after two innings it was 5-5. Then some of the game's best relievers got got. The Sox somehow scored three runs off of Bryan Shaw. The Indians somehow scored two runs off of Craig Kimbrel. The Red Sox scored a run off of Andrew Miller, causing him to blow a save and they scored three runs off of Cody Allen, beating him with a Christian Vasquez three-run walkoff home run.
Oh yeah, and this happened too:
Craziness. Pure craziness. Hell, the Vasquez homer shouldn't have even happened, except Mitch Moreland, who struck out for what should've been the game's last out right before it, reached first base when strike three went wild.
Marlins 7, Nationals 6: Max Scherzer hit his first career homer, followed son after by a Howie Kendrick homer, which gave the Nats a 6-0 lead in the second inning. But then Scherzer left the game right after that with neck spasms, opening the door for a Marlins comeback. They walked through that door, scoring one in the third, two in the fourth and four runs in the fifth off of a team of Nats relievers. Marcell Ozuna's three-run homer tied it up and Derek Dietrich's RBI triple put the Fish ahead. Five Marlins relievers combined to shut the Nats out for six innings. As for Scherzer, he said he just slept funny on his neck the other night and that it'd been bothering him. He should be fine.
Cubs 16, Diamondbacks 4: Jon Lester joined Max Scherzer in the First Time To Ever Hit a Homer Club. He did not leave the game afterward like Scherzer did, but he was inefficient enough on the mound to only last four innings, failing to qualify for the win on a night his team scored 16 runs. He did get his 2,000th career strikeout, though, so that's something. Anthony Rizzo went deep twice and Ian Happ and Javier Baez also homered. Rizzo, Baez and Albert Almora Jr. each drove in three runs, and Kris Bryant and Willson Contreras had two RBI apiece.
Blue Jays 8, White Sox 4: Justin Smoak homered for the second straight night. Josh Donaldson homered for the second straight night as well and drove in three runs. Tempers flared and benches emptied briefly in this one after Marcus Stroman started barking at Tim Anderson, who had just struck out and was muttering to himself. Here's Stroman:
"It seemed like he wanted to talk the entire way back to the dugout after striking out. I got the ball back from Donaldson after throwing the ball around, and he was still continuing to talk, so I asked him what he was saying. He continued to talk more, so I walked toward the dugout. I thought he had a problem. I don't understand why he would be running his mouth walking back to the dugout. It made zero sense to me."
Whatever Marcus: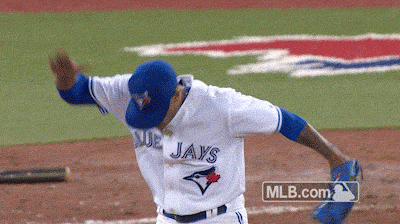 In other news, Stroman was ejected from a game last week when he was talking to himself after not getting some calls he wanted. I presume Stroman thought that he himself was out of line in that instance and took no issue with his ejection.
Orioles 7, Royals 2: The O's win their fourth in a row as Dylan Bundy allowed three hits over eight innings — a career high for him — and newest Oriole Tim Beckham had two hits and scored twice. Baltimore is three and a half games out of the Wild Card with four teams ahead of them. Too early to call them true contenders in my book, but the win streak is nice.
Tigers 4, Yankees 3: John Hicks — just called up from Toledo — hit a three-run homer and Justin Upton hit a solo shot off of CC Sabathia and the Tigers new-look bullpen made it hold up. It was Sabathia's 500th career start if you care about such things.
Reds 9, Pirates 1: Billy Hamilton went 2 for 4 with a triple and a three-run homer. Rookie Jesse Winkler and Eugenio Suarez homered as well. Winkler would've had another one if it wasn't for this Starling Marte catch, which if it wasn't for Jackson's, would've been the catch of the night:
Dodgers 3, Braves 2: The Braves debuted a couple of rookies in infielder Ozzie Albies and starter Lucas Sims. Albies was 0-for-2 but walked and scored and Sims pitched six decent innings. Decent is not enough to beat baseball's best team, however, as Kenta Maeda shut the Braves out on two hits over seven innings and Cody Bellinger went deep. The Braves threatened late with a Johan Camargo homer, but it was too little too late.
Brewers 3, Cardinals 2: Jimmy Nelson allowed two runs over six and a three-run first inning held up for the Brewers. Manny Pina doubled in a run, Domingo Santana knocked one in with a single and Ryan Braun grounded out to plate a run as well. After that first inning outburst Milwaukee would only have two singles for the rest of the game, but they didn't need any more.
Mariners 8, Rangers 7: Robinson Cano doubled twice and drove in three, Nelson Cruz homered and Leonys Martin had two hits and two RBI. Joey Gallo had two homers and four RBI in a losing cause. One of his homers was a moon shot:
MLB's StatCast said that was 456 feet. I think StatCast is drunk, because that ball traveled way more than 456 feet. Just right of dead center at Globe Life Park is 407 feet. His ball landed on top of that club section way beyond that wall.
Rays 6, Astros 4: Evan Longoria hit for the cycle, driving in three runs. Logan Morrison hit a solo homer and drove in two. Chris Archer allowed six hits, four runs and struck out five in 6-plus innings to get his first win since July 4.
Rockies 5, Mets 4: Nolan Arenado hit a three-run homer in the sixth and then singled in Charlie Blackmon in the ninth to break a 4-4 tie and give the Rockies a walkoff win. Blackmon had made a nice crashing-into-the-wall catch to end the top of the ninth, setting up the heroics.
Giants 10, Athletics 4: Jeff Samardzija allowed four runs — three earned — in eight innings of work, backed by a three-run homer from Hunter Pence, a two-run shot from Nick Hundley and a solo blast from Brandon Belt. The Giants' three homers matched their season high. Which, in a homer happy year like this one seems pretty low. That's the 2017 Giants for ya, though.
Angels 7, Phillies 1: Albert Pujols hit his 608th career homer and drove in five. He's had three homers in the past two games, which followed a stretch where he went hitless for five games. He's a shell of his old self, but he can still put a sock into one once in a while. One more homer and he ties Sammy Sosa. After that, Jim Thome (612) is in his sights.
Padres 3, Twins 0: Jhoulys Chacin tossed seven shutout innings and Kirby Yates and Brand Hand completed the blanking of the Twins. Austin Hedges hit a two-run homer for the Padres.