In today's St. Louis Post-Dispatch there's a story about the young Cardinals backup catcher, Carson Kelly. It's not a controversial story by any stretch. The standard "get to know the young guy" kind of thing. A quote in the story, however, is stoking controversy between the Cards' starting catcher — Yadier Molina — and his manager.
Here's Mike Matheny, talking about a couple of starts recently given to Kelly:
"Yadi's caught a lot," Matheny said. "Yesterday, just kind of watching him go around the bases, too, you could tell that he's, you know…" Matheny changed course mid-sentence, but he was implying that Molina is tired.
Molina obviously read it, because here is what he wrote on his Instagram account, along with a screen-cap of the Matheny quote: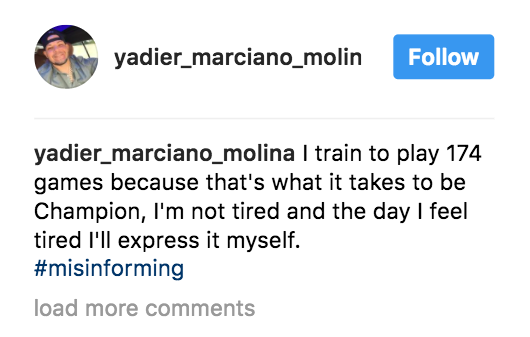 Alrighty then!
Molina has played in 86 games this year and is on pace for 137. He's hitting .275/.307/.414 with 10 homers and 44 RBI. It's not his worst season — his 2015 was worse than this — but it's also not at the level he's established over the years. Numbers aside, it's not unreasonable to think that a catcher with 14 years on the odometer could use a break now and then, so it's not like Matheny is wrong.
It's just not the sort of thing players want to read about themselves. At the very least, not something Molina wanted to read.