Aaron Judge was probably the biggest individual story of the first half. While he didn't come completely out of nowhere, he certainly exceeded even the most optimistic of expectations. He leads all of baseball with 30 homers, leads all of baseball in on-base and slugging percentage, is fifth in batting average and seventh in RBI. If the season ended today, he'd almost certainly be the AL MVP. In light of that, it's not surprising that he was the primary focus of the All-Star festivities. His media scrums were the largest and his story was the biggest.
It was understandable to play up Judge in the days leading up to the All-Star festivities. His is a good story and he has an affable presence. It was also understandable to play him up heading into the Home Run Derby specifically. There are only eight contestants in that event and he was an obvious favorite. And, of course, Judge obliged those who put great All-Star expectations upon him by winning the thing. The preferred storyline of the baseball press corps was playing out nicely.
But pregame hype and a home run exhibition are one thing. Expecting Judge, or any other single player, to shine in a single baseball contest is quite another. Baseball, obviously, doesn't work like that. Unlike with superstars in basketball or quarterbacks in football, you can't count on any one baseball player — or at least a position player – figuring into the game's storyline. The utility infielder may very well have the biggest hit.
There was clearly an effort to fight this dynamic with Judge, however. There were some who felt — or maybe wished — that Tuesday night's game would be the Aaron Judge show. Over the past several days Judge was the obvious center of attention. He was asked, on multiple occasions, about being the new "face of baseball." There was a palpable desire for Judge to be the All-Star Game's shining star:
I love Castrovince. He's one of the best in the business. But in no other situation would he or anyone else, an hour and a half before the first pitch, suggest that any one player would shine in any one game. Which is what he is saying with that MVP comment. Either that or else he's suggesting a strong inclination among those in the press box to name Judge the MVP if he did anything short of fall on his face. Which, frankly, may very well have been the case. If it had happened, it would've put a nice cap on a week's worth of hype and validated a week's worth of writer and editor-driven storylines.
Baseball, however, did not cooperate. Judge went 0-for-3, striking out swinging in his first at bat, grounding out in his second and flying out in his third. Such a thing does not take a thing away from Aaron Judge and such a thing should not have been shocking. Even with his MVP pace, Judge has taken 0-fers 20 times this year. That's how baseball works. If you strip away the hype, last night was just a Tuesday night. One on which Judge was facing better pitchers than he usually does. It would've been weird to pre-write a hero narrative for him or anyone else.
Yet I get the sense many did. Check out this from Jerry Crasnick's column at ESPN.com. Again, Crasnick is one of the best in the business. He, more than most, understands how baseball does not lend itself to NFL and NBA-style kingmaking: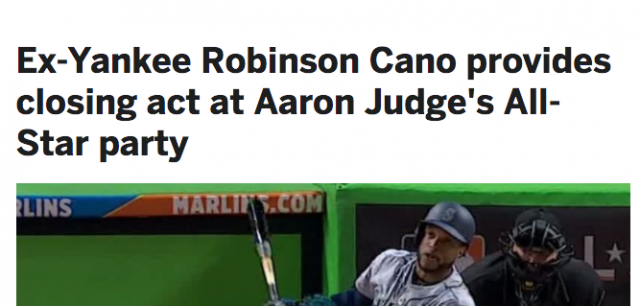 Probably worth noting that Robinson Cano, in addition to being an "ex-Yankee" happens to be in his fourth season with the Seattle Mariners, but I suppose that's the topic of another rant.
Crasnick doesn't write the headlines — I didn't see him calling this "Aaron Judge's All-Star Party" this week — but the framing of his column certainly notes just how much the past several days have been about Aaron Judge:
MIAMI — For much of this week's All-Star schedule in Miami, the focus was on young players, trendy players, and a running debate over which player will ultimately emerge and lay claim to the designation of "Face of the Game." Commissioner Rob Manfred didn't quite bestow New York Yankees outfielder Aaron Judge with that distinction when asked for his opinion Tuesday. But he had to admit, the kid has lots of potential.

So it was heartwarming for nostalgia buffs to see a different player with a Yankees pedigree provide the most enduring image from the 88th All-Star Game.
Column writing on deadline is hard so I don't begrudge Crasnick for that framing. That framing, however, does not make any sense unless there is a clear understanding that last night was supposed to be Aaron Judge's coronation. A coronation both predicted and hoped for.
Hoping for such things is folly. Baseball can't hype its stars the same way the NBA or NFL can and it shouldn't try to. Fox can't run a commercial for a weekend tilt between the Nationals and Cubs with "HARPER! BRYANT! THIS SATURDAY! BE THERE!" Harper and Bryant may combine to strike out five times. Even Babe Ruth went 0-for-4 on occasion. In doing so with Judge this past week, baseball forgot what it is for a little bit. It may have been understandable, but it was still misguided for it to do so.
Baseball defies prediction and prepackaged storylines. It can be eagerly anticipated and enjoyed in the moment, but it can only truly be understood and analyzed after the fact. Baseball just happens and what happens is far more random than what happens in any other sport. That may make it hard for those who want to sell a storyline, but it's what, in my view, makes it wonderful.