Commissioner Rob Manfred is down in Miami doing his usual MLB Jewel Event media availability.
The topics he's asked at these pressers range all over the place, touching on all manner of things. In the next few hours you'll hear quotes from him about pace of play, the Marlins sale and a dozen or two other pressing issues of the day. Most of the time he says . . . nothing. At least nothing of substance. He's big on talking about how he hasn't ruled this or that out or how he's pleased or confident about the non-specific progress that is being made with, well, whatever. That's what an experienced leader does. You can't step into controversy if you don't step at all.
He was asked about the Dodgers TV deal a little while ago, however, and there he stepped in it a bit. Specifically, he was asked about the continued inability of the majority of baseball fans in southern California to see Dodgers games due to the rights carriage impasse between the Dodgers/Spectrum/SportsNet LA on the one hand and rival cable providers on the other. Manfred:
That may be news to his predecessor, who did exactly that with the same team a few years back: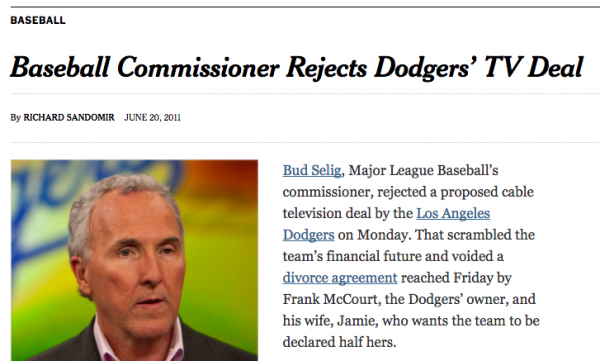 Selig's involvement in the earlier situation was actually way deeper than merely getting involved in a TV deal. He did so in order to make McCourt's ownership of the Dodgers untenable. To force him into bankruptcy and, eventually, to force him to sell the Dodgers. Along the way it disrupted Frank McCourt's divorce settlement too. The only way Selig could've become more involved was if McCourt had minor children and Selig ruled on custody matters, naming himself their legal guardian and making them call him "Daddy."
Which isn't to criticize Selig. He was doing so because it was bad for the Dodgers and bad for baseball for Frank McCourt to own the team. Selig inserting himself in a club's operations in the manner in which he did may have been unusual, but it was done in order to effect an outcome that, Selig would argue and most would agree, was in the best interests of Dodgers fans and the game.
In light of all of that, Manfred claiming that it's not in his job description to get involved with the Dodgers TV deal is not accurate. It's simply not in his interest. The current Dodgers ownership group remains in baseball's good graces and the current Dodgers TV deal remains in its financial interests (it's a LOT of money!). The fact that it is hostile to hundreds of thousands and maybe millions of Dodgers fans and the prospect of it eroding the Dodgers fan base over the long term is beside the point.
Manfred could, if he wanted to, insert himself here and exert some of his considerable influence to help broker a solution which would make Dodgers games available to more people. He just doesn't want to. Which is fine. All leaders have interests and priorities. It'd just be better if he admitted it rather than pleading powerlessness.