Here are the scores. Here are the highlights:
Red Sox 15, Blue Jays 1: Mookie Betts went 4-for-6 with two home runs and eight RBI. This is the second time in his short career that Betts has driven in eight, last doing it on August 14 last year against the Diamondbacks. He's the third guy to do it this season, following Scooter Gennett in his four-homer game last month and Anthony Rendon back in April.
Marlins 10, Brewers 3: Marcell Ozuna homered in the third inning. In the eighth inning — as an extension of some earlier gamesmanship — umpire Hunter Wendelstedt made Ozuna get a new bat because it had too much pine tar on it. Ozuna did, and then he hit another homer. Somewhere, George Brett is smiling. Gosh, the way I put that made it sound like George Brett is dead. He's not. He's totally alive. When I say "somewhere" it could be, like, the bathroom of some casino in Las Vegas after eating a bunch of crab legs or something.
Royals 6, Twins 2: Alcides Escobar had two hits and drove in two. Escobar had himself a series, in fact, going 7-for-16 with seven RBI. The red hot Royals take three of four and move into a tie for second place with Minnesota. Those of you who wrote them off in April probably feel silly. Yeah, those of, um, you. Yeah. Probably. I'd personally have no idea what that felt like.
Phillies 7, Mets 1: Nick Pivetta allowed one run on one hit — a T.J. Rivera solo homer — over seven innings. Maikel Franco and Daniel Nava each drove in two. In other news, my brother texted me this yesterday: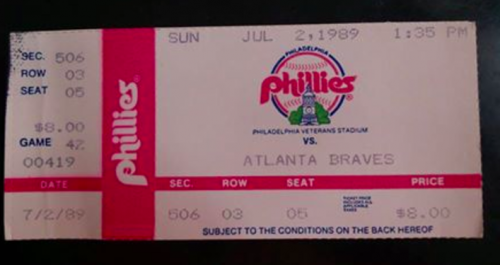 We were visiting our cousins in New Jersey and took them to that game. I was excited because we lucked into the Braves. I was also happy because John Smoltz tossed a complete game allowing only an unearned run. Lonnie Smith hit a homer. It was hotter than hell, but the tickets were only $8. They were way up in the RF corner, but we had binoculars. The weirdest thing: a few months after this game my brother joined the Navy and traveled the world. Then he moved a zillion times, ending up on the other side of the country, renting and crashing with people for almost twenty years. Yet he still has this ticket. I have been a homeowner have had a pretty stable address for nearly 20 years and I can't find my keys.
Braves 4, Athletics 3: Kurt Suzuki homered twice, once in the second inning and once leading off the twelfth inning. Jim Johnson got the win. Not because he pitched well, but because he blew the save after the Braves took the lead in the 11th and was still the pitcher of record when Suzuki went deep. Or . . . maybe he just knows how to win and stuff? Every think of that, smart guy?
Astros 8, Yankees 1: Yuli Gurriel singled, doubled and homered, Marwin Gonzalez hit a two-run homer and Carlos Correa smacked four hits and had drove in three. The Yankees have lost 14 of their last 19 and have dropped three games behind the Red Sox. Less than three weeks ago they led the division by four.
Diamondbacks 4, Rockies 3: Fernando Rodney faltered for the first time in  a long time, allowing three hits and a run but his teammates bailed him out in the bottom half, with a Brandon Drury single, a Chris Iannetta double and a walkoff RBI single from Ketel Marte. The Rockies have lost 10 of 11. They're Yankees of the National League.
White Sox 6, Rangers 5: The White Sox were down 5-4 in the eighth when Yolmer Sanchez hit a two-out, two-run home run. That blown save by the Rangers bullpen was their league-leading 17th blown save of the year.  The Sox win came despite a shaky outing from starter Jose Quintana, who gave up five runs in four and a third innings. Before that he hadn't allowed a run since June 16.
Giants 5, Pirates 3: The Giants had a five-game losing streak a week ago. Now they've won six in a row. I suppose you could say they're streaky. Either way, they're not as bad as they've looked at times this year. The team still has a lot of talent. That's not to say they're getting back in the race or anything — ain't happening — but they are better than they've showed. Here they were down 2-0 and rallied for five runs between the seventh and eighth innings. Or, I should say, in the seventh and eighth. The only thing that happened between the innings was TV commercials.
Orioles 7, Rays 1: Kevin Gausman tossed seven shutout innings and Manny Machado hit a three-run jack as the O's salvage one. Mark Trumbo homered as well and Seth Smith drove in two
Cubs 6, Reds 2: Check out the shade from the AP game story writer in Cincinnati:
[Jake] Arrieta pitched one-hit ball for seven innings without allowing a stolen base on Sunday . . .
Maybe Migel Montero was rude to him once? I dunno. But I do like the subtlety. Ian Happ homered twice.
Indians 11, Tigers 8: Jose Ramirez homered from both sides of the plate as the Indians lit up Justin Verlander seven runs and nine hits in less than four runs. Verlander didn't even strike anyone out. First time in a decade that's happened. Mike Clevinger allowed a run and two hits in six innings, striking out seven. The Tigers rallied late but it was too little, um . . . I already said late.
Mariners 5, Angels 3: Robinson Cano hit a three-run homer and James Paxton allowed one run over six and a third. Jean Segura had four hits and drove in two.
Padres 5, Dodgers 3: San Diego jumped out to a 4-0 lead after two innings and a 5-0 lead after four. Jhoulys Chacin pitched five scoreless innings, Manuel Margot homered and drove in two. Losing is no fun. Maybe that's why Kenley Jansen was so cranky afterward.
Nationals 7, Cardinals 3: Bryce Harper hit two bombs and Max Scherzer struck out 12 over seven two-hit, scoreless innings. Harper is hitting .318/.424/.601 and he's on a 40-homer, 122-RBI pace. Scherzer has a 1.94 ERA, a crazy 0.77 WHIP and is on pace to strike out 322 batters in 237 IP and win 20 games. The last guy to strike out that many dudes was Randy Johnson back in 2002, when he K'd 334. It'd be the 13th highest single season total since the end of the Dead Ball Era.