Not too long ago some rumors popped up about Bryce Harper wanting to sign with the Cubs when he hits free agency following the 2018 season. Such rumors are sort of silly this far out — and they almost always tend to be non-predictive of where the player eventually goes — but they tend to get folks excited or concerned, depending on who they root for.
With the Cubs in town to face the Nationals, Harper was asked about those rumors again. He wisely dismissed them, saying he had no idea where that stuff comes from. Which is what someone in his position should say.
Not that he's not going to have some fun with it. Check out his Instagram post with friend Kris Bryant. Specifically, check out the hashtag: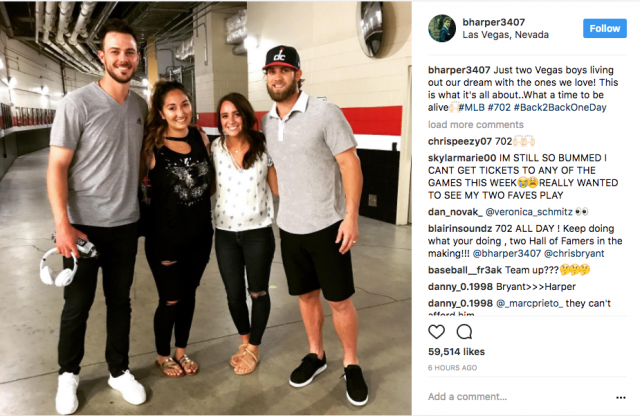 #Back2BackOneDay is, of course, an implication that he'd be hitting behind Bryant in the same batting order.
Harper is no idiot. He's not going to use social media, in the middle of a season, two seasons before he could even potentially play elsewhere, to send genuine signals about wanting to leave the Nationals and join the Cubs. He's just messing with the rumormongers. As he TOTALLY SHOULD by the way, because rumormongers deserve to be messed with.
Not that the rumormongers won't take this a genuine evidence of his intent. The rumormongers aren't big on subtle humor.