Here are the scores. Here are the highlights:
Yankees 14, Orioles 3: Aaron Judge went 4-for-4 with two homers, one of which was the longest home run hit in baseball this year. He also doubled, walked and scored four times. Judge has 21 homers on the year. Eight of them have come against the Orioles in a mere 12 games. Lost in all of that was Starlin Castro driving in five. New York has won five in a row and has scored 55 runs in those five games. They're just ridiculous right now, and they're being led by the most ridiculously good story of 2017.
Indians 4, White Sox 2: Carlos Carrasco allowed two runs in five and a third and got pulled when the White Sox were rallying. The Indians bullpen, however, does not abide rallies. Andrew Miller came in to put out the fire and he, Bryan Shaw and Cody Allen smothered whatever embers there were in the Chicago bats, tossing three and two-thirds of one-hit relief in total. When Cleveland has those horses rested and ready to go like they did here, the game is short for the opposition.
Rangers 5, Nationals 1: Austin Bibens-Dirkx allowed a run and three hits in seven innings while making his second big league start. In other news I refuse to believe that someone with a name like "Austin Bibens-Dirkx" is a 32-year-old rookie pitcher for the Texas Rangers and not am intense, high-powered, flamboyantly-dressed British magazine publisher with a dark secret. I mean, honestly, if someone showed you these two guys and asked you pick which one you think is named "Austin Bibens-Dirkx," which would you choose?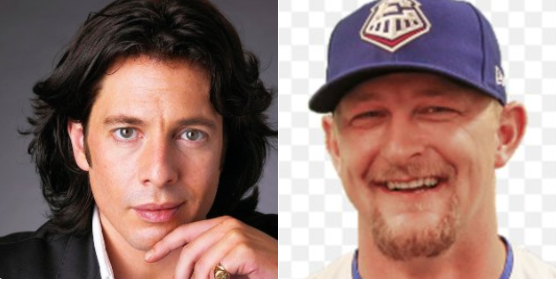 Dang right.
Oh, Max Scherzer lost the game but he also struck out ten and topped 2,000 strikeouts for his career.
Giants 13, Twins 8: The Giants' offense broke out just in time to help them avoid a three-game sweep. Buster Posey had three hits and four RBI. Hunter Pence added three doubles and scored three times. Oh, speaking of baseball names: it's a well-known fact that every person named "Hunter" is or was at one time a top baseball prospect. Really, if you ever meet a Hunter, it is 100% the case that they reached at least Double-A for some organization.
Rays 5, Athletics 4: Mallex Smith was called up on Friday to take the spot of the injured Kevin Kiermaier and quickly contributed, going 8-for-14 over the weekend including three hits in this one as the Rays take three of four from Oakland. The A's have dropped eight straight series on the road.
Mets 2, Braves 1: Seth Lugo, who has been on the DL all year, made his season debut and gave up only one run and six hits, striking out seven and walking two as New York takes three of four. Lugo also doubled and scored. Mets pitchers have given up only nine runs in the past five games.
Pirates 3, Marlins 1: Ivan Nova pitched six shutout innings and catcher Elias Diaz drove in two of the Pirates' three runs and scored the third one. Ichiro hit a homer. It was his second of the year. He last hit more than one homer in a year in 2013. That doesn't exactly validate that weird "Ichiro could totally have been a home run hitter if he wanted to" thing that used to float around baseball circles, but it's kind of cool anyway. With Bartolo Colon sort of imploding this year it's good to see another of baseball's 40-something club still functioning.
Angels 12, Astros 6: The Angles took a 3-0 lead, the Astros scored six to take a 6-3 lead and then the Angels said "screw this," and piled on twelve unanswered runs after that. Unanswered on the scoreboard at least. In the dugout they were probably answered by A.J. Hinch with a bunch of profanity and stuff. Eric Young Jr. drove in four, including a three run homer. Albert Pujols homered too. Young is hitting .318/.412/.523 with seven driven in and four stolen bases in the 13 games he's played since taking Mike Trout's place on the roster. That's not Wally Pipp/Lou Gehrig stuff, but it's been a nice pick-me-up for the Angels.
Cardinals 6, Phillies 5: After a seven game losing streak, the Cardinals shook up their coaching staff on Friday afternoon. Then they won three straight over the weekend. Coincidence?! Well, yeah, probably actually. That and playing the hapless Phillies (Note: the Phillies weren't hapless from 2007-2010, as they had Happ). Dexter Fowler hit a three-run homer.
Cubs 7, Rockies 5: The Cubs salvage one here and snap their five-game losing streak. In so doing they snap the Rockies seven-game winning streak. Addison Russell, Kyle Schwarber, Miguel Montero and Ben Zobrist all homered as the Cubs climb back to .500.
Blue Jays 4, Mariners 0: Josh Donaldson hit a two-run homer and drove in three. J.A. Happ tossed six shutout innings and the pen took it from there. And it really was a group effort: it took six Blue Jays relievers — six! — to record the final nine outs. If Billy Martin were alive today and you told him that a team won 4-0 and needed six guys for the last three innings he'd . . . well, be super drunk and angry and would probably try to pick a fight with you because he doesn't "like you FACE," but the point remains. I guess. I don't know.
Dodgers 9, Reds 7: Cincinnati had a 7-3 lead heading into the bottom of the eighth but the Dodgers rallied for six. Four of those came on a Corey Seager grand slam. Cody Bellinger hit a solo shot to lead off that evening. The Dodgers may be the $200-gabillion dollar team and all of that but the low-paid kids are pretty dang good, eh?
Diamondbacks 11, Brewers 1: Robbie Ray continues his torrid run, striking out 12 batters in six and two-thirds shutout innings. Ray is 5-0 in his last five starts and has given up just one run over 37 innings while striking out 48 in that span. Paul Goldschmidt had a grand slam.
Royals 8, Padres 3: Two homers for Mike Moustakas. Jake Junis allowed three runs over seven innings. I'm inclined to riff on his name too, but these recaps are already kinda late today, so let's move on.
Tigers 8, Red Sox 3: The Tigers avoid a sweep thanks in part to a Justin Upton grand slam in the course of a five-run fifth inning. Nicholas Castellanos added a two-run homer. This game took more than four hours. Which made me happy that the kids commandeered my TV last night to watch the Tony Awards, preventing me from sitting through this.
What, don't all 11-year-old boys and 13-year-old girls watch the Tony Awards?