Here are the scores. Here are the highlights:
Nationals 5, Mariners 1: Anthony Rendon hit a three-run homer. He hit two homers and drove in five on Tuesday. Guess you can say he likes playing the Mariners. Then again, everyone should like playing the Mariners these days. They've lost five in a row and have been outscored 41-5 in that span.
Athletics 4, Marlins 1: Sonny Gray struck out 11 batters over seven one-run innings. Gray has only pitched five times this year but so far the results are pretty good, pointing to the sort of bounceback season the A's were hoping for from their potential ace. He's got a K/BB ratio of 28/8 in 29.2 innings, a WHIP of 1.08 and is holding batters to a .216 average.
Twins 4, Orioles 3: The Twins swept the O's in Baltimore — the first team to even win a series there this season — but what I would really like to do is I to show you a couple of pitches Jose Berrios threw yesterday afternoon:
And this:
That game started at 1pm. I know the studies are inconclusive — and it may make me sound old fashioned — but I think it's wrong to show this sort of pornography when children are awake and can easily stumbled upon it. Please, Paul Molitor, only allow Jose Berrios to pitch after dark.
Reds 4, Indians 3: Speaking of pornography, check out Billy Hamilton's speed. He beats out what would've been a game-ending double play if anyone else on the planet was running and then he scored from first base on a single (and outfield miscue by Michael Brantley) to help the Reds come back from a 3-2 deficit in the ninth inning to win the game:
[mlbvideo id="1425651683″ width="600″ height="336″ /]
That Brantley brain lock aside, I don't think many other runners score on that play. Hamilton's wheels won that dang game for Cincinnati.
Rockies 7, Phillies 2: Tyler Chatwood allowed one hit in seven scoreless innings and struck out eight as the Rockies continue to impress. They scored seven runs in the third, hitting, collectively, for the cycle in the inning. Carlos Gonzalez hit the homer, Ian Desmond hit the triple, Trevor Story hit the double and Charlie Blackmon, DJ LeMahieu and Nolan Arenado all singled. Fox executives are gonna jump outta windows when they see the ratings for this year's Rockies-Twins World Series, but it'll be totally dope for most of us if it happens.
Blue Jays 8, Brewers 4: Ryan Goins is gonna lose his job to Troy Tulowitzki soon, but he's not letting that bother him. He hit a grand slam here and Kevin Pillar, Devon Travis and Jose Bautista went deep as well.
This has nothing to do with anything, but I want you to know that in the course of putting these recaps together I came across this ad at the bottom of a web page: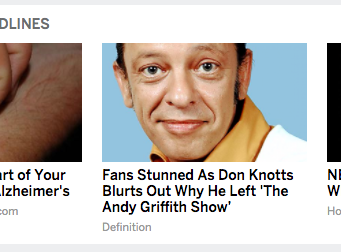 Given that he's been dead for 11 years I'd say it's understandable that fans were stunned regardless of the reason he left the show. And that's the case even if the shuffling, decomposing corpse of Don Knotts were merely citing something boring like creative differences with Desilu Studios or a desire to more movies.
Working on the Internet is so cool. OK, back to the recaps:
Yankees 3, Royals 0: Luis Severino's year of fulfilling his potential continues as he allowed four hits over eight innings, striking out seven. The 23-year old is looking better than he did in his rookie year and way better than he did in 2016. On the bad side of things, Jacoby Ellsbury slammed into the wall while making a catch in the first inning and left with a concussion and sprained neck. It's the second time this season he's face-planted like that.
Diamondbacks 8, White Sox 6: The sweep. The Dbacks have won 8 of 9 and are ten games over .500 for the first time in six years. Five different Arizona batters drove in a run. Jose Abreu was 4-for-5 with a homer and three RBI in a losing cause.
Red Sox 9, Rangers 4: The Sox were down 3-1 in the bottom of the seventh but then they put up a seven-spot. Chris Sale struck out only six batters, snapping his streak with double digit strikeouts at eight, but I'm sure he's cool with it.
Padres 6, Mets 5: Mets blew a 5-1 lead but had a chance to tie or win it in the ninth only to be smacked down by Brad Hand. New York loaded the bases with nobody out, but Hand struck out Curtis Granderson and Rene Rivera and then Juan Lagares flied out to end it. Losing a lead and seeing a would-be rally fizzle like that are demoralizing enough, but having them both happen in the same game is a real kick to the beans.
Pirates 12, Braves 5: Speaking of demoralizing: the Braves — whose bullpen has been pretty fantastic lately — had a 5-3 lead in the ninth inning only to see Jose Ramirez cough it up by surrendering a two-out, bases loaded single to Jose Osuna. The tenth inning was way worse, when Josh Collmenter came on for Atlanta and decided it'd be more fun to spread kerosene all over the place than to get dudes out. Collmenter allowed six hits — three of them homers — and seven runs in the final frame. The 10th inning dongs came back-to-back-to-back in the space of ten pitches. The men doing the yard work for Pittsburgh: David Freese, Osuna and Jordy Mercer
Rays 5, Angels 2: Steven Souza homered twice. Too bad he did it in May. Two months earlier and we could call him "The March King."
Cubs 5, Giants 4: Anthony Rizzo homered twice and Kyle Hendricks allowed two runs over seven. Wade Davis allowed two runs over one, via a homer to Mac Williamson, but he got the save anyway.
Tigers 6, Astros 3: Jose Iglesias finished a triple shy of the cycle — which is not a thing, even if it's fun to say — and Ian Kinsler had two hits and scored twice. The Tigers snapped a three game skid.
Cardinals 6, Dodgers 1: Mike Leake allowed four hits over eight one run innings. His ERA is now down to 1.91 on the year. Yadi Molina homered and drove in two. Someone let me know if this game was more interesting to Bill Plaschke than Tuesday night's game, which he found boring despite the fact that it featured a nine-inning pitcher's duel featuring an all-time great and ended on a walkoff hit by the home team. As this one only took two hours and 44 minutes, I presume it was more pleasing to him.
Baseball writers, man. They're the worst.