The Yankees aren't well-known for going all-in on goofy, fan-friendly fun. While some organizations are happy to jump on new and even silly or ephemeral trends for the yuks of it, the Yankees have tended to keep things rather businesslike when it comes to promotions and things. They've always played the long game, assuming — not always unreasonably — that their brand is best defined by the club's history and greatness and quiet dignity and stuff.
Aaron Judge and his breakout rookie season is changing things. His fast start has caused fans to dress up in judge's robes and stuff, so the team is having fun with it. They've set up a special section called "The Judge's Chambers," complete with a jury box vibe: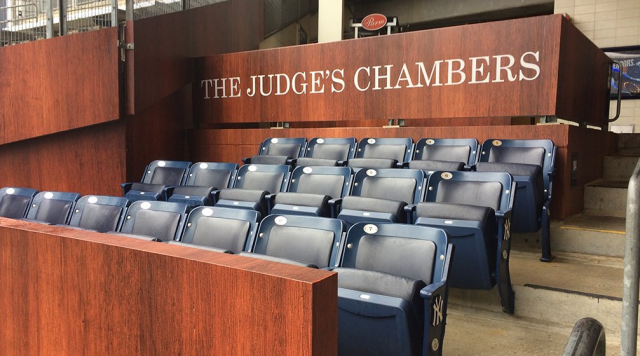 Fans will be selected to sit in the special section, which is in section 104 in right field, right behind where Judge plays, and will be handed foam gavels with "All Rise" written on them. To be selected at the moment it'd help if you wear one of those judicial robes with Judge's number 99 on the back or his jersey or an English judge-style powdered wig. Going forward, the Yankees will also use the section for groups and charity events and stuff.
Judge is on a 58-homer pace right now. It's unlikely he'll keep that up, but he certainly looks like the real deal. And, for the Yankees and their fans, he's giving them the chance for some real fun.