With the Oakland Raiders leaving town and the Golden State Warriors moving across the Bay to San Francisco, the momentum and enthusiasm for a new Oakland Athletics stadium has ratcheted up considerably. Now, Oakland Magazine reports, the A's have narrowed down the potential sites for a new ballpark to two:
The Oakland A's are now focusing on two sites in the city for a new ballpark: Laney College near Lake Merritt and Howard Terminal on the waterfront next to Jack London Square, according to four knowledgeable sources. Two of those sources say the Laney College property has edged into the lead as the team's preferred spot.
Laney College area is close to downtown between Interstate 880 and Lake Merritt and near a BART station. According to the article, the preferred site is the Peralta Community College site noted on this map: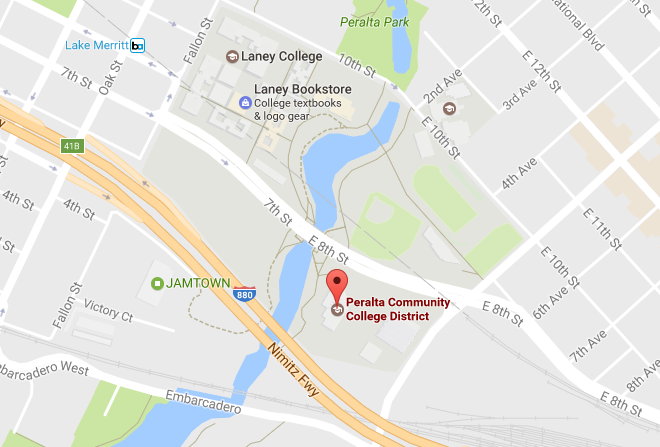 Oakland folks: weigh in to give your thoughts about that site, would ya?
The secondary site, Howard Terminal, is close to the waterway that leads into the Bay, but is farther from public transportation. There are concerns about heavily-used railroad tracks near there, however, which fans would have to cross in order to get to games.
The article says that the Laney College site seems to be preferred based on public polling being conducted by the A's which focuses more heavily on that site, but A's president Dave Kaval told Oakland Magazine that all three sites — these two and the Coliseum site — are all still on the table. He would not be likely to admit that one site is preferred over others, however, as the club wouldn't want to tip its hand in negotiations.
Either way, the club is supposed to announce a site selection by the end of the year. What they'll do, I have no idea. All I hope is that they choose a site that is 100% unable to be used by the Oakland Raiders if and when they come back from Las Vegas, once again looking to squat on A's property.