Here are the scores. Here are the highlights.
Marlins 7, Mets 0: Marlins starter Jose Urena allowed one hit in six innings of work and the bullpen allowed none, leading to the first of two one-hitters on the day. Meanwhile, Giancarlo Stanton hit two homers against Mets starter Adam Wilk, who was filling in for the suspended Matt Harvey. Wilk, by the way, was called up from Las Vegas on short notice, taking a multi-stop overnight flight on the way to New York, arriving at the ballpark straight from the airport around 8:45 a.m for the 1PM start. When the Mets implode, they do not mess around. They give 110% effort toward that implosion. Gotta tip your cap.
Blue Jays 2, Rays 1: Joe Biagini, usually a reliever, made his first start as a major leaguer. While he didn't get the win, he allowed only an unearned run while he and four relievers combined on a three-hitter. Darwin Barney hit a tiebreaking homer in the eighth.
Orioles 4, White Sox 0: The sweep. Chris Tillman made his 2017 debut, tossing five shutout innings. All the scoring here was over by the end of the second inning, with the O's getting three RBI singles from three different dudes and a sac fly from a fourth dude.
Cardinals 6, Braves 4: Tommy Pham hit two homers, with his two-run drive in the 14th inning putting St. Louis over. A pretty good day for the Cards, even if it was overlong. Which also doubles as my review of the new "Guardians of the Galaxy" movie I saw yesterday. There was also way less totally unnecessary and distracting CGI in this game than in the movie.
Brewers 6, Pirates 2: Eric Thames had three hits, including a homer. It was his first homer in ten games after hitting 11 in his first 20. Still, 12 out of 30 ain't bad. Travis Shaw and Jesus Aguilar also homered as Milwaukee avoids the sweep.
Red Sox 17, Twins 6: Early on this season Chris Sale didn't get a lot of run support. This game thrown into the mix will obscure that as far as the average goes. Sandy Leon hit two two-run homers. Sale struck out ten, which is his sixth straight outing with double digit strikeouts. He does that a lot, actually. The Twins missed the extra point which forced them to score two touchdowns to take the lead, making any potential comeback all the more daunting.
Indians 1, Royals 0: Mike Clevinger tossed one-hit, shutout ball into the sixth and the bullpen finished the job, not allowing another hit the rest of the day. In other news, the Indians wore throwback jerseys. Cleveland Buckeye jerseys as a tribute to the old Negro Leagues club. Check 'em out: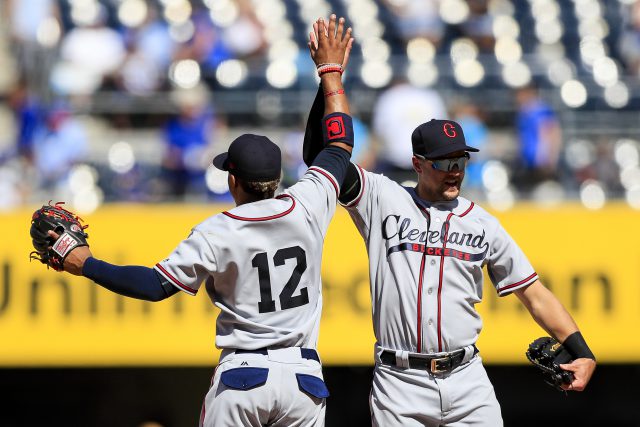 They look good, eh? No Wahoo or the word "Indians" was anywhere to be found. About that . . .
Can't argue with that. That's just science right there.
Phillies 6, Nationals 5: Freddy Galvis hit a walkoff sac fly. Earlier Aaron Altherr hit a pitch-hit three-run homer in the eighth to tie things up and force extras. Jayson Werth hit two homers in a winning effort in a losing cause. I imagine Phillies fans still booed him because . . . well, they probably don't even remember why they do it at this point.
Rockies 5, Diamondbacks 2: Chatwood pitched two-hit ball into the eighth inning, allowing only one run. Mark Reynolds and Pat Valaika homered. Dbacks vs. Rockies, by the way, is the most expansion matchup possible. It's close between that and, say, a Rays-Marlins game and I will acknowledge that a Blue Jays-Mariners game is an underrated expansion contest, but Rockies-Dbacks is the most expansion of them all.
Astros 5, Angels 3: Jose Altuve hit a three-run homer in the Astros' four-run third inning to give them their fifth win in six games. Houston leads the AL West by five and a half games. Yunel Escobar hit two home runs for the Angels. I didn't see any postgame quotes, but I imagine that he like every other guy who has a good game for a team that loses said something about how not winning prevents a guy from enjoying a day like that. I wonder how many guys have days like that and say things like that and then get in their car to go home, pump up the music and feel pretty, pretty good about stuff all things considered.
Athletics 8, Tigers 6: Detroit had a one-run lead in the bottom of the ninth and called on Francisco Rodriguez to lock it down. He walked Rajai Davis, allowed a game-tying double, then served up the walk-off two-run home run to Ryon Healy. Which is to say that he served up a K-Rod special. Rodriguez has an 8.49 ERA and four blown saves on the year. I'd say that should cost him his job as Detroit's closer, but any other reliever they choose will have to wear a Tigers jersey which, by definition, will make him be terrible.
Mariners 4, Rangers 3: Texas was up 3-0 heading into the bottom of the seventh, having done nothing against Andrew Cashner. Cashner started the seventh by walking the leadoff batter, however, and got yanked. His replacement, Jose Leclerc walked three more dudes, forcing in the M's first run. His replacement, Alex Claudio, allowed a two-run single to Danny Valencia to tie it up and the next inning Sam Dyson gave up a go-ahead homer to Kyle Seager. So, no, bullpen issues are not limited to the Tigers.
Reds 4, Giants 0: Scott Feldman tossed a four-hit complete game shutout. It was the fourth time the Giants were shut out on the year. They were outscored 31-5 while getting swept by the Reds in three games.
Yankees 5, Cubs 4: Just your standard six-hour, five-minute baseball game. Eighteen innings worth, thanks to Aroldis Chapman giving up three runs in the bottom of the ninth via some singles and a bases-loaded hit-by-pitch. That allowed the Cubs to tie it, sending us on to our second game of the night, practically speaking. In that one the Yankees bullpen tossed nine and a third shutout innings and New York won it when Starlin Castro grounded into a fielder's choice, scoring Aaron Hicks, who had reached on a bunt single and made second base when Willson Contreras threw the ball away trying to get him at first.
I'm so glad I went to bed early. I can't imagine how the ESPN crew filled up twice as much air time as they had originally planned.
Dodgers vs. Padres — POSTPONED:
Seems it never rains in southern California
Seems I've often heard that kind of talk before
It never rains in California, but girl, don't they warn ya?
It pours, man, it pours
I'm out of work, I'm out of my head
Out of self respect, I'm out of bread
I'm underloved, I'm underfed, I want to go home
It never rains in California, but girl, don't they warn ya?
It pours, man, it pours