Here are the scores. Here are the highlights:
Rockies 3, Padres 2: Thing I learned yesterday: Ryan Hanigan is still playing baseball. I can't remember him signing with the Rockies, but he did, hanging out on his minor league deal for a while. He got called up on Wednesday and yesterday played his first game with them, hitting an RBI infield single in the 11th inning to give Colorado a 3-2 victory. Makes me wonder what other backup catchers are still roaming the Earth, below the radar. Is Curt Casali still knocking about someplace? Hank Conger? Are there some Molinas still yet unaccounted for? It's rather unsettling to be honest.
Nationals 4, Diamondbacks 2: Max Scherzer struck out 11, allowing one run and two hits in seven innings. This against the Diamondbacks, who I still have a hard time remembering Scherzer played for. Dusty Baker, commenting on Scherzer after the game:
"He came out strong and had that look in his eye"
Um, which eye had that look, Dusty?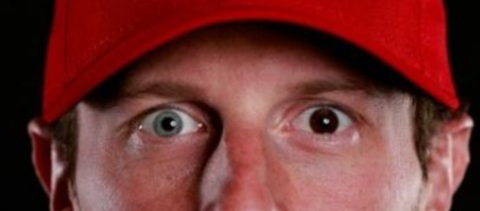 Orioles 8, Red Sox 3: Manny Machado hit his third homer of the series and no one hit him, so I suppose that's progress. His homer went an estimated 466 feet so it wasn't a cheapie. Baltimore rattled off 14 hits. Seth Smith had four of them. Kyle Kendrick made his season debut for the Sox and allowed six runs and eight hits in four innings. After the game John Farrell said Kendrick will get a longer look in the rotation. You think he'd seen enough.
Cubs 5, Phillies 4: Albert Almora doubled leading off the 13th inning and scored on a throwing error by shortstop Freddy Galvis to give the Cubs a walkoff win. This is not to be confused with the game on Wednesday the Cubs won 5-4, in part because Galvis held the ball too long while Willson Contreras scampered home to score. Kris Bryant had four hits, Miguel Montero homered and drove in two. But really, guys, you may want to have someone come look at that defective Galvis unit.
White Sox 8, Royals 3: Derek Holland allowed two runs — one earned — on only three hits while pitching into the seventh inning. Jose Abreu, Avisail Garcia and Cody Asche each drove in two. Holland has allowed two earned runs or fewer in each of his first six outings this season. He's gonna be in every trade rumor column there is from June until August.
Rangers 10, Astros 4: Joey Gallo, Rougned Odor and Elvis Andrus all homered and the Rangers snapped a four-game skid. Marwin Gonzalez homered in his fifth straight start, a winning effort in a losing cause.
Athletics 8, Twins 5: Jharel Cotton allowed three runs — two earned — and struck out nine in six innings of work as the A's avoid a three-game sweep. Miguel Sano, who we have talked up a bit around here lately, wore the Golden Sombrero with his last strikeout coming with two out and the bases loaded in the ninth. Baseball is a humbling game.
Reds 4, Pirates 2: The Reds are 6-1 against the Pirates this year, 8-13 against the rest of baseball. Here Joey Votto doubled twice and drove in two and Adam Duvall drove Votto in twice himself. The Reds have won four of five. They might be a see-saw team all season long. Which, to be honest, is way better than a lot of people were predicting for them. Most just anticipated the saw. Or, um, the see. Whichever the bad one is.
Rays 5, Marlins 1: I used to play on a Scoresheet sim league back in 2008-09. It was a keeper league where you picked up minor leaguers too, keeping prospects on your 40-man roster and waiting for them to develop. I only did so-so with my actual team, but when I left the league after 2009 I told the guy who took over my team that he'd be pretty happy with the young players I had. One of them was Clayton Kershaw. I hope whoever is playing that team now has given me some mental high fives over the years for snagging him when he was a rookie. Another one I was super proud of was Tim Beckham, who the Rays drafted in the first round back in 2008. I'm assuming that whoever took over the team did not keep him. But, on the off-off chance he did, well, you're welcome for last night as Beckham hit two homers and drove in four. Hell, he hit two homers in a game last week too, and has six on the year. Playin' the long game, I was. Yep.
Brewers 5, Cardinals 4: Jesus Aguilar hit his first big league homer, breaking a seventh inning tie. The game was more costly for St. Louis than just one game in the loss column. Cardinals right fielder Stephen Piscotty left after the second inning with a strained right hamstring and center fielder Dexter Fowler came out following the third with a strained right shoulder.
Mariners 11, Angels 3: Danny Valencia homered and had four hits, driving in three. M's starter Ariel Miranda pitched seven strong innings. Not bad for Miranda, who took a comebacker off his leg early in the game but played through. Ever see a baseball player's bruise after being hit by a pitch or a batted ball? Nastiest thing ever.
Indians vs. Tigers, Mets vs. Braves: — POSTPONED:
If it keeps on rainin' levee's goin' to break
If it keeps on rainin' levee's goin' to break
When the levee breaks I'll have no place to stay.
Mets and Braves made it to the fourth inning, actually, but because it wasn't an official game, nothing counts. Except for pitchers being burned and stuff, which I'm sure doesn't make anyone happy. Maybe pay closer attention to the ol' doppler radar, you guys?