Here are the scores. Here are the highlights:
Astros 10, Rangers 1: Remember last year when the Rangers owned the Astros, losing 14 out of 19? That's over. Houston takes its third in a row off of Texas, powered by Marwin Gonzalez's fourth homer in the past three games. Carlos Correa and Brian McCann each hit solo homers and Correa went 4-for-5.
Royals 6, White Sox 1: Nate Karns allowed only one hit over six shutout innings. The AP headline for their recap on this is "Nate Karns Dazzles." That was also the working title for my coming of age dramedy series I've been trying to sell to Netflix, but I guess THAT's gotta change now. Politics, man.
Yankees 8, Blue Jays 6: Stop me if you've heard this one, but Aaron Judge homered again. Gonna go out on a limb here and say that maybe people should stop throwing him strikes? Matt Holliday hit a homer, his 300th. And Brett Gardner got four big hits too. Except they were all on a trash can:
Nationals 2, Diamondbacks 1: Gio Gonzalez allowed one run over five and (all together now) helped his own cause with a RBI groundout. Ryan Zimmerman, the Player of the Month for April, is doin' OK in May as well, doubling in Bryce Harper for the go-ahead run in the sixth inning.
Red Sox 4, Orioles 2: Before the game there was a conference call with the umps and the league and everyone in which it was stated that there would be a zero tolerance policy for shenanigans given all that has happened between these two teams this year. Apparently no one on the call mentioned the fact that zero tolerance policies are almost always dumb. And this was all dumb. Kevin Gausman threw a first-pitch slider to Xander Bogaerts that stayed too far inside and hit him. It was clearly not intentional, but home plate umpire Sam Holbrook immediately ejected him anyway. Later in the game Adam Jones was ejected for arguing balls and strikes. The game itself: Boston built a 4-0 lead by the fourth inning and that was kind of it. One more game in this series to get through. My preview:
Indians 3, Tigers 2: Carlos Carrasco (6 IP, 5 H, 2 ER 5K) outdueled Matt Boyd (7.2 IP, 5 H, 3 ER 4K). Andrew Miller struck out four in two scoreless innings, his first multi-inning outing of the season. There will be more. Or his arm will fall off. Hard to say.
Reds 7, Pirates 2: Billy Hamilton, who hadn't hit a homer since *mashes fingers on calculator* the Ford Administration, hit a three run blast. Wait, my calculator is broken *looks it up* it was Hamilton's first homer since June 28 of last year. Devin Mesoraco ended a home run drought of a couple of years, but he had the excuse of being on the disabled list since *mashes fingers on calculator* the Ford Administration.
Marlins 10, Rays 6: The Fish break out for ten runs on 17 hits, including a stretch in the sixth inning when they strung together seven consecutive hits. J.T. Realmuto drove in four runs. Marcell Ozuna hit a homer that went 468 feet. Before the game players' families played a charity softball game and Ozuna's wife — Genesis Ozuna — hit a homer of her own: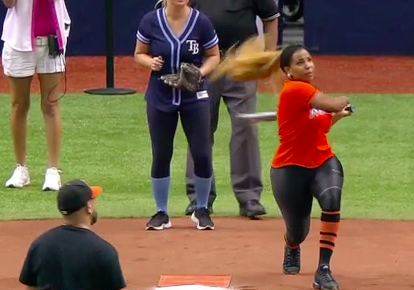 Give that woman a contract.
Mets 16, Braves 5: Jose Reyes had five RBI, Rene Rivera drove in three and Michael Conforto and Jacob deGrom had two RBI apiece. It's been a bad stretch for the Mets, but playing the Braves is quite a tonic for what ails ya. The victim of much of that abuse: former Met Bartolo Colon, who surrendered five runs on seven hits in four innings.
Cubs 5, Phillies 4: Willson Contreras hit a two-run double and then came around to score on a Matt Szczur infield hit on which he had no business scoring. Watch it here. Freddy Galvis held the ball forever, apparently thinking Contrearas wouldn't try to score, but Contrearas just kept running. Then the throw stunk, otherwise he'd be out. Joe Maddon appreciated the run but you can tell the whole thing gave him heartburn:
"You plug into this guy. As he learns to play with his hair on fire — maybe not a forest fire, maybe just the burning bush or something, I don't know — he's going to learn how to control all that."
Then Maddon said this: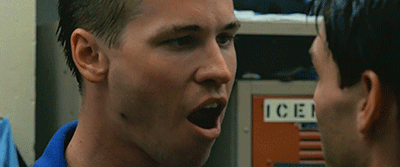 Twins 7, Athletics 4: Kenny Vargas hit a three run homer and drove in five. Hector Santiago allowed three run over six, and pitched while wearing custom cleats showing an airbrushed picture of the late grandmother Nelly. Gettin' dusty in here. The Twins have won seven of ten.
Mariners 8, Angels 7: A late rally for Seattle, with Jarrod Dyson hitting a two-out, two-run double in the eighth to tie things up and Jean Segura following that with a two-run single to put the M's over. The only reason Seattle had to come back was because their bullpen blew a four-run lead by allowing six runs to the Angels in the sixth inning, but let's try to forget that, shall we?
Giants 4, Dodgers 1: Jeff Samardzija allowed only one unearned run and three hits while striking out eleven in eight innings, but he couldn't get much in the way of run support — and Julio Urias and a handful of Dodgers relievers matched him — so we went to extras. In the 11th, Brandon Belt and Gorkys Hernandez each singled in a run and Hunter Pence hit a sac fly. All of this on the night Vin Scully was inducted into the Dodgers Ring of Honor, with the club hanging up a sign with a microphone and Scully's name. Scully, watching the Giants rally late, said "Jesus, you frickin' bums. Way to ruin my night — BIG VIN's NIGHT! I'm insulted." Then he spit on the ground and threw a few bucks at the Dodgers relievers and told them to go buy some class. Retirement has changed Scully, man.
Rockies 11, Padres 3: Ian Desmond was just activated on Sunday after missing 25 games. He hit two homers last night off of Jered Weaver, who is great to face after coming off of an injury, because it helps make up for all of that batting practice you miss when you're hurt.
Brewers vs. Cardinals — POSTPONED:
The song came and went
Like the times that we spent
Hiding out from the rain under the carnival tent
I laughed and she'd smile
It would last for awhile
You don't know what you got till you lose it all again
Listen to the mandolin rain
Listen to the music on the lake
Listen to my heart break every time she runs away
Listen to the banjo wind
A sad song drifting low
Listen to the tears roll
Down my face as she turns to go