This morning I woke up and saw that a friend had posted a photo on my Facebook timeline. It was of the opening ceremonies for the first game at the Braves new ballpark Friday night.
The photo was of the large American flag unfurled on the field for the National Anthem. In case you could not see it, on every one of the large video boards was a digital image of an American flag. It was quite the scene: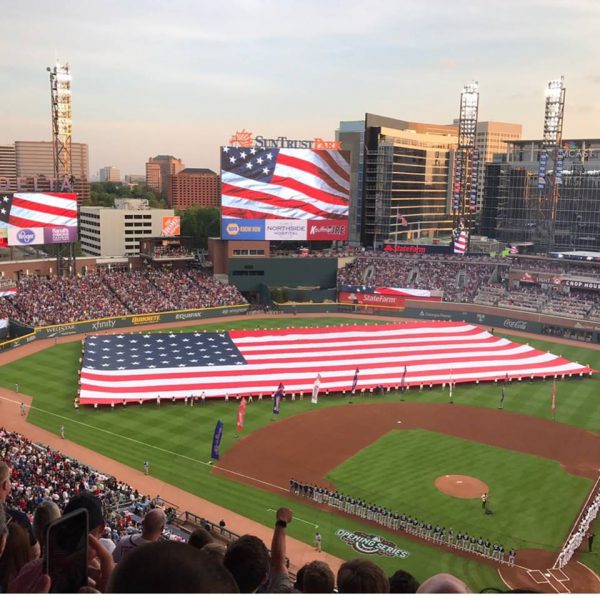 We've seen sights like this one pretty regularly over the past 16 years. Opening Day, the All-Star Game and the World Series would, by now, be considered incomplete without a couple of acres of red, white and blue on the outfield grass. Or, for Blue Jays game, just red and white. 
Baseball and the American flag have obviously long gone hand-in-hand. "The Star Spangled Banner" was first performed at a baseball game years before it was actually our country's national anthem. Red, white and blue bunting goes back further. Baseball may not really be the national pastime anymore, but its patriotic rituals reach way, way back to a time when it unquestionably was.
As better writers than I have noted, however, the degree and intensity of patriotic display at sporting events has been dramatically ratcheted up since September 11, 2001. The big flags, the addition of "God Bless America" and the incorporation of the military into nearly every aspect of the promotion of the game. The impulse to do so was obvious and understandable, just as other patriotic displays in times of war, peril and tragedy are. The reasons for it make perfect sense and the escalation of conspicuous patriotism at the ballpark is unmistakable.
Something else has happened over this same period, however. Patriotism has been transformed from something most Americans demonstrate out of natural national pride and personal motivation to something more . . . performative. Often, something de rigueur. Unquestionably more political.
We can see it in the silly controversies over who does and who does not wear a little flag on their lapel. Or whether there are or are not the proper number of flags on stage at a political nominating convention. The impulse to characterize one's political opponents as unpatriotic as a means of advancing one's own political agenda is undeniable. Casting oneself as more patriotic than the other guy has always been a primary tool in the politician's toolbox, but it has become a far more important tool in the past 16 years. "If you're not for us, you're against us," is a sentiment that has expanded beyond matters of the literal basic security of our country from its enemies and has become an argument for any old policy one supports or opposes. You can be accused of being in league with ISIS for disagreeing about the ideal rate of taxation for certain brackets.
While people may wish for the ballpark to be a place where the real world does not intrude, sports often reflect what's going on in society at large. To that end, the world of sports has likewise seen its natural patriotic habits amped up quite a bit. As mentioned above, a lot of that was natural and understandable in the wake of 9/11.
But there has been some opportunism and performative patriotism at play at the ballpark as well. Most notably in the pay-for-patriotism scandal from a couple of years ago in which it was revealed that the government had paid teams to promote patriotic and pro-military initiatives for propaganda and recruitment purposes. Less craven than that but still calculated is the degree to which corporate sponsorship has seeped into patriotic activities. For the 2014 World Series, American flags were provided to every fan at the entrance of Kauffman Stadium. Major League Baseball made sure we knew in the press release, however, that they were "presented by Bank of America, the Official Bank of Major League Baseball." There are many examples of this sort of thing.
Whether patriotic initiatives and displays are craven or genuine in their conception, they aren't going anywhere. While conspicuous acts of patriotism have always spiked at the ballpark during times of war — check out the uniform patches worn during World War II — they've always subsided after a time. This isn't happening now. As I've mused on this site many times, baseball seems unable or unwilling to cut back on the big flags and the military initiatives even a little bit in the post-9/11 world. I suspect it's because, in this new age of performative patriotism, they're worried about being called unpatriotic for doing so. One less big flag on Opening Day or Game 1 of the World Series would be the baseball equivalent of a politician not wearing an American Flag lapel pin. At some point it's just easier to roll out the flag again than to catch that kind of hell.
Against that backdrop, I looked at the photo my friend posted on my Facebook timeline, and I tweeted out a little joke, poking at those who claim that sports and politics never go together. I did so by sarcastically adopting the voice of one of the many "stick to sports" people we've mocked around here many, many times:
Initially most of my followers and people who saw it realized I was trolling the "stick to sports" people and nodding to the many things I've written over the years about the often political nature of patriotic displays.
A few hours later, though, some conservative people who are not familiar with all of the stuff I've written about this sort of thing over the years saw it and believed that I was denigrating the American Flag and claiming that the Braves were conducting a political propaganda exercise on Friday night. By mid-morning that began to snowball and since then I've been flooded with literally thousands of people calling me a commie, saying my tweet was treasonous and telling me that if I don't like this country I can get the hell out right now. One person said I should be burned at the stake. Another said I should be hanged. One guy even told me he hopes I get cancer.
I get a lot of crap thrown at me on Twitter and I really don't care, mostly because I stir up a lot of it myself. It goes with the territory. So I am less bothered by the crap than I am by the literally hundreds of people who, while not wishing cancer upon me, simply responded by telling me that, no, it is impossible for the flag or for a patriotic display to be political. That such things are, always, inherently neutral and benign and simply symbolize one's love of America, nothing more, nothing less.
Whatever these people think of me, this sentiment is unadulterated nonsense.
As mentioned above, patriotism and flag-waving are a huge part of political strategy and always have been. There are entire ideologies based on it. It is likewise used for other, non-purely-patriotic purposes. Brands routinely wrap themselves in the American flag to sell you stuff. Indeed, there are rankings of which brands best-leverage patriotism for commercial purposes. This occurs in baseball too, of course, as noted in those Bank of America-sponsored flags and countless other bits of for-hire patriotic display. While patriotism is a laudable trait — and while I consider myself to be a patriotic American — to suggest that flag-waving is exclusively done by those with noble and pure intent is simply laughable.
Do I think the Braves were making a political point with their giant flag on Friday night? No, not particularly. At least not anything beyond the efforts made by every baseball team which wishes to make its fans feel like going to the ballpark is not merely a commercial experience but a uniquely American one. Especially on Opening Day. And, well, especially when they just made those fans hand over their tax dollars for a new ballpark the team didn't really need, so hey, let's make sure we create the impression that this is about more than the Braves' bottom line.
But let us not pretend for one second that displays of conspicuous patriotism haven't spiked dramatically in our country over the past 16 years. Let us not pretend for one second that they persist for all of the same reasons that initially inspired them. Let us not pretend that, over more than a decade and a half of it, many have not learned how effective it is to leverage patriotism to aid their political careers, their images, or their marketability and the marketability of their brands. Patriotism is a feeling and an ideal, and like any other feeling or ideal, it can be twisted to any number of other ends, good, bad or neutral.
Even in baseball.