Lots of teams have crazy concession items and lots of them will circulate photos of the more gonzo ones in the coming week leading up to the baseball season. The Braves, however, have been one of the more aggressive players in the gimmick concession item game in recent years, and they just sent around a release talking about some of the stuff they, and their concessionaire, Delaware North, will be serving at their new ballpark, Sun Trust Park, in 2017.
Among them:a blackened catfish po boy, which is a blackened 6-ounce filet of catfish cut up among three tacos, with a cajun remoulade. Some BBQ beef brisket sliders. A double burger. An ice cream bar. They're also going to have a regionally-inspired thing called "The Taste of Braves Country," showcasing southern cooking from Georgia, South Carolina, North Carolina, Tennessee, Mississippi and Alabama. Which they're calling "Braves Country." Accurate enough, I guess, even if some of us are old enough to remember when they aspired to be a national team. Alas.
The big item, though, is this one: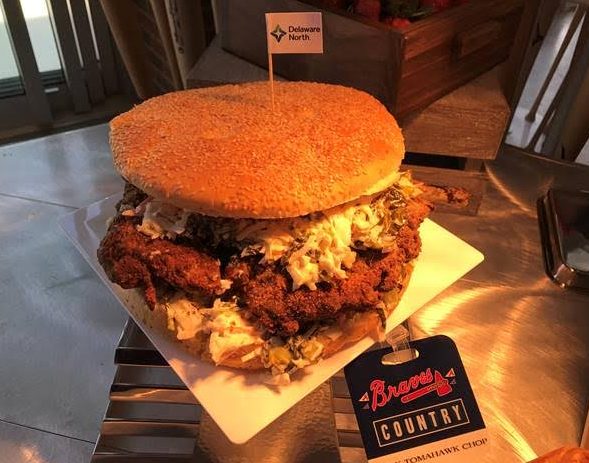 It's called the "Tomahawk Chop" sandwich. It's a fried pork chop with collard green slaw and white BBQ sauce. It serves four and costs $26. I'm guessing it tastes fantastic, but I think the name is pretty cringeworthy for the same reason the cheer which gives it its name is. And, given the dynamics of the Braves move to their new stadium, the choice of BBQ sauce is . . . amusing? I dunno.
Anyway, enjoy, Braves fans.