SCOTTSDALE, AZ — "It's actually better for us when the Giants don't win," J.J., the bartender at RnR Gastropub in Scottsdale tells me. "If the Giants don't win the season before you get a lot of party people coming here in the spring just to have fun. In the spring after the World Series wins we got a lot of families with their kids. Get your kids out of here, that doesn't help me!" she laughs.
J.J. is joking, but only a little. For her and the other bartenders at the watering holes surrounding Scottsdale Stadium, the name of the game is people in their 20s and 30s, pregaming before Giants games. If it's not here it's across the street at Salty Señorita or the Blue Moose or any number of other places nearby. They're happy to see their bars and restaurants full with anyone, but in the month of March, they'd prefer they be full of Giants fans over the age of 21.
Unlike most of the other Cactus League ballparks, which tend to be situated in a sea of parking lots and practice fields next to freeways, Scottsdale Stadium is in the middle of town, stumbling distance from a plethora of bars and restaurants. If you want to party before a Dodgers game, you're either risking a long drive from your venue of choice to Camelback Ranch (the nearest bar is three miles away) or else you're waiting until the gates of the park open and are paying MLB prices for your beverages. You can walk to a chain restaurant or two from the Mariners and Padres place in Peoria, and there are some shuttles from other parks to take you to a joint that has paid for the right to send its shuttles to come to get you, but that's pretty much it. Only in Scottsdale can you truly make a day of it if you're so inclined.
Or maybe a morning of it.
"We open at 8am on weekend mornings," J.J. tells me. On those days there are bottomless mimosas — and MAN-mosas, which add some beer to the champagne and orange juice mix — or bloody marys. "If there's a 1 o'clock game people will spend four hours here." I assumed such hours and promotions would attract a mess of 20-something lightweights and J.J. allowed that, yes, young men simply don't know how to drink champagne — "They chug it. You can't chug bubbles" — but it's not really a young man's game.
"You see a lot of guys in their mid-30s. They have jobs and lives and stuff, but they get the hall pass to come here for a weekend or a few days." She says it's not a guys-only affair, however, and that an equal number of 30-something women belly up to the bar before games. You tend to see groups, she said. A pack of bros together here, a pack of women together there. Actual bachelor or bachelorette parties or reasonable facsimiles thereof, all excited for the ballgame.
Or not.
"What ballgame?" Caitlin, a woman in her 20s a couple of barstools over from me asks after she and her friend Lindi down tequila shots, finished off with a cinnamon-sprinkled orange instead of the traditional lime. They just happened on RnR on an impromptu trip to Phoenix and looked at me blankly when I asked them if they were heading to the ballpark. They may be the only ones in this packed bar, two hours before game time, who aren't in Giants gear. Where they got the idea for the orange and cinnamon tequila shots I have no idea. But it's not too bad, actually. Or, ahem, so I am told.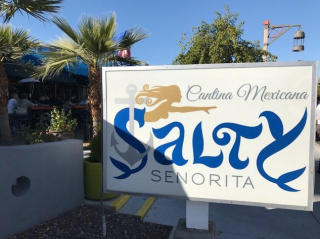 Across the street at the Salty Señorita Denise and Michelle, from San Mateo and Redwood City, California, respectively, are both rocking the orange and black. It's Denise's fifth trip to Scottsdale for spring training, Michelle's third. While each of them are having a pregame drink, the best friends are here more for the baseball than the partying.
"For me it's definitely about getting to see the players. This stadium is so small. You get to get up close and personal with them. The atmosphere is great. The weather. When you come here it's a whole bunch of Giants fans and they're all wanting to have fun."
J.J. agrees that, for as packed as the bars get and as lubricated as the patrons can, at times, become, it's always a friendly crowd. "Everyone's in a good mood," she said. "It's baseball. People are off work. Why wouldn't they be happy?"
Matt, Miriam, Kathy and Mark are Giants fans from Fresno and they're certainly happy: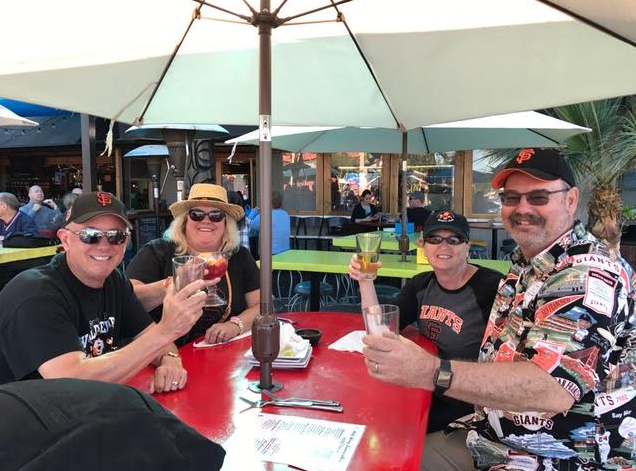 Miriam admitted to me that they were about six drinks in when I stumbled upon them, but that's OK as, at their age, they're "seasoned," to use her word. "It's a marathon, not a sprint," Kathy said. But they did seem to be enjoying the run. Besides, they're on vacation. They're taking in six games this week and aren't thinking too much about Fresno. They're just going to have a good time watching a Giants team of which they call themselves "rabid fans."
But even if you're not a rabid Giants fan there is, on some level, something more enjoyable about a game at Scottsdale Stadium than the other spring training ballparks. And I don't mean the proximity of bars and the alcohol for their own sake. After all, while almost all of the people drinking in these bars are going to the ballgame, nowhere close to all of the people at the ballgame have been to these bars. Once you're at the game, it's the same general mix of young people and families and retired folks and everyone else and, as a crowd, it doesn't feel all that different than the crowd at any other spring training game.
But there is something about the experience of going to a Giants spring training game that sets it apart from the experience you get at most of the gleaming, new yet isolated facilities. There's the ability to make a day of things if you're so inclined. To leave your keys at home, hail one of the golf carts or pedicabs you see prowling up and down Drinkwater Boulevard and just lose yourself for the day in a human-scale neighborhood as opposed to a hundred acre field on which someone, very recently, plopped down a modern spring training facility.
If you've never been to spring training and if you're the type who has dreamed about taking a week off in March, chucking all of your responsibilities and heading down here, you're probably imagining something far closer to the experience you get in Scottsdale than the one you'd get anywhere else.
If you are one of those people, you may want to do just that. Even if you're not a Giants fan.