Between now and Opening Day, HardballTalk will take a look at each of baseball's 30 teams, asking the key questions, the not-so-key questions, and generally breaking down their chances for the 2017 season. Next up: The Boston Red Sox.
David Ortiz is retired, present only in Lego brick form down at Red Sox camp. His are certainly some big shoes to fill: he led the Sox in homers, RBI, on-base percentage and slugging percentage, after all. His would be a devastating loss for almost any team and the Sox will certainly miss him, but let us not pretend they're hurting offensively. Indeed, there is strong reason to believe that the Red Sox will be baseball's best offense in 2017, just as they were in 2016 with Big Papi. Or at the very least close to it.
Dustin Pedroia and Hanley Ramirez are still around and both showed in 2016 that they still have plenty left in the tank. Mookie Betts broke out as one of baseball's best players and Xander Bogaerts and Jackie Bradley Jr. were both All-Stars at premium defensive positions. While left field was a problem for the Sox all season long in 2016, baseball's top prospect and Rookie of the Year candidate Andrew Benintendi will break camp with the club and will almost certainly offer an improvement. Mitch Moreland wasn't the sexiest free agent pickup in baseball this past winter, but he's a gold glove first baseman with some pop who can help replace at least some of the left-handed power which will be lost by Ortiz's absence.
The biggest question for the Red Sox as far as position players go is what they can expect to get from third baseman Pablo Sandoval. So far so good, as Sandoval reported to camp in excellent shape and has looked as solid as Sandoval can feasibly look on defense. His left-handed swing is reported to be in fine shape while his right-handed swing is still a work in progress. The Sox are certainly hoping he can be an everyday player again and not the left-handed side of a third base platoon, but if he even comes close to being a solid, everyday player again, their third base situation should improve over what they got in 2016.
As Red Sox camp opened, there was a good deal of talk about the club courting Matt Wieters or, at the very least, there being a wide open catching competition. In the past two weeks, however, that competition seems to have ended before it began. Sandy Leon will be the starter and Christian Vazquez will back him up. Blake Swihart, whose 2016 saw him work in the outfield and was ended by injury, will start at Triple-A, barring injury to either Leon of Vazquez.
Overall, it's a great offensive core, led by a guy who was an MVP candidate at 23. That's the sort of thing that will help John Farrell sleep well at night. Obviously, though, the biggest offseason news for the Red Sox involved their rotation. Welcome Chris Sale.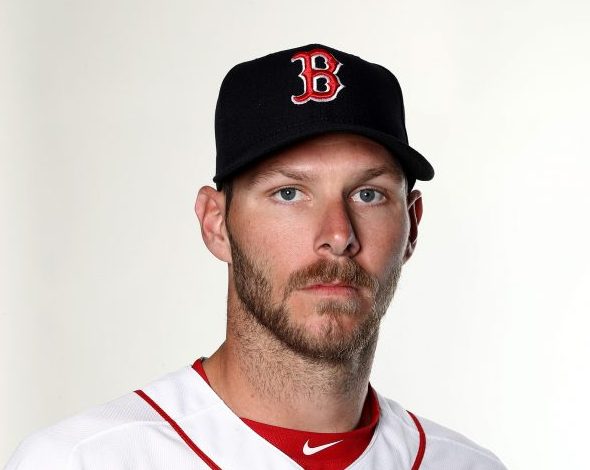 If Sale looks unhappy, it may be because someone told him that David Price is getting an MRI for elbow soreness. We don't know what's going to happen there, but let's assume for a second that it's a big nothingburger and that Price will be fine. If so, the 1-2-3 of Sale, Price and 2016 Cy Young winner Rick Porcello may be the strongest 1-2-3 in the league. Knuckleballer Steven Wright — who posted an ERA+ of 137 last season — is a solid as all get-out #4 and Eduardo Rodriguez, Drew Pomeranz or some combination will slot in at #5. That'll play. The Sox hope to God that they don't have a problem with Price — if he's out for an extended period it totally changes the complexion of the rotation — but Sale and Porcello at the top would still make for a solid rotation.
The bullpen has a new look for 2017. Last year the relief corps was shaky early before stabilizing as the season wore on. There are still old faces here — Craig Kimbrel will still close — but gone are Koji Uehara, Junichi Tazawa and occasional bullpen resident Clay Buchholz. In comes Tyler Thornburg from Milwaukee. He'll join Joe Kelly, who looked strong late in the season, as a setup man and could close if Kimbrel falters. Matt Barnes will figure in late as well. To the extent they don't get starts, guys like Eduardo Rodriguez, Drew Pomeranz and Steven Wright could see some relief work as well. Bullpens can be tricky and unpredictable, but on paper this looks like a more solid group than the Sox had heading into 2016. A lot depends on Kimbrel regaining his old form.
However that shakes out, the Sox look to be among the strongest teams in the American League and should be considered the favorites in their division. And that's my PREDICTION: FIRST PLACE, AMERICAN LEAGUE EAST.