A book came out recently — I just got my copy this week — that does something no other baseball book that I am aware of has ever done: it seeks to quantify the way in which media coverage impacts a player's fame and, in turn, his Hall of Fame chances.
The book is called "Playing for a Winner" and it was written by Brandon Isleib. Brandon is a baseball scholar and writer I've known for several years — we both used to contribute to The Hardball Times — and he first told me about the idea for it in 2015. I was so taken with the idea that, after Brandon showed me early drafts of his work, I agreed to write the Foreword to it. I don't get a dime for this, though. I'm recommending it because it's a fascinating new way to look at players' legacies that is in 100% keeping with the sorts of things we talk about here. Indeed, Brandon says in the book that part of the inspiration for it came from this dang article.
Hmm. Why am I not getting a dime for this again? Anyway: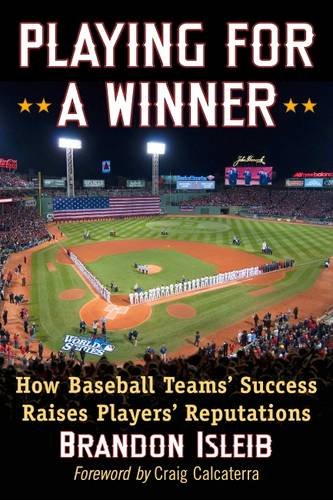 What Brandon does here is to quantify the "spotlight" in which a given player played. Meaning, figuring out how long and how strongly a player's team contended for the pennant in any given year, with the understanding that the stronger the team and more competitive the team is in a race, the more spotlight will be shone on the team. In turn, the players who play the best for that team will get more ink too and their accomplishments will be more well known and appreciated.
This explains a lot of weirdness in the Hall of Fame results for a lot of players. But it doesn't just explain why guys who played for winners are more appreciated than guys who played for losers. For example, Dwight Evans and Jim Rice played for the same Red Sox teams and, in the aggregate, Evans was the better player. So why is Rice in the Hall of Fame and Evans not? Mostly because Rice's best seasons came in seasons when the Red Sox won or challenged for pennants and Evans' came in less successful Sox years. More attention was paid to a peak Jim Rice and less to a peak Dewey. Rice was simply in the spotlight more.
Isleib does not leave it to such summary explanations, however. He has quantified the "spotlight" factor and applies it exactingly. Rather than merely look at team records at the end of the season, he looks at each season as it unfolded. A team that was in a dogfight, day after day, in August and September, was going to be in the spotlight more and its best players highlighted more. A team which wrapped up its business for all practical purposes by the All-Star break was going to fade from the headlines.
Isleib's book looks at something completely new and, even if you are skeptical of its premise, its season-by-season journey through history is massively rewarding for baseball history buffs. While a lot of people can tell you about, say, the 1969 pennant races, even the most hardcore baseball fans likely couldn't tell you what was going on, specifically, each week and month of the second half. This book gives us that sort of thing and in doing so talks about players you either forgot about or never heard about at all.
"Playing for a Winner" is more academic and scholarly than a lot of baseball books on the market, but don't let that scare you. It's a fresh and rewarding look at baseball history which sheds light onto some of the historical conundrums we still argue about today. And its framework and approach, looking forward, will make you smarter when the inevitable arguments about a player's Hall of Fame case comes up in the future.