OXON HILL, MD — This is the fourth year I have done these rankings (here's last year's). They started as a total lark, but I'm starting to worry that I have tapped into some sort of cosmic energy with them which somehow ties in with The Fate of Man.
I don't presume that I have any power here. I'm just a conduit. All I know for sure is that, if I rank you in, say, the bottom ten on this list, bad things may very well happen to you. To wit:
I think the lesson here is obvious: be handsome. Everything else is secondary.
Which skipper is the most handsome this year? See below to find out. But first, the disclaimers:
No baseball manager is ugly. All of them have inner beauty, I'm sure.
This is a subjective list, obviously. Beauty is in the eye of the beholder. I will privately judge you for thinking unattractive managers are handsome, but that reflects poorly on me, not you. Let no one besides you dictate your feelings.
Finally, because some of you will inevitably offer a neanderthal comment about all of this, let me head it off by assuring you that this is merely a list of aesthetic handsomeness, not one of love or longing. I hate that even in 2016 I feel as though I have to say it, but I will say that I am a totally straight man making these judgments. If you find something wrong or amiss with that, I feel sorry for you. There is far too much beauty among people in the world for us to fail to acknowledge 50% of it merely because we're worried about appearing less than traditionally masculine or feminine. Free your mind, the rest will follow.
The rankings: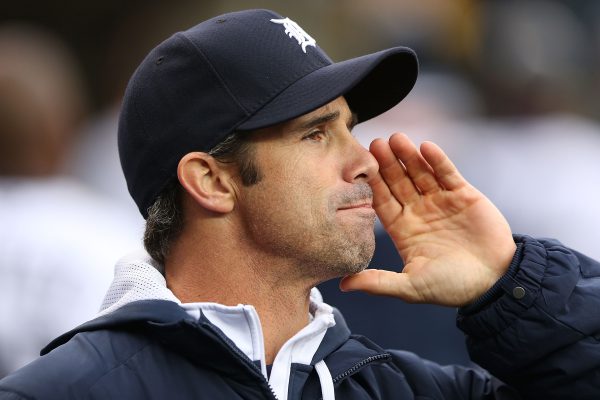 1. Brad Ausmus: Back on top after a one-year absence. I'm not gonna lie, I had no idea whether I'd put him here or give Mike Matheny a second year as my number one hunk. Two things happened last night, however, that helped me make up my mind.
First, just before going to dinner, I came across a late season photo of Matheny in which he was letting the mullet thing get out of hand (see below). Second, after getting back from dinner, I found myself standing next to Ausmus in the lobby of the Gaylord Hotel. He was with a group of friends, having a drink and chatting and, of course, was looking amazing. As I said above, I'm a perfectly straight dude, but even I can appreciate it when a man is in the 99th percentile of jeans-wearing. Indeed, the Tigers should change all coaches uniforms to jeans and a button down shirt next year and watch attendance soar.
But really, it wasn't just the looks that put Ausmus back on top. It was how comfortable he is being a true Man of the People. A lot of the older managers hang out in the bars with the crowd at the Winter Meetings because they've seen it all and don't give a crap. Bochy, Showalter, Leyland, Mackanin and those guys are always around. The younger set, who identify more with the front office types, are harder to find, presumably because they're up in the suites with the suits, away from the hoi polloi.
Not Ausmus. He's always down here with us plebes. He doesn't give a crap, and there's something dashing about that.
2. Mike Matheny: I'm gonna catch all kinds of hell from Cards fans for knocking Mathney down a notch after his first place finish last year, but I'm sorry, you gotta do something about that hair in the back, Mike: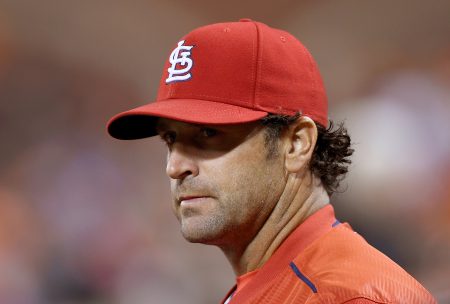 Maybe that's always been there, I don't know. But I'm really noticing it now and, for as little standing I have to criticize anyone's hair, I'm not prepared to make a mullet-wearing man my Most Handsome Manager. Don't get me wrong: he's still leaps and bounds more handsome than the 28 men below him. Ausmus and Matheny are in their own league. They should probably pull a John Laroquette and take themselves out of the future running in order to make it fair for the other guys. But you have to make distinctions somehow. Get a haircut and check back with me next December, Mike. Or maybe wait for Ausmus to get fired, which could totally happen in 2017. Then you can assume th top spot again.
3. Dave Roberts: A big leap from last year. As I've always said in these rankings how one carries oneself in the role of manager has a huge impact on one's handsomeness, at least how I define it, so we had to see him in action before his ranking stabalized. Roberts came into a job with a stress level that made Don Mattingly look like this, often: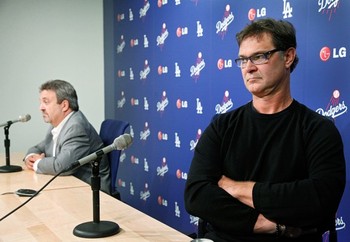 Roberts, however, dealt with the same stuff — the Yasiel Puig drama, the expectations that come with the Dodgers payroll AND he dealt with Clayton Kershaw getting injured — yet he always looked cooler than the other side of the pillow: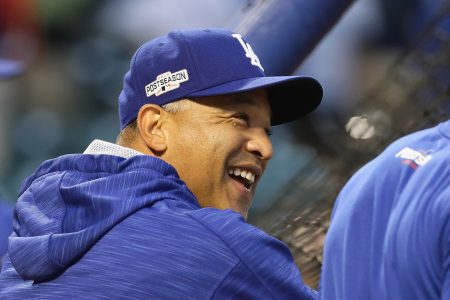 That's what handsome is.
4. A.J. Hinch: The chin dimple pretty much ensures that he'll always be in the top five.
5. Joe Maddon: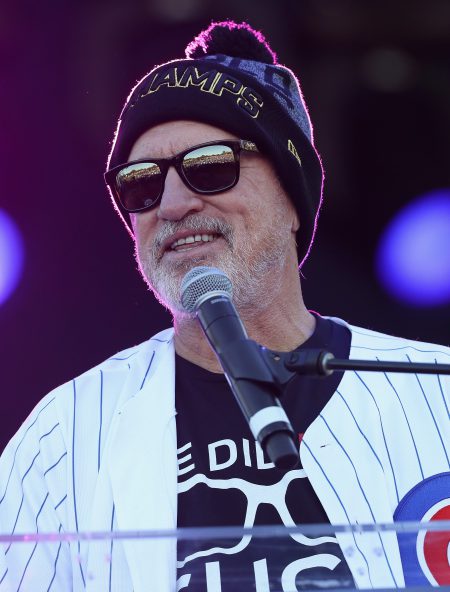 A big jump for Joe who, in recent years, I've held down a bit because I felt like he was trying too hard to be the cool dad which, as a dad, I can tell you is never a great look. But as I noted with Ned Yost the past couple of years, winning begets swagger which begets handsomeness and seeing Maddon walking around the Winter Meetings this week with a championship under his belt has allowed me to see him in a different light. He's still trying too hard — he was wearing some sort of down vest that looks like it came from Pro Glamping Illustrated or something — but when you win a World Series, you can wear whatever the hell you want and still look good.
6. Bud Black: A top-10'er in the first two years of this list due to his status as the Gold Standard of the Silver Fox set but, sadly, AWOL last year as he was without a gig. He's back now, baby, with a bullet. Just saw him yesterday too, as he gave his first Winter Meetings presser as the Rockies manager: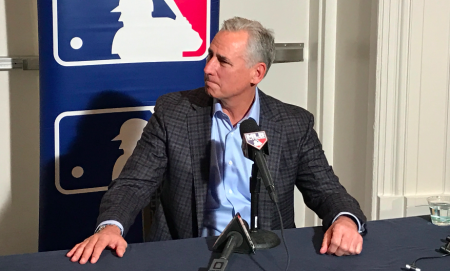 Nice blazer, Bud. Lookin' good as always.
7. Ned Yost: Yost takes a tumble as the winning swagger from the past two Winter Meetings just isn't there: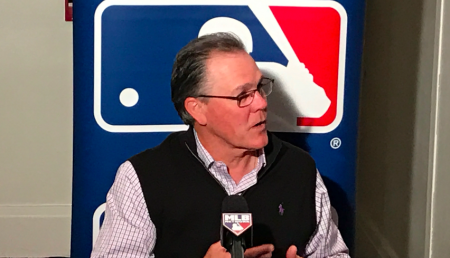 The glasses are sliding down the nose ever so slightly. The body language during his presser was more clenched and less expressive than we've seen in the past. None of us deal well with adversity, but going from World Series champ to missing the playoffs has taken a subtle but perceptible toll on his Ned's hunkiness.
8. Pete Mackanin: Pete has been hanging out in the bar here every evening with a group of people, one of whom I presume is his wife. They're a happy bunch. Laughing and enjoying themselves, sitting at a table with some food as opposed to walking around with drinks. He dresses smartly. From what I've observed, he talks some, but doesn't dominate the conversation. He may be the smoothest manager for a 90+ loss team I've ever seen.
9. John Farrell: Still looking good, even if he's down a few notches.
10. Torey Lovullo: New kid on the block: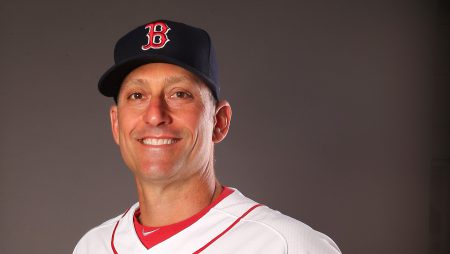 It's an open question if he'll keep that smile on his face after being in charge of the Diamondbacks. That job probably takes a toll.
11. Terry Francona: He remains the Most Handsome Bald Manager in Baseball. At least I think so. I haven't seen a pic of Lovullo with his hat off lately. If I remember correctly he's receeding, but I don't think he's truly and fully bald yet in the way Tito proudly is.
12. Brian Snitker: Since he took over in May this is his first time in the rankings. As with any new guy, this could go in a lot of different directions going forward. On the one hand: piercing eyes and rugged jaw: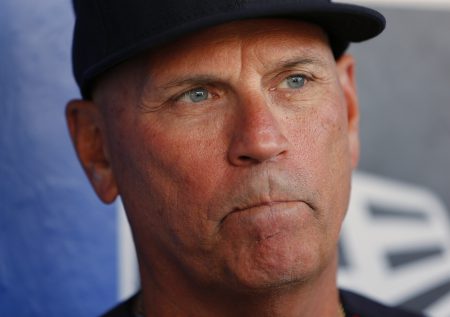 On the other hand, he doesn't really wear anger well: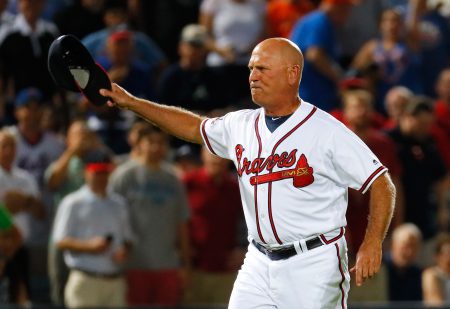 However: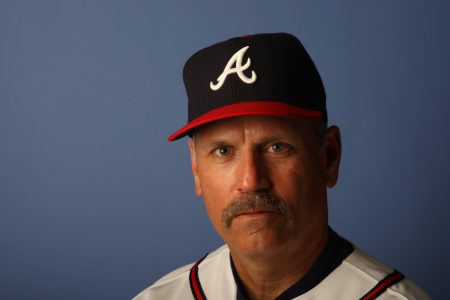 If Snitker brings back that soup strainer one day, he may be a darkhorse top-five'er.
13. Andy Green: A guy with the cheekbones and jawline he sported a year ago. . .
. . . should not be hiding it behind this much facial hair: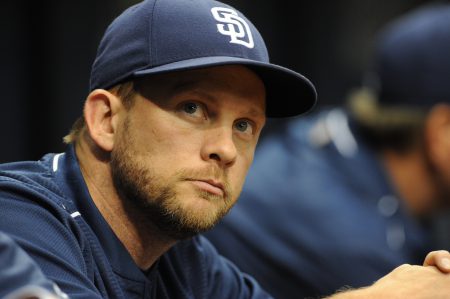 Clean it up, Andy.
14. Paul Molitor: He didn't get uglier. Some guys just moved ahead. Even if he did get uglier, the memory of Young Paul Molitor will likely buoy him for years: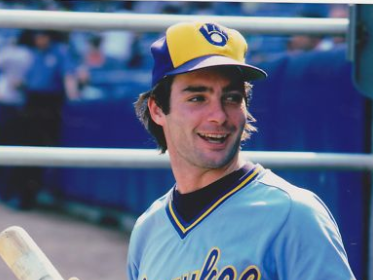 15. Jeff Bannister: Many of you tell me that I've been underrating him: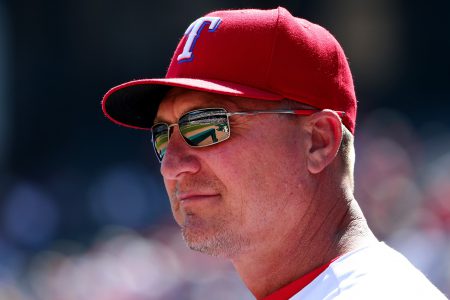 Fair. People underrate the Rangers every year too.
16. Joe Girardi: Holding steady with his intimidatingly strong arms.
17. Dusty Baker: Dusty can't help being one of baseball's oldest managers and time, of course, is undefeated, but he's so damn comfortable and relaxed all the of the time that he's way higher on this list than anyone his age has a right to be.
18. Craig Counsell: I suppose he is far more conventionally handsome than I give him credit for, but something about Counsell doesn't sit right with me: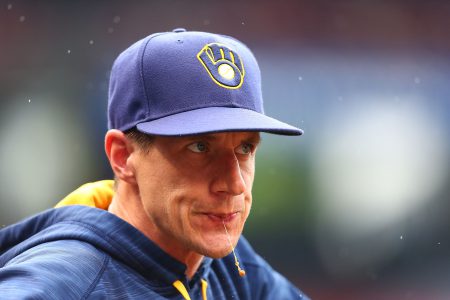 He turns 47 next season yet he still looks like that kid who hangs out in front of the drug store, opening Donruss packs and yelling "sweet!" after finding a Mark Grace Rated Rookie before peddling off on his Mongoose.
19. Bob Melvin: I feel like he'll be the Oakland manager until he dies of old age, so it'll be interesting to see him slide down the list as time takes its inevitable toll. Heck, given how the A's seem to be tied to Melvin forever, maybe they'll pull a Jeremy Benthem kind of deal with him and let him manage as a corpse in, like, 2059 or something. That would certainly impact his rating here. Though whether he'd go up or down I have no idea.
20. Kevin Cash: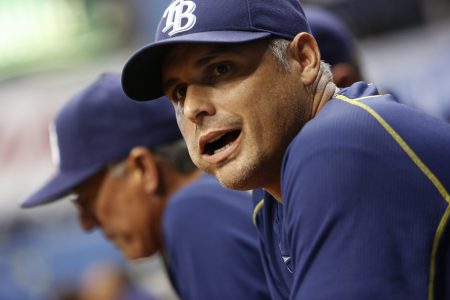 I've never gotten the appeal. People tell me I'm so wrong on him and that I should have him in the top 10 — and I suppose there's a "Mark Ruffalo avec Mail Pouch Tobacco" vibe to all of this — but I just don't see it.
21. Don Mattingly: It was a rough year in Miami, especially at the end of it, for obvious reasons. Matingly has seemed to have his seasons end with some level of stress and tumult every single year. He hasn't made his appearance at the Winter Meetings pressers yet, but I'm hoping he's relaxed and recharging.
22. Bryan Price: I feel like this is the last year he'll be on this list. Then again, I've been saying this for years.
23. Scott Servais: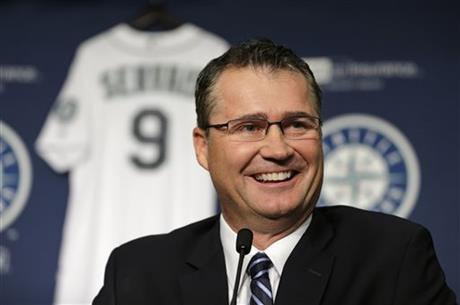 "What is it going to take to get you into a new Buick? My manager says I can throw in the all-weather floor mats at cost!"
24. Buck Showalter: Showalter was poised to be way higher on this list and all he had to do was put that killer outfit he just picked up and he would've been gold. For reasons only he can explain, however, he left it in the drawer. Baffling.
25. Terry Collins: He already has gray hair, but at the moment it looks like a past-his-defensive-prime Curtis Granderson is going to be his everyday center fielder this season. If so, his gray hair may get gray hair.
26. John Gibbons: He's not at the Winter Meetings this week due to dealing with a flu. This is what he looked like late in the season when he was healthy: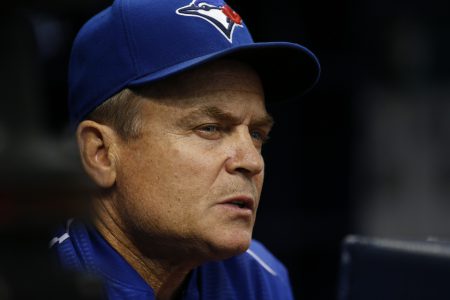 Imagine what Gibbons looks like sick.
27. Rick Renteria: Welcome back to the managing ranks, Rick. Baseball always needs a manager in your particular mold.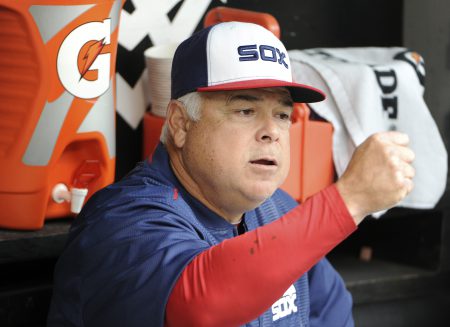 28. Bruce Bochy: Given the health scare last spring, allow me to say that I think Bochy is one of the most handsome men baseball has ever seen and the only reason he is listed at 28 right now is a computer glitch that is preventing me from changing it. Bad, computer! Bad! Bruce Bochy is an adonis! (no one tell him about this, OK?)
29. Clint Hurdle: Hurdle's handsomeness is directly proportinal to his happiness. He has a very pleasant smile and gives off an admirable rugged charm when things are going well. But we all remember what happens when he's angry: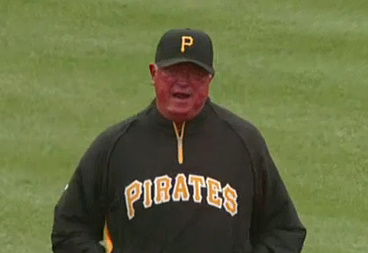 With the Pirates reportedly dealing Andrew McCutchen, one can only assume Hurdle is going to be angry more in 2017.
30. Mike Scioscia: All of these pictures came via the Getty Images search. When you use it, a search field comes up with all sorts of image options. This is one of the options: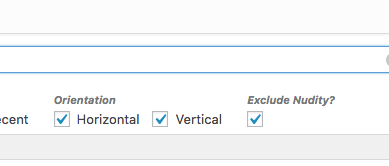 You may not like everything I do on this website, but you had better thank me for not unclicking that box and looking for Mike Scioscia nudes. That would definitely make a person . . . feel something.