Back in August the Chicago White Sox announced that their ballpark, formerly New Comiskey Park, formerly U.S. Cellular Field, would get a new name: Guaranteed Rate Field, named after a second-tier mortgage lender with a downward-facing arrow as a logo.
Down arrows may be great when you're thinking about mortgage rates, but they're less than inspiring when associated with sports. The Sox acknowledged this in August, saying that the exact logo would be figured out over time. Now it has been figured out. And it's still a downward facing arrow:

That's the sign which will feature prominently on the facade of the stadium at which the White Sox play. Here's an artist's rendering, released by the Guaranteed Rate folks themselves: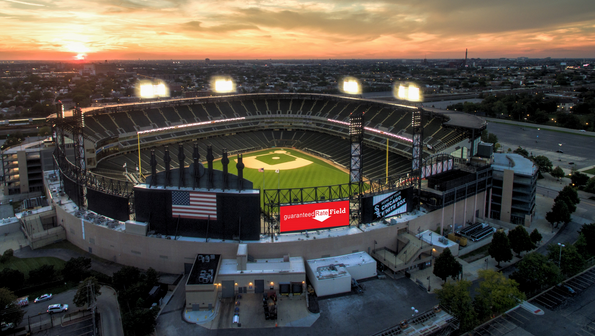 The CEO of Guaranteed Rate,Victor Ciardelli, is perplexed why sports fans may not like this:
"I know that there are fans that don't like the fact that there's a downward red arrow on the ballpark, but I have a hard time understanding the relevance between our mortgage company's main logo and how that negatively impacts the team or the fans. The whole reason we're doing this is to build national brand recognition."
That's a perfectly defensible position for the CEO of the company buying the naming rights to take. The issue is really more for the White Sox who somehow fail to appreciate that fans think differently about sports teams than they feel about movie production companies or record labels or TV networks or websites where they get other forms of entertainment. With sports, identity is far more important and the greater degree to which fans can adopt the team's identity — its colors, its logos, its attitude, to the extent it has one — the happier they are.
Stadium identities matter too. If they don't believe that, they should look a few miles north to see how much a part of Cubs fans identity is associated with Wrigley Field. Not just the name — which itself was chosen for corporate promotioal purposes once upon a time — but about what it represents and how it is represented. The park in which the White Sox play isn't ever going to be beloved like Wrigley Field is, obviously, but you'd think that the White Sox could avoid names and symbols and associations with it and, by extension, with the team, that are openly mock-worthy.
I suppose their response would be for White Sox fans to count the dollars involved and ask if they'd do anything differently. If so, that too would show how divorced they are from how their fans relate to their favorite sports teams.