You can't win as a broadcaster. If you heap praise on a player from one team, fans of the opposing team claim you're biased in his and the player's team's favor. If you don't heap enough praise, fans of the player's team think you hate him and their team.
Joe Buck knows this well, so he's likely not surprised to learn that his many, many laudatory words of Kyle Schwarber over the course of the Series' first five games — mostly deserved, by the way, as Schwarber is doing something that has not been done before — has caused some folks to poke fun at him.
How? In the form of a Bed Bath and Beyond wedding registry!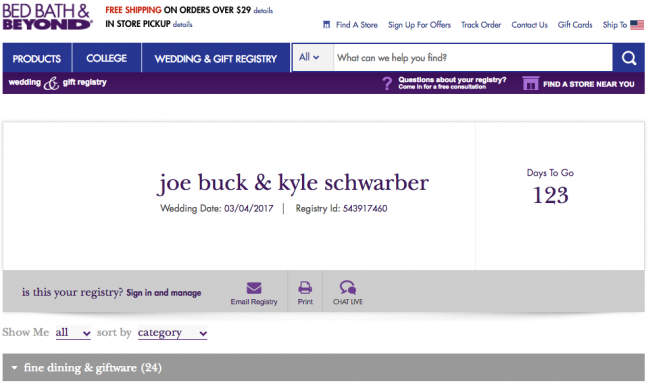 Someone already bought Buck and Schwarber a $10 sugar bowl. You can still get them flatware or some Riedel wine glasses. Both the Cabernet/Merlot tumblers AND the Viognier/Chardonnay tumblers.
Schwarber strikes me as more of a beer guy than a wine guy, but hey, sometimes you have company over.