Here are the scores. Here are the highlights.
Oh, and here is my take on the idiotic ending to the Reds-Cardinals game which could potentially cost the Giants a playoff berth.
Nationals 5, Diamondbacks 3: Wilmer Difo hit his first major league homer. Pedro Severino hit his second. No National succumbed to season-ending injuries. So a rare success for Washington in these final days of the regular season.
Yankees 5, Red Sox 1: CC Sabathia allowed one run and four hits while pitching into the eighth inning. It was only his ninth win of the year — his first win in a month — but he lowered his ERA to 3.91. He strike out fewer guys than he used to, walks more and allows more hits. But the fact that he made 30 starts this year and made at least a modest return to form suggests that, maybe, Sabathia still has something in the tank. Not as an ace, of course, but at least as a guy who can give you some respectable innings at the back of a rotation. In other news, the Yankees were eliminated in the middle of this game by virtue of the Orioles beating the Blue Jays. Inevitable, but the mere fact that they staved off elimination until game 159 is pretty impressive given all that has happened this year.
Cubs 1, Pirates 1: You don't see many ties in baseball. Unless it's spring training. Or, like, 1912 or something and it gets dark. Thank Mother Nature for the game being called at 1-1. Thank this game having no playoff implications whatsoever for it not being resumed at a later date. It was the first tie in a regular season game since 2005.
Orioles 4, Blue Jays 0: Ubaldo Jimenez and two relievers combined on a three-hit shutout. Jimenez allowed one of those hits in his six and two-thirds innings. The O's and Jays are tied in the Wild Card standings with Detroit (1.5 back) and Seattle (2 back) the only ones left who can break up their postseason party.
Braves 5, Phillies 2: Freddie Freeman's 30-game hitting streak ended but the Braves won for the 10th time in 11 games. The Tigers play Atlanta in the season's final series. A month or two ago that looked like a nice way to end things. Right now, however, there's a decent chance that the Braves help end the Tigers season. If that comes to pass, please say a prayer for those Braves fans you know who are engaged to grumpy Tigers fans come Sunday. Not, um, that I know any of those.
Twins 7, Royals 6: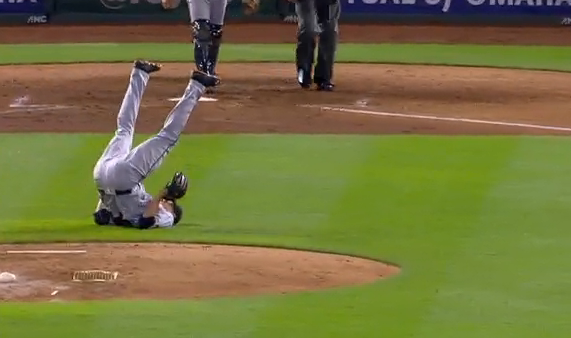 Same.
Cardinals 4, Reds 3: Not sure what else there is to say at this point that I didn't say here. I dunno, Yadier Molina and Jedd Gyorko hit solo homers. Wheeeeeee.
Rays 5, White Sox 3: Congratulations to Chris Archer for avoiding his 20th loss of the season. Pitcher wins and losses mean little about the skill or prowess of a pitcher, but it's better not to be the answer to a trivia question like that.
Dodgers 9, Padres 4: Joc Pederson doubled twice and drove in three as the Dodgers avoided a sweep. The Dodgers are two games behind the Nationals with three to play in the race for home-field advantage in their division series matchup. Between that and possibly keeping the Giants out of the Wild Card game, they have a lot to play for this weekend in San Francisco.
Mariners 3, Athletics 2: Mike Zunino hit a go-ahead home run in the seventh inning to keep the Mariners alive for at least one more day.
Giants 7, Rockies 2: Johnny Cueto started out a bit shaky, giving up two in the top of the first, but he settled down and didn't allow anything else in his remaining six innings. It was close until the sixth when the San Francisco pulled ahead, thanks in part to an uncharacteristic defensive blunder by Nolan Arenado. The Giants control their own destiny in the Wild Card, standing a game ahead of St. Louis with three to play.
Indians vs. Tigers: POSTPONED: The leaves of brown came tumbling down
Remember in September in the rain
The sun went out just like a dying amber
That September in the rain
To every word of love i heard you whisper
The raindrops seemed to play our sweet refrain
Though spring is here to me it's still September
That September in the rain