Here are the scores. Here are the highlights:
Tigers 9, Twins 2; Tigers 4, Twins 2: The Tigers rode late offense in game 1 of the doubleheader, with homers from Justin Upton and Victor Martinez and a six-run ninth inning and rode pitching in game 2 with Justin Verlander mowing down Twins like it's his job. Which it is, but never mind that. The highlight of the twinbill however was, without question, Twins pitcher Pat Light throwing a wild pitch during an intentional walk, allowing a run to score. We should probably end the Twins season now because there's really nowhere else to go from there.
Red Sox 5, Orioles 3: Eight straight wins for Boston, and 13 of 16. The Sox are gettin' that team-of-destiny feel to them. David Price won his eighth decision. With this loss, the O's have fallen a half game out of Wild Card position, as the Tigers pass them up.
Indians 5, Royals 2: It was tied at two in the sixth inning when Carlos Santana hit a three-run homer. Smooth. The Indians have beaten the heck out of the Royals this year. Their magic number is now four.
Mets 9, Phillies 8: Jose Reyes hit a two-run homer to tie it in the ninth and then, after the Mets gave up two runs in the top of the 11th, Asdrubal Cabrera played the hero with a three-run walkoff homer in the bottom half to give the Mets the win. Before this game the Mets were 0-63 when trailing after eight innings, so comebacks have not been their thing. Two comebacks in this one put them a half game up in the Wild Card race, however.
Braves 6, Marlins 3: Two home runs for Matt Kemp who has been on fire lately. A quote from after the game:
"He's a really good player. He's a big, strong man and when he swings that bat it goes."
That was Braves manager Brian Snitker, by the way, not 8-year-old me explaining why, say, Cecil Cooper is good.
Rays 2, Yankees 0: Blake Snell and the Rays' bullpen combined on an eight-hit shutout. The Yankees had a good number of base runners but couldn't make anything happen. Brad Miller had an RBI single in the first and Corey Dickerson hit a solo homer in the sixth. After the game, Brett Gardner, acknowledging that the Yankees are all but toast now, said "we need to win 11 games." He was then told that the Yankees only have ten games left. He said  "We need to win 11 out of 10." Laugh all you want, but ballplayers have been giving 110% for years, so they can totally do that now.
Brewers 3, Pirates 1: Chris Carter and Scooter Gennett both homered. That was Carter's 37th home run. One more and he cracks the all-time top-1o list for Brewers homers in a season. Which, in light of the comment in the Braves blurb, I was sad to see did not contain Cecil Cooper: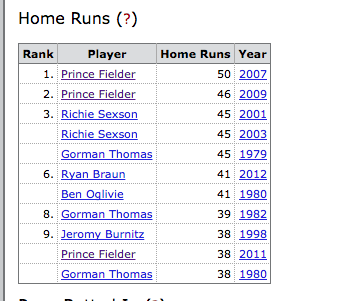 Angels 2, Astros 0: A two-run Albert Pujols homer in the first was all the scoring in this game. Ricky Nolasco tossed seven shutout innings. Given how frequently losing teams unload the bullpen in late September games, those seven innings are the equivalent of a CG shutout April through August, so we should just credit Nolasco for that.
Dodgers 7, Rockies 4: Down by two in the seventh, the Dodgers put up a fiver via a bases loaded walk and then a Yasmani Grandal grand slam. The highlight of the game, though, had to be Chase Utley's no-look pass to Gonzalez down at first.
Giants 2, Padres 1: The Giants finally beat the Padres and in doing so kept pace with the Mets in the Wild Card. Jeff Samardzija's seven shutout innings and a two-run rally led by Angel Pagan and Hunter Pence put 'em over.