Here are the scores. Here are the highlights:
Dodgers 2, Giants 1: I wrote this up in its own post when I woke up this morning because the world needed a longer treatment of a game that stands as a microcosm for the Giants season. A late collapse and a bullpen failure. Adrian Gonzalez delivered the killing blow with a walkoff double, but the Giants bullpen was complicit by putting two runners on to lead off the ninth. Oh, and there was a side of Bumgarner-Puig macho posturing, which seemed to be started by Bumgarner. Remember kids: if you're a hitter, don't even blink twice lest you be seen as showing up the pitcher, but if you're a pitcher, you can scream and act like a jackass all you want because that makes you "a competitor."
Braves 7, Mets 3: Noah Syndergaard is on the cover of The New Yorker this week: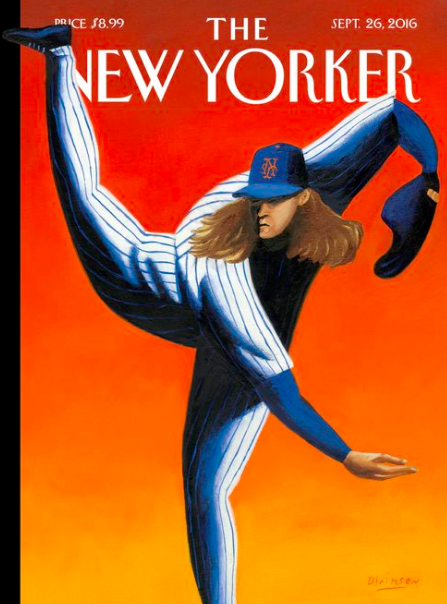 The Curse of the New Yorker is not as famous as The Sports Illustrated Curse — and its effects are usually limited to you, like, not being short-listed for the National Book Award or something — but they're real, man. Just ask Syndergaard, who got beat up for five runs on eight hits in three and two-thirds innings and then left t the Shouts and Murmurs of an unhappy Citi Field crowd. The Mets have been the Talk of the Town lately, but if the pitching stumbles late, their playoff chances are going to be relegate to The Fiction Issue.
Royals 8, White Sox 3: Kendrys Morales hit a three-run homer. If he hits one more he'll be the first Royal to hit 30 since Jermaine Dye did it 16 years ago. Yorando Ventura tossed his first career complete game. Well, his first complete game that went nine innings anyway.
Red Sox 5, Orioles 2: David Ortiz hit a homer because he's David Ortiz. Mookie Betts hit a homer because he was playing the Orioles and he destroys them. Rick Porcello won his 21st game because the cosmos decided that we needed a guy to win a bunch of games this year to make the Cy Young Award arguing fun.
Marlins 4, Nationals 3: The Marlins rallied for two in the sixth inning thanks to a Derek Dietrich pinch-hit double and Ichiro hitting into fielder's choice which scored a run. Earlier Giancarlo Stanton homered. Miami is four back in the Wild Card behind the Cardinals and Giants. I could almost see the Giants collapsing that far in the final 12 days of the season, but I can't see both doing it.
Rangers 3, Angels 2: Ian Desmond drove in Elvis Andrus with a walkoff single to reduce the Rangers' magic number to four. Which was reduced further, to three, when the Mariners lost later last night.
Cubs 5, Reds 2: All kinds of rallies last night, eh? Here the Cubs rallied for all five of their runs between the seventh and eighth innings. Dexter Fowler's RBI single in the seventh was the third run, which broke the tie and gave the Cubs the lead for good. Jason Hammel allowed two runs and four hits in seven innings to pick up his 15th win.
Cardinals 5, Rockies 3: Carlos battled altitude effects at Coors Field, needing to take a break to catch his breath at one point, but he pitched well and (all together now) helped his own cause by hitting an RBI double. More importantly, the Cards moved into a tie with the Giants for the second wild card. Both are one game behind the Mets for the first slot.
Astros 4, Athletics 3: Tyler White hit a pinch-hit RBI double in the eighth to tie things up and then Marwin Gonzalez hit a two-run single to give the Astros the lead in the top of the ninth. A nice win, but it may be too late for Houston. They are three games behind Baltimore and Toronto in the Wild Card race but two other teams, Detroit and Seattle, are ahead of them as well.
Blue Jays 3, Mariners 2: Marco Estrada took a no-hitter into the seventh and ended up allowing only one hit while striking out eight in seven innings. Edwin Encarnacion hit a two-run homer and Kevin Pillar hit an RBI single.
Padres 3, Diamondbacks 2: San Diego scored all three of their runs in the fourth thanks to a Wil Myers homer and an Alexi Amarista two-run single. Clayton Richard allowed two runs while pitching into the seventh. Seeing this box score, I was also reminded of the existence of Clayton Richard.