Diamondbacks Chief Baseball Officer (note: this title never caught on anywhere else) Tony La Russa was on ESPN's Dan LeBatard show and was asked about baseball players protesting the way Colin Kaepernick and others have in the NFL.
The video is here. The transcript of his response:
"The Kaepernick thing . . . I would not allow it on my team. Because I think respect for this country, for the flag– I know what the Constitution says, but I also know you have some rights as an organization. And I really distrust Kaepernick's sincerity. I was there in the Bay Area when he first was a star. A real star. I never once saw him do anything but promote himself. All of a sudden now he's a second stringer and . . . this mission to . . I just don't trust his sincerity. And even if he was sincere, there's way to express your belief in some of the issues which face blacks around this country without disrespecting the country you live in or the flag that it represents. I absolutely would not allow it."
I wish LeBatard had followed up with a question about how old La Russa was when he became an animal activist, as represented by the logo of his charity he frequently promotes floating over his shoulder during this very interview: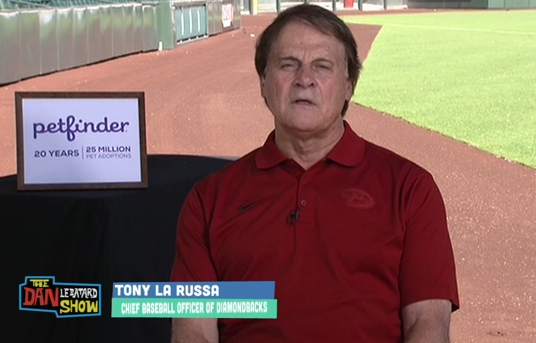 I don't think anyone has ever questioned La Russa's stated sincerity for his belief, or whether he got super into his animal charity to distract the public from his own professional prospects spiraling downward, nor should they. Yet for some reason La Russa, who likely knows absolutely nothing about Kaepernick, feels free to accuse him of being a disingenuous self-promotor, latching onto this Anthem protest as a means of distracting people from his demotion from the starting QB job.
The reason for this is clear. Unlike the manner in which La Russa started his answer — that an organization has a right to control its employees action, which he is completely correct to note — La Russa is not upset at the time and place of a player's protest. He's upset at who and what is being protested. He hates the message, not the insertion of a cause into a sporting event. It's clear from both his words, his disdainful tone and his head-shaking body language.
Besides, if La Russa was truly upset about sports and patriotism mixing in unorthodox ways, he'd take public issue with his own team doing this:
The Arizona Diamondbacks took $40,000 of taxpayer money in fiscal year 2014 for:

On-field AZARNG oath ceremony, color guard demonstration, scorecard delivery, and 20 game entry vouchers for two Diamondbacks home games (FY2014)
 Opportunity for an AZARNG soldier to deliver the ceremonial first pitch before the Sept. 17, 2014, Diamondbacks home game (FY2014)

According to ABC News, the leagues and teams deny charging for these patriotic displays, calling them "free add-ons to big marketing contracts."
Or perhaps he'd explain why it was totally cool for him and one of his players to take part in a political rally in the middle of a baseball season back in 2010.
Maybe that's it. La Russa isn't mad at Kaepernick. He's worried about conflicts of interest! When it comes to pushing a political agenda in sports via acts of patriotism, only certain views will do.
In the end, I doubt La Russa's sincerity. To paraphrase a great man, "I never once saw him take issue with a player like this. All of a sudden now he's rumored to be fired for running his team into the ground and . . . this mission to . . I just don't trust his sincerity."