Here are the scores. Here are the highlights:
Giants 3, Rockies 2: Kelby Tomlinson, which is somehow not the name of an SEC quarterback, hit a tie-breaking RBI single in the ninth to lift San Francisco. "Just hoping to get a pitch that I could handle and get it in play there," Tomlinson said after the game, showing that his promotion from Sacramento last week was due to his finally mastering his cliches.
Yankees 7, Blue Jays 6: Two outs in the ninth. Bases loaded. The Yankees clinging to a one-run lead in a wild, back and forth game. Justin Smoak drives one to deep left field! It's to the wall! It's . . .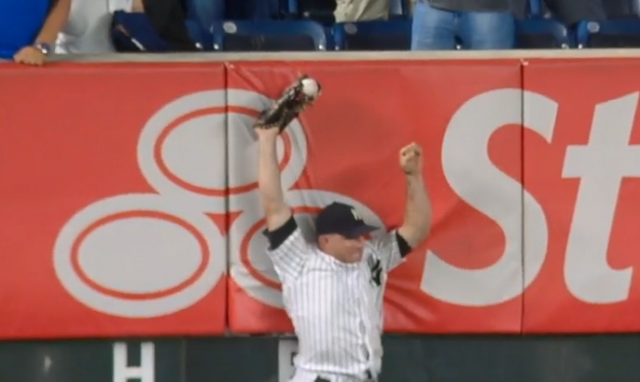 Hey, nice grab Brett Gardner. Let's watch that one:
[mlbvideo id="1145450483″ width="600″ height="336″ /]
The Jays have lost four of five and are now tied with Boston atop the AL East. The Yankees, while still four and a half back in the East and three and a half back in the Wild Card, are seven games over .500.
Nationals 9, Braves 7: Braves rookie Dansby Swanson hit his first big league homer — an inside the park job — but you gotta pitch too and the Braves didn't do enough of that. No one did, really, as these two teams combined to use 14 pitchers in this three hour thirty eight minute game. It was tied at six until the eighth inning when Nats scored three. They also had a five run third inning.
Cardinals 9, Pirates 7: Also a 9-7 game but this one took exactly two minutes less time, maybe because only 12 pitchers were used instead of 14. This one ended with the Cards knocking the Pirates over the head with a sledgehammer, man, hitting three homers in the top of the ninth, turning a one-run deficit into a three-run lead. Matt Carpenter was one of the homer hitters. His was of the pinch hit variety. It was St. Louis' 15th pinch hit homer this season, which is a major league record. Pittsburgh has now lost eight straight.
Astros 4, Indians 3: Marwin Gonzalez hit a three-run homer off of Corey Kluber, who had been pitching lights out for the last two months. Gonzalez hit two doubles as well. The Astros have won 13 of their last 17.
Mets 5, Reds 3: The Mets hit four homers, including a two-run shot for Yoenis Cespedes in the seventh which gave the Mets the lead. Cespedes also nailed Brandon Phillips with a great throw from the left field wall to end the eighth inning:
[mlbvideo id="1145965083″ width="600″ height="336″ /]
Royals 10, Twins 3: Brian Dozier homered again — he has 39 on the year now and has homered in five straight games — but Kendrys Morales hit two homers and drove in five. Things were tied heading into the ninth but the Royals scored seven that frame on four RBI singles and a Morales three-run shot. Sal Perez had to leave the game in the sixth after being hit by a pitch in the wrist.
Phillies 4, Marlins 3: Giancarlo Stanton was activated and had a pinch hit but the Marlins are still free falling, losing their tenth in the last eleven games. Tommy Joseph and Freddy Galvis each drove in two runs for the Phillies. Adam Morgan had been 0-9 with a 6.72 ERA in his last 15 appearances but the Marlins made him look like pretty darn good.
Orioles 11, Rays 2: Manny Machado hit a grand slam in the O's six-run fourth inning. He added an RBI single in the eighth. Chris Davis and Adam Jones homered too, as the O's pull to within one of Boston and Toronto and add a game lead to their position as the second Wild Card team because . . .
White Sox 2, Tigers 0: . . . Detroit couldn't do anything against Miguel Gonzalez and three White Sox relievers. Jose Abreu homered. He was hitting just .242/.304/.382 through the end of May. Since then he's put up insane numbers to bring his overall line to a pretty nice .294/.347/.480 with 23 homers and 87 RBI.
Brewers 12, Cubs 5: The Cubs have been on fire of late (with "of late" being defined as "the entire 2016 season, save a week or two when people pretended that something was wrong with them") but a five-run first inning from Milwaukee cooled them off a bit. Jason Hammel didn't fool anyone in that first inning, as Jonathan Villar homered to lead things off, Ryan Braun had an RBI single, Domingo Santana singled in two and Martin Maldonado added a sacrifice fly. After that it was all bratwurst and High Life.
Athletics 3, Angels 2: The A's were down 2-0 in the bottom of the eighth when Ryon Healey hit an RBI single and Joey Wendle drove two in with a single of his own. Your job today: poll ten baseball fans you know and ask them if they know what team Ryon Healy and Joey Wendle play for. God, I love September.
Rangers 10, Mariners 7: Elvis Andrus homered and hit three doubles, driving in a couple. He also had two errors in a game that, based on the box score anyway, looked like a sloppy mess. Texas has won eight of ten.
Dodgers 5, Diamondbacks 2: Shelby Miller continues to be lost in the desert, allowing five runs — four earned — on 11 hits in four and a third innings. Ross Stripling wasn't all that sharp, but he hit an RBI single in the second which have the Dodgers a lead they'd never relinquish and the bullpen was strong for L.A. The Dodgers remain four games ahead of the Giants, which is their biggest lead of the year.
Red Sox 5, Padres 1: Clay Buchholz, making his first start in a couple of weeks, allowed one run while pitching into the seventh inning as Jackie Bradley Jr., and Chris Young homered. The Sox are now tied for first with Toronto in the East.