Tim Tebow is, as we speak, working out for some 40 scouts from 20 organizations and an untold number of members of the media. So far he has run and jumped and thrown and, in a moment or two, will take his hacks. First BP swings, then live, full-speed BP off of a couple of former major leaguers.
His 60 yard dash time was supposedly excellent. On the 80-20 scouting scale he's supposedly in the 50-60 range, according to people tweeting about it who know what they're talking about. The guy is certainly big and strong and in amazing shape and that's not nothing.
Also this: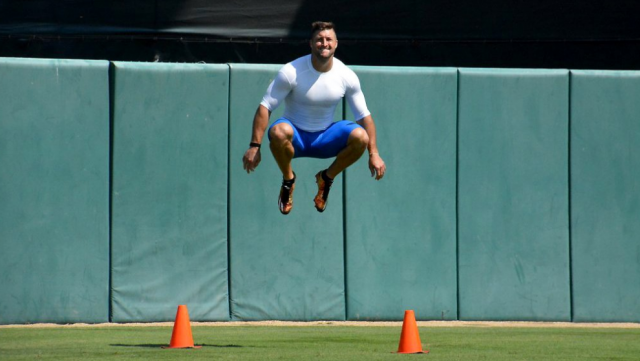 That's from MLB's Twitter, which provides us with some more in-action shots.
Here he is playing right field out there in the distance someplace:
UPDATE: Tebow's workout is over. On the "pro" side, based on the assorted tweets of journalists in attendance, many based on quick conversations with scouts in attendance, Tebow's power was described as "nuclear," and graded out at an 80 for at least one scout. That's as good as it gets. The speed in the 60, as mentioned above, was also excellent.
On the "con" side was his fielding, which was considered sub-par, with a scout saying that his routes were circuitous and inefficient and his arm, while alright, was nothing special, especially for a guy of his obvious physical strength.
As far as non-power hitting goes, it was also not great. His stance was very, very wide and did not leave much room for adjustments, scouts said. This was born out by his being fairly consistently baffled by former big leaguer David Aarsdma's changeup, at which he swung-and-missed three of four times. He was one for six in simulated at bats against minor league journeyman Chad Smith, with that one hit being a single. He also drew a walk.
Maybe that power — both hitting power and star power — is too great for an organization to ignore. Maybe someone takes a chance. But as a prospect Tim Tebow sure sounds a lot like a big strong fast guy who probably doesn't have a ton of baseball skills.