Here are the scores. Here are the highlights:
Rangers 2, Indians 1: Derek Holland was solid, allowing one run over six innings and Ian Desmond and Jonathan Lucroy each had an RBI single. The Rangers take three of four in what could be an ALCS preview. Although, given that no teams have been eliminated yet, any game between AL teams could be an ALCS preview if you think about it hard enough. Open your mind, man.
Dodgers 1, Cubs 0: All goose eggs until the eighth when the Dodgers cobbled together a run out of a hit-by-pitch, a two-base throwing error by Trevor Cahill and a fielder's choice. Then all goose eggs after that. Brock Stewart and four relievers combined on a four-hit shutout for the Dodgers. This could be an NLCS preview, by the way. I won't finish the joke here. I already told it.
Orioles 5, Yankees 0: Kevin Gausman had no trouble with the somehow resurgent Yankees, shutting them out for seven innings and fanning nine. I rarely say "fanning" for striking out and I don't hear at all that often anymore. Back in the 80s it seemed like there was a lot more "fanning" going on. Steve Pearce drove in three. Earlier this season, while he was still with the Rays, I mistakenly identified some Orioles player in a photo as Steve Pearce. I'm glad he's back where he belongs.
Blue Jays 9, Twins 6: Josh Donaldson hit three homers, including the go-ahead dong, continuing a year that, by the numbers, is better than his MVP year last season, even if people aren't talking about it as much. On his third homer Jays fans tossed hats out onto the field. Get it? Yeah. Anyway, Minnesota had a 5-2 lead in the middle of the game but blowing moderate leads with lots of time to go is one of the primary traits of teams that suck.
Angels 5, Tigers 0: Jefry Marte hit a two-run homer and drove in a third run on a sac fly. Marte's performance would really serve as a great "bet you miss me NOW, huh?!" game for him if anyone remembered that he played for the Tigers last year.
Phillies 5, Mets 1: A.J. Ellis hit a two-run double to break a 1-1 tie in the seventh inning. Somewhere Clayton Kershaw shed a single tear, Iron Eyes Cody-style.
Padres 3, Marlins 1: Luis Perdomo tossed a complete game while allowing only one run and requiring only 99 pitches. Having six double plays get turned behind you certainly helps the old pitch count.
Rockies 5, Nationals 3: Nolan Arenado went 4-for-4 with a homer and a triple as the Rockies take two of three from the Nats. Lucas Giolito ran into trouble in the third when Arenado hit that dinger. Dusty Baker after the game: "It's that one bad inning that does you in. That was the one bad inning."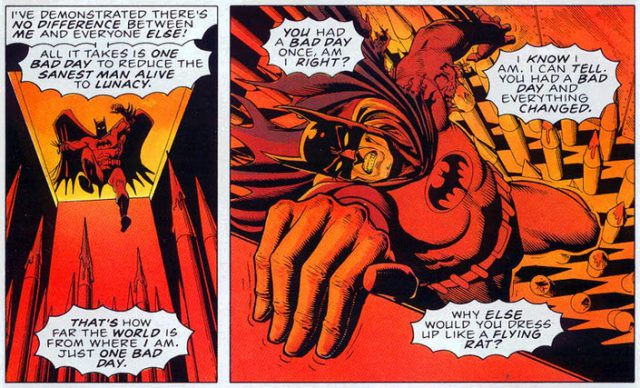 So what I'm saying is, yes, Lucas Giolito is now either The Joker or Batman. That's how this works.
White Sox 4, Mariners 1: Carlos Rodon allowed a run and five hits while pitching into the seventh. After a pretty disappointing season he's turning things around lately, going 3-0 with a 1.47 ERA in his last five starts.
Pirates 3, Brewers 1: The Sweep. John Jaso, Gregory Polanco and Starling Marte all homered. Ivan Nova pitched well but left with a wonky hamstring. Which, given that Gerrit Cole is hurt, does not bode well for a team that needs everything to go right for the next month and change if they don't want to go home in a month and change.
Athletics 7, Cardinals 4: The A's have won four of five. Khris Davis hit a two-run shot and Steven Vogt hit a three-run homer. A's starter Andrew Triggs got his first win. He's from Nashville and said that a bunch of his friends and family drove to St. Louis from there to see him pitch. Can't think of a road trip I'd rather do less in the August heat than Nashville-to-St. Louis, but you crank up the AC and do it for your friends and family I suppose.
Rays 10, Astros 4: Chris Archer allowed three runs on four hits in seven innings and struck out ten. Astros pitchers allowed ten runs on 15 hits and only struck out four. The order of things matters, man. Corey Dickerson his a three-run homer.
Giants 13, Braves 4: Four homers from the Giants — two from Joe Panik — to back a less-than-perfectly-sharp-but-good-enough-against-a-team-like-the-Braves Madison Bumgarner. The Giants took two of three from Atlanta to remain two back of the Dodgers. It was only the second series they have won since the All-Star break.
Diamondbacks 11, Reds 2: A.J. Pollock went 3-for-5 and stole two bases, showing Diamondbacks fans what they missed with him gone all year. Welington Castillo drove in four in this laugher of a game.
Royals 10, Red Sox 4: Down 4-2 in the sixth and the Royals put up an 8-run inning. Raul Mondesi's bases-loaded triple and Eric Hosmer's two-run single were the big blows. The Royals have won 17 of 21 and have moved to 5.5 back in the AL Central and three back in the wild card. They're tied with Houston and are a game back of Detroit in that race. Maybe the defending champs were only mostly dead.