Here are the scores. Here are the highlights:
Blue Jays 7, Yankees 4: The Jays can kill you even when Bautista, Donaldson and Encarnacion don't do anything. Bautista wasn't in the lineup and Donaldson and Encarnacion combined to go 1-for-9, but no worries: Darwin Barney doubled in a couple of runs and Melvin Upton hit a three-run bomb. As my friend Jesse Spector wrote yesterday, Toronto, after a 22-25 start through May 24, has the best record in baseball (47-27).
Rays 2, Padres 0: Brad Miller hit a two-run homer in the first, Chris Archer pitched shutout ball into the eighth inning and that, as they say, was that. Miller is 5-for-9 with three homers and five driven in over the past two days. I'm sure the Padres are happy to be leaving St. Petersburg and him behind.
Cardinals 8, Astros 2: Carlos Martinez allowed one run over seven efficient innings. Meanwhile it took Doug Fister 98 pitches to get through four innings. I like how that reads, by the way, as if "pitches" was a unit of time. It's sort of like how the Millennium Falcon made the Kessel Run in less than twelve parsecs. If you ever want to lose your whole afternoon, and maybe even your faith in humanity's priorities, go read the Wookiepedia page about the Kessel Run and think of all of the time and effort people have spent retconning one throwaway, nonsensical bit of dialogue George Lucas likely spent a millisecond writing into something that makes logical sense. And yeah, I know, I know, it's not about how fast Han Solo made the Kessel Run. It's about the route he took and how he leveraged black holes and blah, blah, blah isn't he a savvy captain. Explain to me, then, Master Star Wars Sage, why that line came in direct response to Obi-Wan asking him if the Falcon was a "fast ship"
Han Solo: Han Solo. I'm captain of the Millennium Falcon. Chewie here tells me you're lookin' for passage to the Alderaan system?
Kenobi: Yes indeed, if it's a fast ship.
Han Solo: Fast ship? You've never heard of the Millennium Falcon?
Kenobi: Should I have?
Han Solo: It's the ship that made the Kessel Run in less than twelve parsecs.
Please. I have much love for Solo, but the line is way better explained, both for the sake of logic and in keeping with his character, by Solo being totally full of crap here, caught up in believing that he had a couple of total rubes in front of him and that he could just B.S. his way into taking their money for passage to Alderaan. I'd be WAY happier with a cut scene right after this where Solo and Chewie laugh their heads off at Solo using "the old parsecs line" to jive someone than I am reading tortured explanations of what the Kessel Run truly is, man.
Next time I make such a long diversion like this, it'll be about how different the whole Star Wars saga would go if Mal Reynolds was the captain of the Falcon rather than Solo. It'd be shiny.
Rockies 12, Nationals 10: Stephen Strasburg spotted the Rockies nine runs in the first inning and two-thirds and, even though Washington made it close late, that's too much to spot anyone. DJ LeMahieu singled in his first at-bat to stretch his on-base streak to 10 plate appearances but that streak ended in the same inning when he came up to bat for a second time. Gerardo Parra doubled with the bases loaded, scoring all three ducks on the pond, and then tripled in a run later in the game. Bryce Harper hit a looooong homer.
Pirates 6, Giants 5: Andrew McCutchen had two hits, including a two-run homer, as Pittsburgh put up a six-run fifth inning that chased Matt Cain. San Francisco loses again and, with the Dodgers win over the Phillies, lose more ground in the West.
Red Sox 8, Orioles 1: Boston, in the middle of a rough bit of schedule with lots of travel and a day game in one city today after a night game in another city last night, wins its sixth game in a row. This one was rain-shortened. It was still long enough for Jackie Bradley Jr. to homer and drive in four. Before this win streak the Sox had lost 13 of 20. Now they pass Baltimore and move into second place in the East. What a weird year for them. What a weird division.
Dodgers 7, Phillies 2: Two homers for Adrian Gonzalez, who drove in five. Justin Turner homered too and Joc Pederson reached base four times. An underrated part of the Dodgers season is Pederson's improvement, by the way. He's raised his batting average by nearly 50 points and is on a pace to have 50 fewer strikeouts than he did in 2015.
White Sox 10, Indians 7: Down 7-5 in the ninth and facing Indians closer Cody Allen, White Sox fans would've been excused if they had turned off their TVs and picked up a book or something. The Chisox rallied, however, with a couple of infield singles and a walk leading to a Dioner Navarro RBI single soon after. OK, no sweat, still a one-run lead for the Tribe. Then Adam Eaton came up, however, and jacked one out. Grand slam, 10-7 White Sox lead and that's all she wrote. Best part: Eaton was blowing a dang bubble when he hit the salami: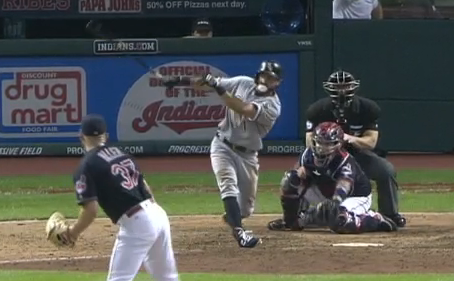 Style, man.
Royals 4, Tigers 1: Eric Hosmer broke up Anibal Sanchez's perfect game in the fifth inning with a walk, broke up Sanchez's no-hit bid in the seven with a double and then hit a tie-breaking two-run homer in the ninth to win the dang ballgame. No bubble-blowing, but in his own way that was a way bigger F-U to his opposition than Eaton's was.
Twins 10, Braves 3: Top prospect Dansby Swanson made his major league debut for the Braves and singled twice. Unfortunately for Atlanta he is not Bugs Bunny and could not play all nine positions. Kyle Gibson pitched all nine innings for Minnesota, however, allowing three runs on eight hits while his offense gave him plenty of support.
Reds 3, Marlins 2: Brandon Phillips had two doubles and drove in two. The RBI came after the Marlins walked Joey Votto with a runner on second to get to Phillips. That's a totally defensible strategy that probably works more than it doesn't but, well, sometimes it doesn't.
Rangers 6, Athletics 2: Three RBI a piece for two guys who weren't in camp in Surprise, Arizona when the spring kicked off for Texas: Ian Desmond, signed on February 29, and Jonathan Lucroy, traded for just over two weeks ago. Yu Darvish was 0-8 in has last 10 starts against the A's before last night but here he allowed two runs over seven innings while striking out nine to get the win.
Cubs 6, Brewers 1: A five-run fifth powered by Jorge Soler's three-run shot was all Jon Lester and the Cubs needed. Lester allowed one run while pitching into the seventh. Soler has hit four homers and has driven in ten runs in ten games since coming off the disabled list.
Diamondbacks 13, Mets 5: Two homers and six RBI for Yasmany Tomas. Rickie Weeks Jr. homered twice as well, driving in five. Other than facing those two, Mrs. Lincoln, how did you like the play?
Mariners 4, Angels 3: Seattle has won 10 of 12. How well are things going? Leonys Martin scored from second base on a friggin' bunt:
[mlbvideo id="1063806983″ width="600″ height="336″ /]
The Angels could've been more heads-up there, but Martin was motoring. Heck, he probably could've made the Kessel Run in 11 parsecs at that rate.