C. Trent Rosecrans of the Cincinnati Enquirer caught up with Jay Bruce as he was getting ready to fly to New York to join the Mets and found out some stuff about the New York's new outfielder.
First, he'll be batting cleanup and playing right field for his new club. Second, he got the lowdown on the uniform number he'll be wearing:
Could be a Joey Votto tribute. Could be Roger Cedeno, Anthony Young or Ryan Church tribute. Who's to say? His Reds #32 is either not sentimental to him or else he doesn't feel like paying Steven Matz money or buying him a watch or whatever in order to take it from him.
That caused me to do a deep-dive into Mets uniform numbers. My favorite entry by far was number 24. You probably heard of two of the Mets players who wore that number. One is named Mays. The other Henderson. You probably never heard of the guy who wore it in between those two: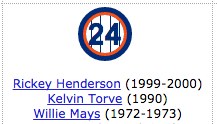 Kelvin Torve, huh? Not much of a big league career, but it's good to see that he had a couple of nice seasons in Japan at the end. I hope he made enough dough to buy a nice split level someplace where he can entertain guests and talk about the company he keeps as a #24 for the New York Mets.
Indeed, I jokingly speculated about that on Twitter a few minutes ago and the response I got reminded me of why I hang out on Twitter all day:
Willie Mays and Rickey Henderson are what makes baseball great. But the Kelvin Torves of the world are what make it fun.
Good luck with #19, Jay.