SAN DIEGO — In recent years we've grown accustomed to what I will call, for lack of a better term, "gimmick food" at major league ballparks. Food that is designed more for the fun of its own existence than the enjoyment fans may get from actually eating it.
Some of these items are probably pretty good, of course — I haven't had one, but I'm sure there are joys to be had in eating a burger with pepperoni pizzas for buns — but these items seem more the stars of a press release or cross-marketing (Monster Energy Drink sauce?!) — than an actual fan's dining experience at a baseball game. And that's before you account for the fact that a lot of this sort of food is almost impossible to find at some parks, available at maybe one isolated concession stand rather than readily available at various points around the park.
The same cannot be said for the food at Petco Park. There is great creativity and a whole lot of work put into it, but it is not meant to shock or amuse. It's meant to be eaten and enjoyed. I got to eat and enjoy a lot of it thanks to concessionaire Delaware North Sportservice and Executive Chef for Petco Park, Carlos Vargas. They hosted private tastings for some select media folk yesterday afternoon and I was lucky enough to be one of them. I'm still recovering, but the way in which you recover from something really, really enjoyable.
But first I got to meet Rocky, the bartender in Club 19 in the Terrace Level at Petco Park: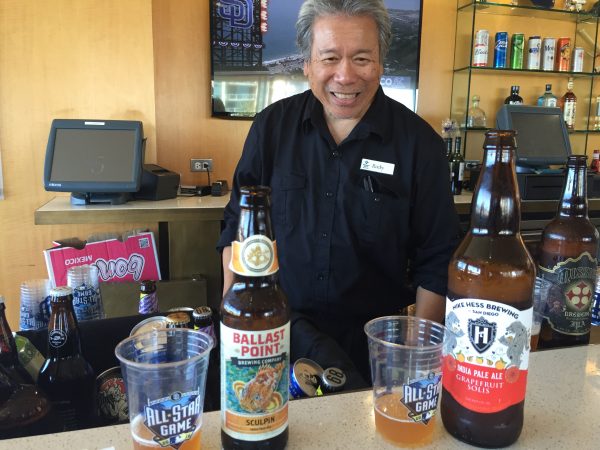 Rocky handled my pre-lunch beer tasting. Which, when I sat down, I assumed would be a flight of maybe three or four beers. It turned out to be 12 beers, all local. As the beer freaks among you may know, San Diego has a fantastic craft beer scene, and it's well-represented at Petco Park. Again, not just in the fancy clubs, but also at stands all over the stadium. Some may be familiar to non-San Diegans — Ballast Point's Sculpin and Stone's Arrogant Bastard can be had all over the country — others not so much. I asked for a list of all the craft beers served in Petco Park and was given a list of 36, from at least 10 different breweries. The list came with an apology, however. An apology about how, well, they have may have missed some. That's right. THEY HAVE SO MUCH AMAZING BEER AT PETCO THAT THEY LOSE TRACK. I pasted the list of various craft beers I'm told are available around Petco Park at the bottom of this post.
Oh, but before I moved on to the food, I was presented with this: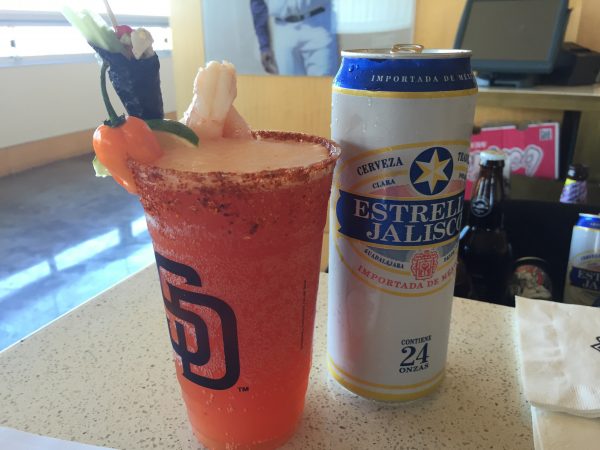 That's a michelada, which is basically a Mexican beer cocktail. Typically it's beer, lime, salt, and various mixes of hot sauces and/or chiles. This one was Estrella beer, clamato juice, lime juice and tajin spice, with a poached shrimp and habanero pepper on the glass. I was skeptical at first — I'd never had a michelada before, and watching others drink them in the past sort of perplexed me — but I just went with it here and enjoyed the hell out of it.
Or at least the amount I could before moving on to the food, for which I wanted a cleansed palate. And let me tell you my friends, there was a lot of food: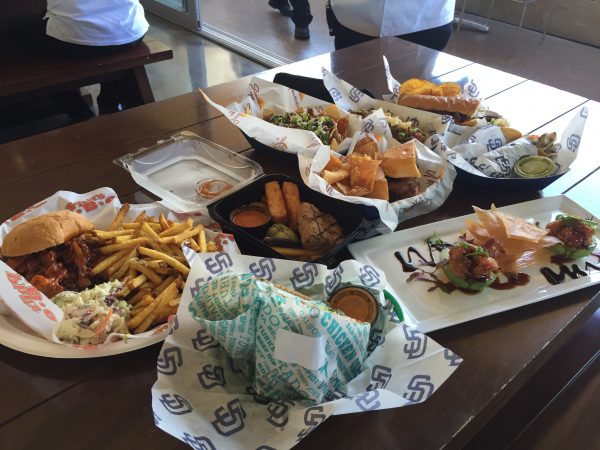 This is the man responsible for it: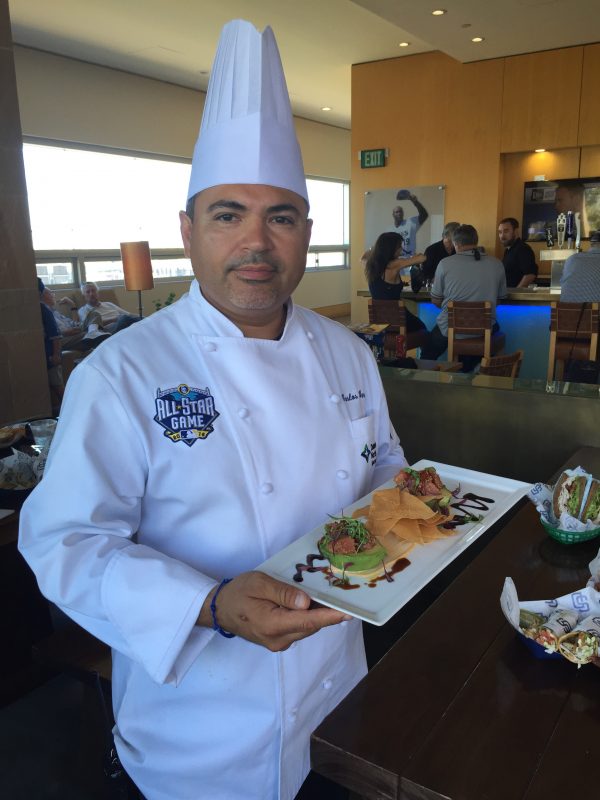 I liked Chef Vargas very much, and not just for the wonderful food he kept bringing me. I liked him because like some of my favorite baseball writers and commentators, he doesn't stick to baseball. Or at least traditional baseball food. He is not disdainful of peanuts, hot dogs and Cracker Jack — he noted that that's still the bread and butter of the ballpark business and always will be — but he wants to give fans the option to integrate fuller and better meals in with the baseball experience as well. And, most importantly to him, he wants to provide a variety of offerings, not just for the sake of commercial convenience, but because it reflects San Diego itself. There are a lot of cultures here. Because of the heavy military presence here, people come and go, bringing food with them and trying new things when they get here. Petco Park's food, Chef Vargas argued, should reflect the sort of variety available on the streets of San Diego.
And variety there was: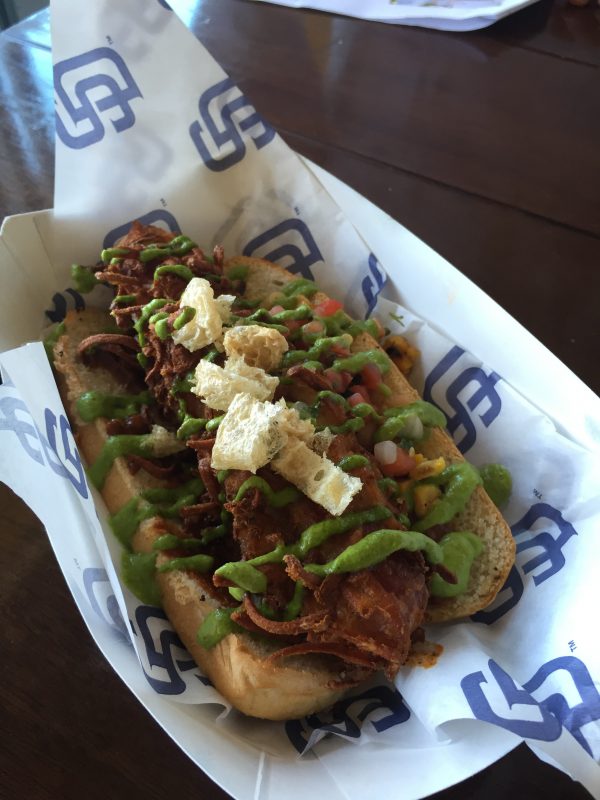 I said Chef Vargas didn't begrudge hot dogs, right? Here's the proof. This is the #Hashtag Dog, which is a hot dog fried in a tempura batter with shredded potato and all kinds of other great stuff. It, amazingly, has a lighter and more delicate taste to it than you'd think, though I'm not sure anything else would be light about you once you finished.

Brisket and Smoked Bacon Banh Mi with a jalapeno aoli. Despite the pretty heavy main ingredients, it's still recognizable as a banh mi sandwich in flavor, with the carrots and cucumbers and cilantro and all you expect with a banh mi. It's just, like, three times the size.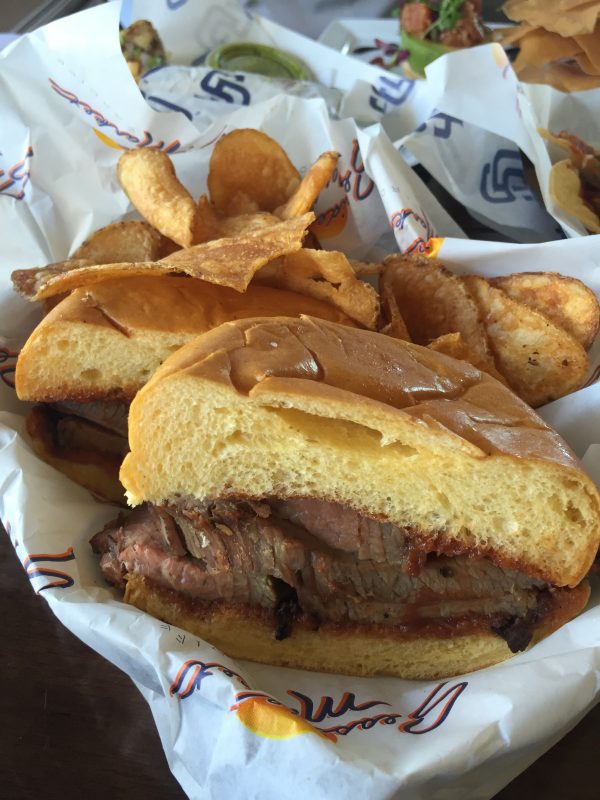 This is the good stuff here. Don't let the simple appearance fool you. This is the Burgundy Pepper Tri Tip beef made famous by the Seaside Market in Cardiff by the Sea, California, There's a Seaside location in Petco Park now and they serve it on this sandwich. What they don't tell you because it's not how they'd choose to market it — and which I know because my brother has lived out here for 20 years — is that people here call this beef "Cardiff Crack." Maybe they don't like the associations with that, but it's a compliment. This is the most tender and flavorful beef tip I've ever had. After the tasting — and it's one or two small bites per plate — was over I was allowed to sit at the table with all of these dishes for as long as I wanted and eat as much as I cared to. I ate more of the Cardiff Crack than any of the others.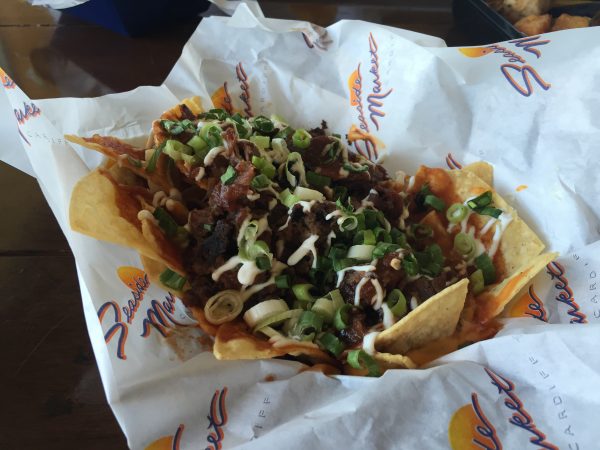 Cardiff Crack on nachos. There's also some beer-braised chicken and some uniquely spicy queso on there. It's not your usual nacho material.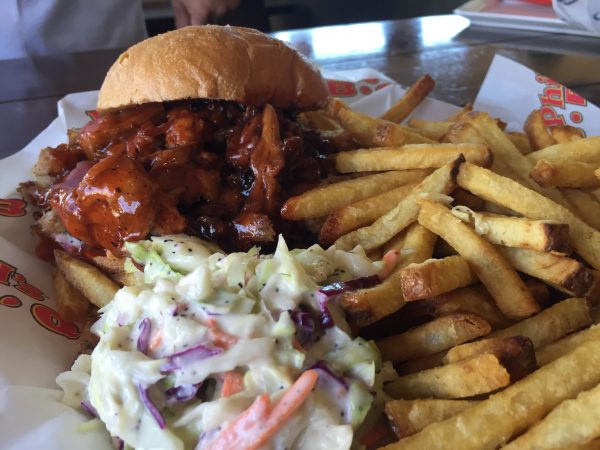 If you'd prefer pork to beef, why not just go with a pulled pork sandwich? This — called the BBQ Broham — is not run of the mill pulled pork, though. Like all of the best barbecue from places who know barbecue, this sandwich is not a sauce delivery device. You can taste the smoke in every bite. The balance — that quality of barbecue that is so often just off — is perfect here.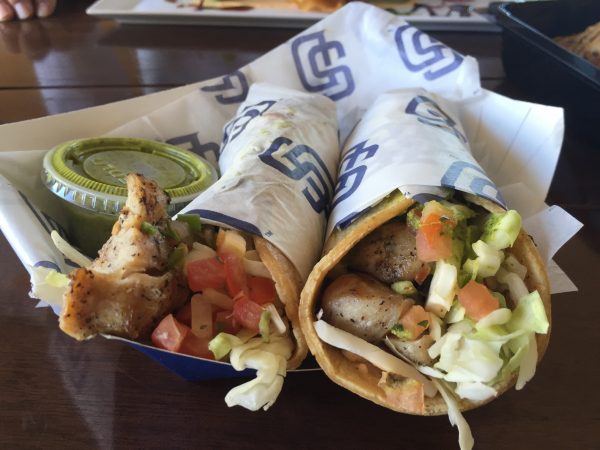 You can't come to San Diego without getting fish tacos. This is mahi mahi, which is not what you always get with fish tacos. Indeed, go to some places — particularly the chains — and I'm not sure what they put in it. The mahi mahi was fresh and it all held together in taco form, preventing the oh-so-common taco failure.

Looking for something lighter? How about Ahi Tuna Poke Stuffed Avocado? There's some quinoa on there too. A Sriracha Aioli, greens and all kinds of other wonderfulness. I live in Ohio and we get good avocados there, like, four months a year. Everyone says they'd move to California for the weather. I'd deal with bad weather if I could get good avocados on the regular.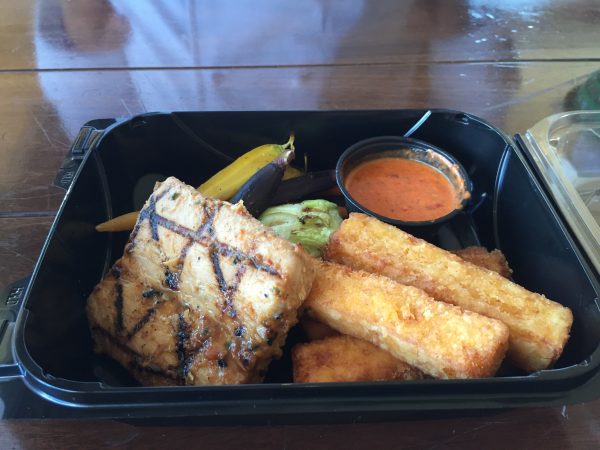 The catch of the day comes from the Brigantine, a Coronado Island seafood institution with a Petco Park location. This is a soy miso glazed yellowtail with roasted garlic polenta fries and a red curry dipping sauce.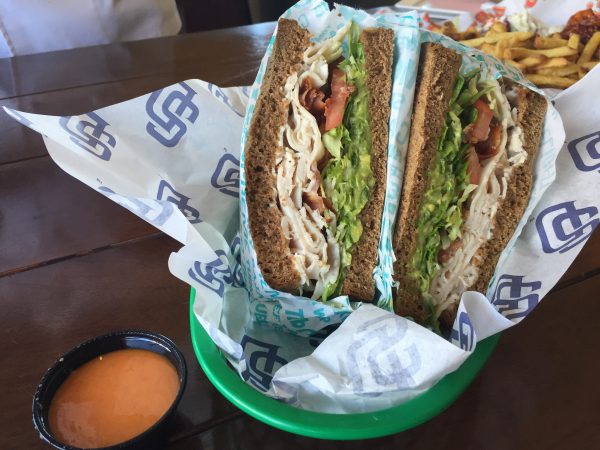 Is all of this too much for you? Want something simple? How about a regular old sandwich? Even the regular old sandwiches are special here, of course. It's a turkey BLT with an avocado spread, but like I said, there is magic in the avocados.
This food is almost all the kind of stuff you'd eat at a restaurant, not just a ballpark and not just for the novelty of ordering it. It's available in a lot of locations around the park — I saw people walking around the area behind the bleachers carrying trays of BBQ Broham — but it doesn't taste like something mass-produced. Between these wonderful, tasty and surprisingly delicate (relatively speaking) dishes and the fantastic beer selection, I don't think it's controversial to say that Petco Park has the best ballpark food in the majors. Certainly the best I've ever had.
Thanks a million to Delaware North, Rocky and Chef Carlos Vargas.
Local Craft Beers of Petco: