SAN DIEGO — I got to San Diego in time to see the Futures Game and to partake in a culinary tour of Petco Park yesterday. I don't have much to add to the Futures Game beyond what I wrote yesterday and what Bill did to wrap it all up last night. I'll have a post about the beer and food at Petco Park up soon. In the meantime, let's talk about lodgings.
This is my fourth All-Star Game. I learned after the first one that it's a really good idea to book a hotel for the next one way in advance. So, last year, while I was still in Cincinnati covering that All-Star Game, I hopped on my computer to find a place to stay for this All-Star Game. Hey, if you want to be stuck way up in Temecula or something that's your choice, but I prefer to be closer to the ballpark. Even by then many of the usual business hotel suspects were already booked or were gouging people well in advance, so I just started to scan a Google map to find a nearby option. As luck would have it, I found Baseball Fan Nirvana: Mudville Flats.
Mudville Flats is a hotel in name only. Well, I suppose it's a hotel in function too, as you can get a night's stay at a rate comparable — actually, cheaper — than your typical business hotel in an extraordinarily convenient downtown location. Really extraordinary, actually, as this place is about a four block walk to Petco Park.
The difference: you get an apartment. An actual luxury apartment with a full kitchen with full-sized appliances. A luxury apartment built in 1905 with original wood floors, woodwork, and gorgeous, period-appropriate furniture in a Craftsman style, each unit possessing its own private patio, windows that actually open and stuff like that. The place only has four units but they're large and comfortable. Oh, and there's free garage parking too. It's the sort of thing that, if you suggested it at a meeting of a large hotel conglomerate, they'd frog march you out of the room and blackball you from the industry. You could be in the Free Parking Capital of America and a downtown hotel would still charge you $30 a night to park your car. Not this place.
I'm not writing this simply to provide a hotel review, however. Rather, there's a pretty spiffy baseball angle to Mudville Flats.
As the name "Mudville" suggests, the place is run by a couple of serious baseball fans and it's filled with baseball memorabilia. Real memorabilia, not just hokey nods to the "Casey at the Bat." Stuff like a Braves jersey autographed by members of the 500 home run club, including Mickey Mantle, Ted Williams, Ernie Banks, Harmon Killebrew and others, hanging right next to the bed in my room: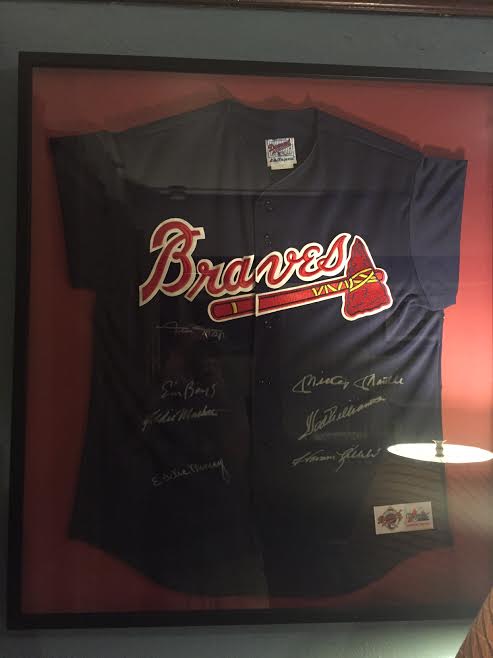 Or an autographed picture of Joe DiMaggio, Ted Williams and a really young Mickey Mantle: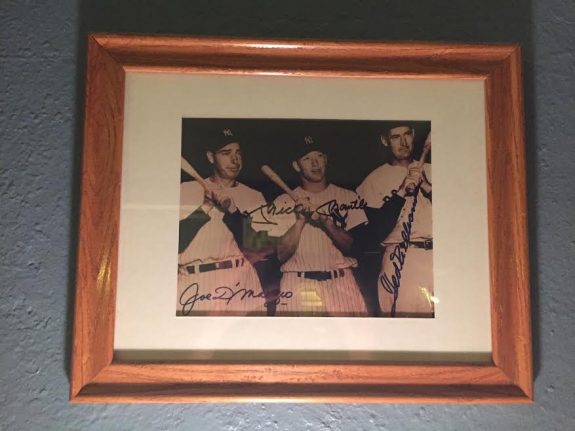 Or a Big Red Machine pic, autographed by Sparky Anderson. Next to a Monkey for reasons that aren't entirely clear, but just go with it: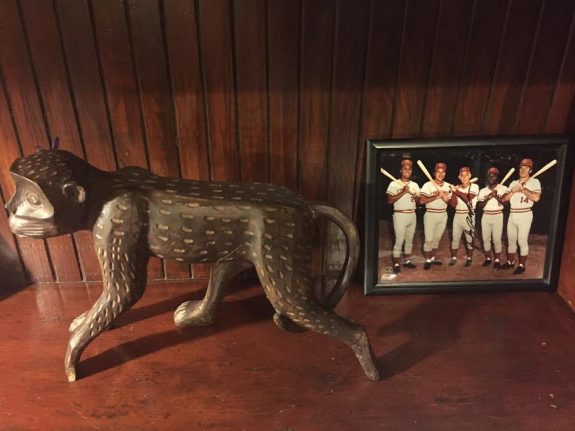 And some local San Diego flavor, which will remind more casual baseball fans that, yeah, Willie McCovey wasn't just a San Francisco Giant: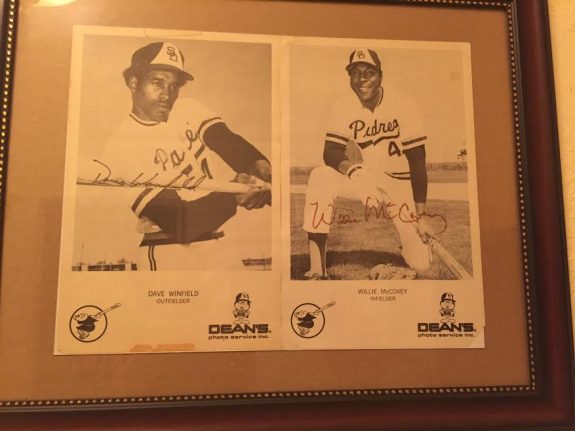 All of these things, by the way, are just in my room. The other rooms here are similarly appointed and, presumably, contain baseball stuff of their own (though they may not have the same vintage photo of Wrigley Field in the bathroom that I have; that's maybe my favorite part). I know the couple of rooms around the corner from mine are occupied by some baseball fanatics, at least: a group of friends from Michigan who go to every All-Star Game, this being their 12th. They plan ahead too, and no doubt picked this place given its manifest appropriateness for a baseball-themed trip.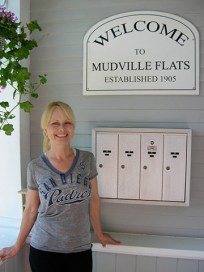 The owners and operators of Mudville Flats are Michael and Linda Funes, Midwestern natives who made the wise decision to come to San Diego in the late 90s because snow is for suckers. They purchased this place long before the 10th Avenue corridor down to Petco Park became full of bars, restaurants and high-end apartment buildings. Indeed, they purchased it long before there was a Petco Park at all. Baseball wasn't even the primary motivation. They simply realized, based on owning a second flat back home in Chicago, that owning a couple more flats and living in one of the units in the building would make for a decent income stream. And, for a time, they simply served as landlords to the people living in the other quite inexpensive apartments.
Around 2008 or so they came to realize that the convention business — ComicCon is the biggie here — and baseball was bringing an increasing number of people looking to stay downtown. It was then that they turned their apartments into vacation rentals. Soon the vacation rentals became short enough term that now it works like a hotel, though there are still a lot of guests who come and stay a week or more. It's easy to do when you have a full kitchen at your disposal.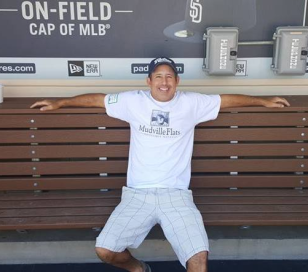 The baseball theme also makes things nice if you're like me and have baseball junk all over your house. It feels almost like home. It certainly feels like home for Mike. He was born in upstate New York and was a Mets and Yankees fan before moving to Chicago and adopting the Cubs. Baseball is just in his DNA. He was a big card collector in the 1970s and, the nods to baseball's Golden Era in Mudville Flats notwithstanding, he has a special love for that weirdest of baseball decades. A recent guest was Dan Epstein, author of the seminal 1970s baseball books "Big Hair and Plastic Grass" and "Stars and Strikes: Baseball and America in the Bicentennial Summer of '76." The two of them became fast friends. For her part, Linda has been decked out in Padres gear since I got here and is thrilled that the All-Star Game is in her adopted home town. She's still pleased that she and Mike got featured on the scoreboard at Petco Park last year during an All-Star promo. Most people get anxiety when a big event like the All-Star Game comes to their town. You get the feeling Mike and Linda would relish it even if they weren't in the hotel business.
It's only my second day in San Diego and, today, I'll be covering workouts and press conferences and, this evening, the Home Run Derby. Tomorrow night I'll be covering the All-Star Game. When I'm done I won't be walking back to a big corporate hotel with recirculated air, beige carpeting and tasteful but generic artwork on the wall, no doubt bought in bulk. Instead I'll be sinking into the nice leather couch in my room — the one right under the DiMaggio, Mantle and Williams photo — and enjoying one of the beers Mike gave me, on the house, when I checked in last night: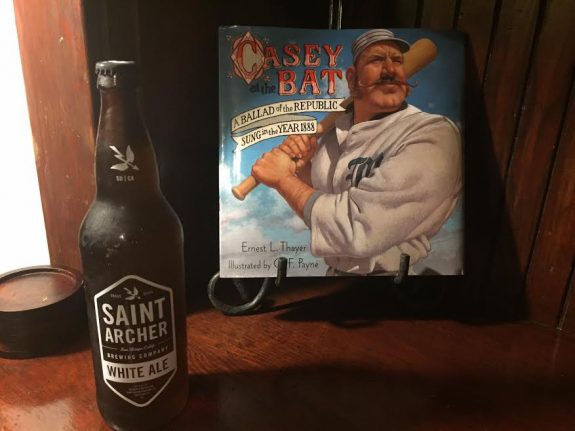 Ernest Thayer got it all wrong, you guys. There's joy in Mudville. Joy a-plenty.