Blue Jays DH Edwin Encarnacion didn't like a first-inning strike three call by home plate umpire Vic Carapazza on Friday. He flung his bat to the ground suddenly and got in Carapazza's face to argue. Carapazza immediately ejected him and turned his back. Encarnacion chased after the ump and inadvertently bumped him. Manager John Gibbons came out to argue and was ejected as well.
Major League Baseball has suspended Encarnacion for one game and fined him for the incident. Encarnacion is appealing the suspension, so he's in Sunday's lineup for the Blue Jays against the Indians.
[mlbvideo id="879518683″ width="600″ height="336″ /]
To Encarnacion's credit, he appears to have had a legitimate gripe with the call, as the Sportsnet graphic showed the pitch to be quite a bit outside. The chart from Brooks Baseball agrees: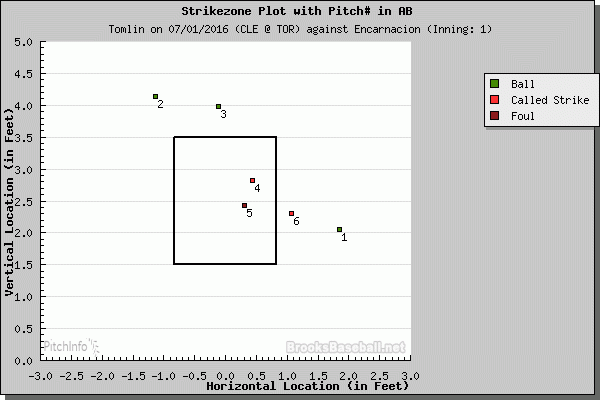 Encarnacion homered on Saturday, bringing his season total up to 22 with 73 RBI and a .262/.358/.541 triple-slash line.