In May of 2014, former major league pitcher and former MLB Network commentator Mitch Williams was coaching a youth baseball team and was alleged to have cussed out an umpire, called kids on opposing teams derogatory names and, in one instance, ordered one of his players to bean a player on an opposing team. As a result of the controversy — which went public fast — Williams took a leave of absence from his MLB Network job and was eventually fired.
Later that year he sued MLB and Deadspin, alleging wrongful termination and defamation. The former against MLB Network, of course, the latter against Deadspin for its reporting. While the specifics of Williams' termination from MLB aren't fully known and while his contract may have played a part in it all, the defamation case against Deadspin seemed ridiculous on its face. Partially because there were pictures and multiple witnesses which showed that Williams did, in fact, act like a loon at those baseball games, partially because he actually apologized for his behavior.
There is a trial date for this summer, but it won't involve Deadspin. A source familiar with the litigation tells NBC Sports that the claims against Deadspin and its staff have been dismissed via summary judgment. Meanwhile, Nick Denton, the head of Gawker Media, which owns Deadspin, issued a memo which likewise states that the defamation claim has been dismissed. Here's Denton, in a memo shared with NBC Sports on Twitter, talking about the larger matter of litigation filed against Gawker, which has been all over the news lately: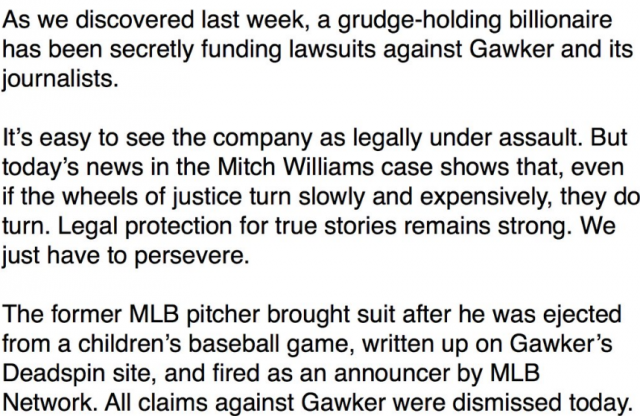 We're still waiting for the ruling or entry from the court on it, or word as to whether or not MLB Network is still on the hook, but for now it seems like the Wild Thing has, once again, missed his intended target.