It seems early, but this is when it happens: Major League Baseball announcing the early results for All-Star Game voting. Voting started in April which makes it kind of hard to weigh-in with any sort of certainty about how anyone is doing, but it probably doesn't matter much. It doesn't matter much for a lot of reasons. Among them:
There are different schools of thought about who should be an All-Star. Some people think the biggest stars should always make it. Others think it's a reward for a good first half of the season. I really don't care either way, but if you're a "biggest stars" person, April is fine for voting. Famous stars are no less famous because they've had a bad couple of months.
Despite the fact that the All-Star Game "counts" for home field advantage, the way it is played ensures that who starts is not super critical. Starters will be gone after a couple of innings. No matter the vote totals, the same general bunch of players will decided the game one way or the other, early or late. It's the All-Star Game. It's kind of a circus regardless.
Major League Baseball does not really care about the integrity of voting. They encourage you to vote a gabillion times, and it's all very clearly aimed at getting people to visit lucratively-sponsored web pages in order to do it. Which, hey, good for them for making money, but that's not how you run a tight voting operation.
That last bit is sort of key. I don't want to overstate how important this is because, again, it's just the All-Star Game, but there is laughably obvious fraud going on with the votes. Over the past few weeks I've gotten emails from MLB.com and Royals.com thanking me for my maximum five votes that day. Stuff like this: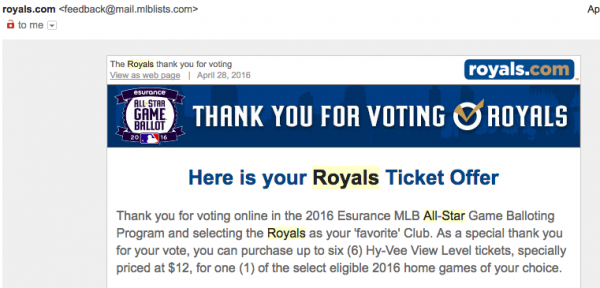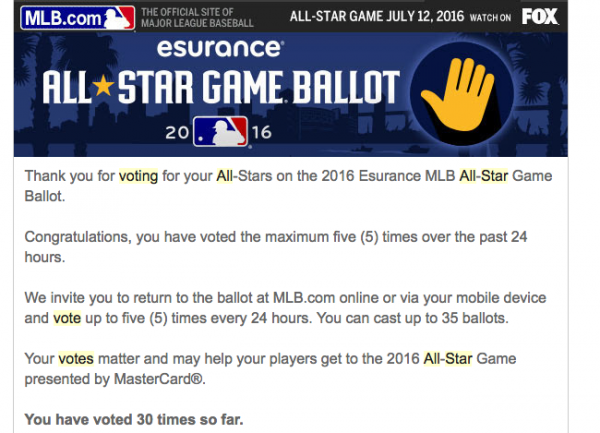 That was from a while back. Last I checked it thinks I've voted, like, 60 times or something. I haven't voted once and, obviously, I haven't listed the Royals as my favorite team. Someone is using my email address or ID or whatever. In my case it's for Royals players. Maybe people from 29 other teams are hacking other people in their team's favor too, but the point of this isn't the specific votes. It's that this isn't exactly a high-integrity operation.
Because it's just All-Star votes I sort of don't care too much, but it's at least smart to take the vote totals, especially the early ones, with a grain of salt, sit back and wait for the Home Run Derby and just remember that the All-Star Game is kind of a crazy non-serious event, no matter what people say about home field advantage. For now, here are the voting leaders: