Here are the scores. Here are the highlights:
Phillies 4, Marlins 2: Tyler Goeddel hit his first career homer and Jeremy Hellickson was sharp. For a few hours anyway, until the Nationals won their game, the Phillies were tied for first place. I don't think that necessarily means anything — I still suspect that they'll fade as the spring turns to summer — but what a nice couple of months it has been for the Phillies, eh?
Tigers 6, Twins 3: Justin Verlander notched his 2,000th career strikeout and Ian Kinsler homered for the fourth straight game. Verlander trails only Mickey Lolich on the Tigers all-time strikeout list. Lolich is one of those guys people who aren't Tigers fans or aren't, like, 50, may not have heard much about. He was super solid pitcher who had some very nice career highlights, including a homer in the 1968 World Series. He was also part of that crop of 1970s pitchers who were absolutely ABUSED as far as workload goes. Still, fairly anonymous for a guy who won 25 games one time. Check out his Baseball-Reference.com page for an overlooked guy.
Royals 3, Red Sox 2; Red Sox 5, Royals 2: Ah, the split doubleheader. Nature's way of saying "eh." Jarrod Dyson had a nice game in the opener, putting to rest that "maybe the platoon in right field won't be a platoon anymore given Paulo Orlando's run of late" talk. In the nightcap David Price allowed two runs in seven and a third, putting to rest the "what's wrong with our ace?" talk in Boston. At least for the next four days.
Athletics 8, Rangers 1: Khris Davis hit his fourth homer in less than 24 hours as the A's sweep the Rangers. Marcus Semien and Danny Valencia each drove in two.
Nationals 7, Mets 1: Mets pitchers struck out 11. That's good! They also walked 11. That's bad! Daniel Murphy drove in two! That's go– wait, no it's not, at least not for Mets fans, because he doesn't play for them anymore. Sorry, dudes. Gio Gonzalez, meanwhile, allowed one run while pitching into the seventh. Bartolo Colon's day started poorly with tabloid stories about his personal life all over the place and ended poorly when he couldn't even make it out of the fifth inning.
Orioles 5, Mariners 2: Chris Tillman allowed two runs on four hits with six strikeouts while pitching into the seventh and winning his fifth straight start. I had forgotten until reading the game story that he was part of the Adam Jones-Erik Bedard trade which was disastrous for Seattle. And which continued to be disastrous, at least on this night.
Braves 3, Pirates 1: Julio Teheran pitched into the eighth and Tyler Flowers homered. It was Brian Snitker's first ever win as a big league manager. He'll have more. At least, like, a couple dozen. I won't guarantee three dozen.
Rays 6, Blue Jays 3: Kevin Kiermaier hit a homer, making him the Cool Clutch Cat of the game! Yay! As a reward, here's a picture of my kitties from some time over the winter. I was letting them drink the milk from my cereal when I was done. They really liked it! I had to stop, though, because it wasn't agreeing with their digestive systems very much and that made the litter box stink. One day I hope to interview Kiermaier and I'll tell him all about it: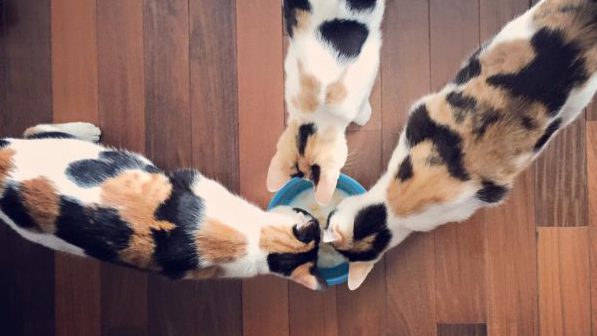 Indians 8, Reds 7: Rajai Davis hit a tying, two-run homer in the ninth and Francisco Lindor led off the 12th with what proved to be the game-winner. So yeah, the Reds' bullpen continues to be amazing and inspiring. To wit: it has given up 33 homers and has blown nine of 13 save chances. The Tribe was won 10 of 15. Jay Bruce hit two homers in a winning effort in a losing cause.
Astros 5, White Sox 3: Jose Altuve had three hits, walked and drove in two, continuing his MVP-level season going. Colby Rasmus and Jason Castro each homered. The fast-starting White Sox have now dropped four games in a row and six of seven. The White Sox may have lost, but they did turn a triple play here.
Cubs 2, Brewers 1: Travis Wood got the win in relief and likewise drew a walk with the bases loaded in the 13th inning for the go-ahead run in this five-hour affair. Poor Jimmy Nelson pitched shutout ball into the eighth for the Brewers but was forgotten in the outcome thanks to no run support and the bullpen blowing Milwaukee's 1-0 lead in the ninth.
Cardinals 2, Rockies 0: Adam Wainwright pitched shutout ball into the seventh and Matt Holliday doubled in both of the Cardinals' runs against his old mates. Well, actually, they're not his old mates given that he hasn't played for the Rockies in eight years. Jorge De La Rosa was on that team and I guess they could've hung out, gone in together on a wine club membership or do whatever chill bros do while playing for the Rockies, but otherwise I'm guessing he doesn't know anyone there all that well anymore.
Yankees 4, Diamondbacks 2: Nathan Eovaldi allowed a leadoff double and a couple of groundouts later that led to a run but, those groundouts included, he retired the other 18 souls he faced, going six innings for the win. His stuff is so amazing. He's going to put it all together at some point and be pretty special, I reckon.
Angels 8, Dodgers 1: The Freeway Series heads down to Anaheim and the Angels win easily, thanks to a five-run fifth inning. Nick Tropeano allowed one run in seven innings. He pitched in some trouble but always got out of it.
Giants 2, Padres 1: Johnny Cueto continues to show how great a pickup he was this offseason, going the distance, allowing one run and striking out eight. Hunter Pence's two-run shot in the fourth was all the G-men needed. Wait — do we call the Giants the G-men? Or is that just a Chris Berman, "New York Football Giants" thing? Someone help out here. I feel like we don't call the San Francisco Giants the G-men, but I'm prepared to admit ignorance on the matter.