I've been fascinated with TV production company names and logos for a long time. I don't mean big companies like NBC or Castle Rock Entertainment or whatever. I mean the little personal companies of the creative side of a TV production that air at the end of shows. The first ones I remember were "Sit Ubu, sit. Good Dog" and the Stephen J. Cannell thing where he rips the page out of the typewriter. There are a million of those. You know what I'm talking about.
Over at The Hollywood Reporter, Lesley Goldberg writes about the backstories for over 40 of these little production company names and, not surprisingly, almost all of them are based on personal anecdotes, personal inspirations and inside jokes of the creative folks. A couple of them even have to do with baseball.
Brian Cranston of "Breaking Bad" fame has a company called "Moonshot Productions." It's not based on the Apollo program. Rather, it's based on a somewhat forgotten Los Angeles Dodgers outfielder:
"Before Dodger Stadium, the team played at the Memorial Coliseum. The left field fence was only 220 feet from home plate. So a 42-foot-tall fence was erected. Outfielder Wally Moon discovered that if he uppercut the ball he could "chip" it over for a home run. The feat became known as a moonshot. To me it represents overcoming obstacles. Moonshot Entertainment was born."
And then there's Michael Schur of "Parks and Recreation" and "Brooklyn 99." His company is "Fremulon" (with its name voiced in the post-credits clip by Nick Offerman). Many of you will remember, however, that as Schur was building up his TV empire, he was also snarkily blogging about baseball:
"Fremulon was the fake name for the fake insurance company that my fake blogger, Ken Tremendous, worked at when I was writing the blog Fire Joe Morgan. My current backstory is that it's a very shady company that's mixed up in a lot of financial shenanigans — and possibly international weapons deals — and is using its entertainment wing as a tax shelter."
At the risk of embarrassing myself and showing how long I've had delusions of grandeur, I'll reveal what my personal production company was/will be one day. When I was a teenager in West Virginia, my brother and I used to go to the drug store and get sheets of those "Mr. Yuk" stickers. Remember those?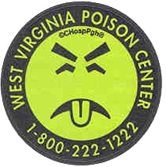 As you can see, the ones in West Virginia used to say "West Virginia Poison Center" on the top. We'd take a black Sharpie marker and mark out letters and the phone number so it said "Virgin Son." It was perfect. Perfect spacing, perfect image, perfect encapsulation of my social life, sadly. Anyway, we'd put the stickers on everything. Notebooks, skateboards, you name it. If I ever have a reason to have a production company or personal branding of any kind, I'm definitely using "Virgin Son" productions with some version of the Yuk face.
That is, if I don't get sued by Richard Branson and the people who own the trademark to the Yuk face. But that's what lawyers are for. I'll be too busy creating.