Here are the scores. Here are the highlights:
Dodgers 3, Mets 2: Trayce Thompson came in as a pinch hitter with two outs in the bottom of the ninth and launched a walkoff homer. The whole game story was about him of course, but this was by far the most interesting part:
Thompson's roommates, shortstop Corey Seager and starter Alex Wood, were happy for him, too.
Does this mean that the Dodgers are putting guys three to a room on road trips or is this a "Three's Company" situation and Wood, Seager and Thompson have a nice pad near the beach around the corner from the Regal Beagle? I hope it's the latter. We didn't even have to do three to a room on high school show choir trips. Um, they! THEY didn't have to do that for show choir trips. Those, um, nerds who were in show choir, singing and dancing in vests and bowties. Wow, what nerds we, er, they were.
Shut up. There were a lot of pretty girls in show choir. Don't judge me.
Yankees 10, Royals 7: I imagine that the winning percentage for teams with guys who hit three homers in a game is pretty high. But it's not 1.000, as Lorenzo Cain and the Royals showed last night. Oh well for them. This was a back and forth affair but the Yankees were up on the final forth. Or whatever. In other news, I've loved reading the Yankees game stories for the last two days and seeing how they talk about Aroldis Chapman and his velocity. Indeed, if you've read them with new eyes you'd be forgiven if you thought Aroldis Chapman was a rookie making his MLB debut. There's an air of "this pitcher, who had clearly never appeared anywhere before Yankee Stadium on Monday, throws very fast. Really, let us explain . . ." It's the baseball equivalent of that snowstorm that dumps 22 inches on the Midwest but doesn't make the news until it drops 14 on Manhattan. It's like when people in Brooklyn discover some comfort food we've been eating for decades, turn it into something "artisanal" and then get trend pieces written about it. Yes, I'm saying Aroldis Chapman is meatballs. Or pulled pork on mac and cheese. Anyway, people from big northeastern cities like to call folks who don't live on the coasts provincial, but it's hilarious when this kind of thing happens.
Tigers 5, Nationals 4: Ryan Zimmerman hit two homers but his team lost. Sensing a pattern here! Also, the slide rule was fun for the first couple of weeks of the season but I guess we're over enforcing it now: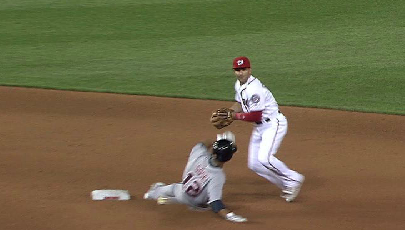 Anthony Gose was said to have made a legit slide there and only he was called out, not the batter as well, and a run was allowed to score. He's in the same place others have been when they were called out on the rule before, but apparently that doesn't matter.
Red Sox 13, Athletics 5: Yes, the Red Sox' bats have been great and this was another example of that, but we need to have a conversation about how bad the A's pitching has been lately. Wait, that would be a very unpleasant conversation, it's early and I'm not sure I have the stomach for it, but know that their pitching has been really, really bad. My constitution is strong enough to outsource it anyway: Susan Slusser of the San Francisco Chronicle noted after the game that over the past 17 games, the A's rotation is sporting an ERA of 9.33. Ouch.
Phillies 3, Braves 2: Braves lost at home again. They've won one game there. Six other teams have won more games at Turner Field than the Braves, and if the Phillies take either of the next two games it will be seven. Adam Morgan allowed one run in seven innings and Maikel Franco homered. Check out the box score to this one and get a load of the Braves' lineup after the fourth slot. There are Gulf Coast League rehab assignments far more challenging than that.
Brewers 10, Marlins 2: Craig Counsell gave the most manager quote of all time:
"It was our best baser unning game of the year. We really impacted the game and their pitcher with our base running. We were definitely a presence at first base on every pitch and found some good places to run, and it made a difference."
I'm sure it was fine running but his team put up ten runs and his staff held the opposition to two. Managers just love base running though. This is like you winning the Nobel Peace Prize and your mom telling you that you looked handsome in your new suit at the ceremony. Moms, man. Managers, man.
Rangers 13, White Sox 11: The Sox led 11-6 heading into the bottom of the eighth and the Rangers put up a seven-spot, capped by Ryan Rua's three-run homer. Hoo-boy. And it's not like Chicago's bullpen was bad entering this game. Indeed, they had the best bullpen ERA in baseball. Not anymore.
Cubs 8, Padres 7: Cubs win again. Yawn. That's eight in a row. Ben Zobrist went 4-for-4, Addison Russell had three RBI. The Cubs are off to the best start of any team since the 1984 Tigers who are the gold standard for hot starts. Cubs could probably start current day Jack Morris right now and get a no-hitter out of him.
Orioles 5, Twins 3: Adam Jones hit a solo homer in the fifth and then hit a tiebreaking two-run single in the ninth to carry the Orioles to victory. Manny Machado went 3-for-3 and scored twice.
Indians 4, Astros 0: Trevor Bauer tossed seven shutout innings and struck out seven. Remember a couple of weeks when I was complaining about guys talking about "executing pitches" and how that mentality is what leads to turgid and sluggish games because each and every pitch is agonized over? Well, Terry Francona has my back on that. Here's what he said after the game about Bauer:
"I think that's why he's working quicker. I think he feels good about what he's doing, wants to get it and throw it as opposed to thinking every single pitch is like an event. Getting it and going is always good."
That advice applies to most of life. Don't think. It'll only hurt the ballclub.
Diamondbacks 5, Rockies 1: Five in a row for the Dbacks, the last two of which came against an actual major league team. Rubby De La Rosa held the Rockies scoreless until the eighth and [all together now] helped his own cause with an RBI on a squeeze play. Paul Goldschmidt homered. That helped De La Rosa's cause too.
Cardinals 8, Angels 1: Two homers for Matt Carpenter, though unlike Lorenzo Cain and Ryan Zimmerman, his team won. Randal Grichuk and Matt Holliday homered and St. Louis had nine extra-base hits in all. I didn't check but I bet Mike Matheney praised his team's bunting or how well they cleaned up the kitchen area in the clubhouse or something afterward. They're find young men, really. A manager knows.
Mariners 6, Rays 4: Dae-Ho Lee hit a three-run homer in the fourth that gave the M's what proved to be the winning margin. Before he did it, he showed bunt. Scott Servais laughed about it later saying, no, he did not call for that. Lee was just messing around. Which is pretty hilarious.
Blue Jays 4, Giants 0: Troy Tulowitzki homered and drove in three runs and J.A. Happ pitched shutout ball into the ninth but ran out of gas before that last out. No harm done, though. That's six of eight for the Jays.
Pirates vs. Reds — POSTPONED: Cocaine flame in my bloodstream
Sold my coat when I hit Spokane
Bought myself a hard pack of cigarettes in the early morning rain