Here are the scores. Here are the highlights:
Orioles 1, Yankees 0: Kevin Gausman didn't even break as sweat, allowing three hits in eight shutout innings. He got the no-decision, though, as the he, Masahiro Tanaka and relievers traded zeros through regulation. In the 10th, however, the Orioles broke through against Johnny Barbato and Andrew Miller. One wonders if they break through at all, however, if Miller starts the inning rather than comes in with runners on the corer and no one out. Barbato is a rookie with little experience and in that experience he has has demonstrated some pretty ineffective pitching. The Yankees have been stinkin' up the joint, Miller is one of the best relievers in baseball and he had pitched just once in the previous five days. For the Yankees to go with Barbato there, when a single run means a loss, than Miller, is insanity. The old "don't use your closer in a tie game on the road" thing was no doubt in play there, but for as conventional as that is, it is not wisdom. It's the delegation of logic. It's asking the manager to forget who his pitchers are and what his larger situation is (i.e. the Yankees NEED to win some games right now) in order to adhere to some stupid convention with less than a couple of decades of venerability. The Orioles won this game, but calcified thinking lost it.
Padres 5, Mets 3: Colin Rea pitched no-hit ball into the seventh before Yoenis Cespedes drove a ground ball single to right field with two outs. The hit came as a result of Cespedes going the other way against the shift. I'm assuming some people will say shifts suck because if there wasn't one here Rea might've pitched a no-hitter, but the game story notes that the no-hit bid was extended by the shift several times. In other news, shift politics rather bore me. Hit doubles and homers and you don't need to worry about shifts. They take away singles. Not much else.
Marlins 4, Diamondbacks 0: The Marlins have won 10 of 11 games. Five have come against bad teams, but what most people forget is that good teams winning a lot of games against bad teams is a huge part of why they're good teams. I'm not sure if I'm mentally prepared for the Marlins to be a good team in 2016, but here we are.
Cubs 5, Nationals 2: Good teams beat a lot of bad teams. SUPER good teams beat other good teams too. The Nats are good. The Cubs are SUPER good and they cruise in a matchup between the NL's two best so far. Kyle Hendricks pitched six scoreless innings and Ben Zobrist drove in four runs. Every team slumps at times and as a franchise the Cubs have been know to swoon, but this sure as hell feels different to me. These guys are fantastic.
Red Sox 7, White Sox 3: Sox win! Dustin Pedroia, Hanley Ramirez and Jackie Bradley Jr. all homered. The Sox have won nine of 11. Pedroia is looking like vintage Pedroia. This is another matchup of two good teams. One of 'em took two of three from the other, making them gooder right now.
Indians 9, Tigers 4: Michael Brantley was 4-for-5 with three RBI and Mike Napoli had a three-run homer. In other news, I had this exchange at about 9:30 last night with a Tigers fan friend of mine: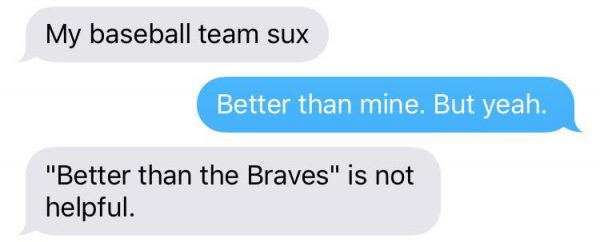 Cardinals 4, Phillies 0: Brandon Moss hit a homer that they judged to be 462 feet. That would make it the fourth longest by anyone on the season. The previous long homers: Nolan Arenado, 471 feet, Sean Rodriguez, 468, and Byung Ho Park, 466. Home run measuring remains something of an inexact science but that's pretty rad. Meanwhile, Jaime Garcia pitches seven two-hit shutout innings.
Blue Jays 12, Rangers 2: Edwin Encarnacion homered, doubled twice and drove in six runs. Is that good? I feel like that's pretty good.
Reds 9, Brewers 5: Jay Bruce hit a three-run homer and Alfredo Simon made it through seven effective innings and two-thirds of a not-so-effective one. Maybe he ran out of gas in the eighth when he allowed a two-run homer before leaving, but with the Reds' bullpen stinkin' like it stinks, you stretch a guy if you can. The pen came in and allowed another couple of runs in the ninth, but you know the old saying "you don't lose often when you score nine runs and you're playing Milwaukee even if your bullpen is a friggin' train wreck." I think Joe McCarthy said that.
Mariners 6, Astros 3: It was tied at three in the ninth when Luke Gregerson loaded up the bases and Robinson Cano cleared them off with a three-run double. A rare good start from an Astros' stater is again wasted by the Houston pen. But sure, Carlos Gomez is the issue here.
Rockies 17, Giants 7: Remember yesterday when I said that the back end of the Giants rotation was bad? I should've said it was a tire fire in a sulfur mine. Matt Cain, who is clearly not right, allowed eight runs, six earned, on ten hits in four innings. The Rockies scored 13 runs in the fifth inning, which Cain started but couldn't finish. Cain and Jake Peavy may be famous, but they're killing San Francisco right now. In other news, Tim Lincecum will throw his little showcase for teams in Arizona later this morning. If the Giants aren't at least thinking about getting back together with their old flame something is wrong.