Several years ago ESPN produced a documentary about the 2004 Boston Red Sox' amazing comeback in the ALCS called "Four Days in October." They've re-run it a lot. Yesterday, in the run up to last night's Yankees-Red Sox game, they ran it again, on ESPN2. Only it was a bit shorter than usual. Why? Because it omitted the part about Curt Schilling and his bloody sock in Game 6.
Which, um, that's one of the signature moments of that series, right? It's one of the signature moments of the entire modern era of the franchise. Why edit that out? Many Red Sox fans — who also didn't much care for ESPN's handling of the DeflateGate story — believe that it was a vindictive act. A figurative airbrushing out of Schilling and his moment given his recent termination by the World Wide Leader. Even Schilling himself snarked about it: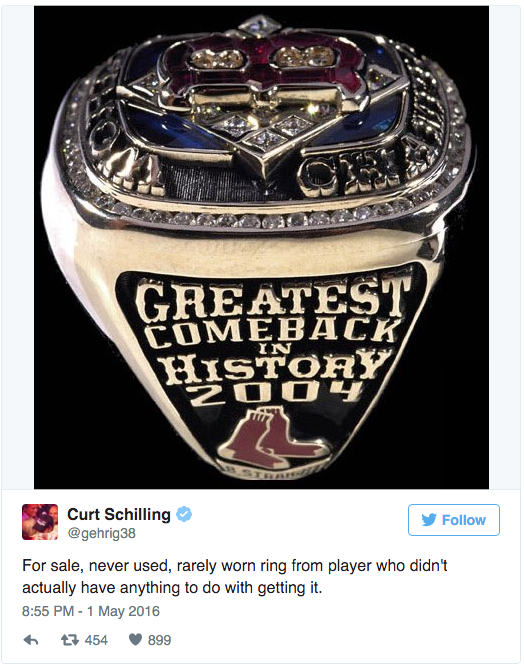 For its part, ESPN had a simple explanation: the softball game which led in to the documentary ran long and they needed to cut someplace. Which makes some sense. It's probably also worth noting that decisions about programming on their secondary network on a sleepy Sunday afternoon are not likely made in a board room by mustache-twirling villains. If ESPN really has it in for Schilling at this point, that's a rather random and passive aggressive way to show it. My gut instinct is that this is just a coincidence.
But when it's ESPN and Schilling it's understandable when people assume there's something more to it than coincidence. Both sides have, in the past, behaved in curious enough ways with respect to innocuous things that the benefit of the doubt is not something which is likely to be given automatically by some. Especially in Boston.