A day after getting fired it appears that Curt Schilling is making up for lost time on social media. I don't follow the guy on any platform, but the Daily News has been playing close attention and describe his "social media bender." 
He's been posting right wing memes and railing against political correctness and, in the usual ironic twist guys like Schilling often exhibit, is being highly, highly sensitive to criticism in that "me, mad? hahaha, no, I think this is funny, I'm actually laughing at this right now" kind of way which, in reality, masks some pretty decent outrage.
Best bit: he's been mixing it up with Dodgers pitcher Brandon McCarthy. McCarthy has been intellectual and respectful and is holding an actual debate. Schilling decided that he'd insult McCarthy by claiming that McCarthy's "life goes on" stance was some sort of failure on par with his having "only" nine career complete games: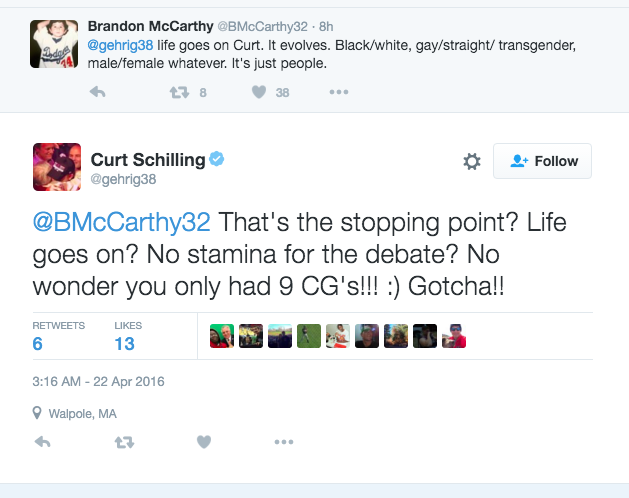 So yeah, that's all going well. Glad Schilling is keeping busy. And mature.
(Thanks to Josh for the heads up. Schilling blocks me so I didn't see any of this)