Here are the scores. Here are the highlights:
Mets 11, Phillies 1: Last time out, facing the Padres, Vince Velasquez looked like Walter Johnson. This time out, facing the Mets, he looked . . . less like that. Five runs on five hits including a couple of dingers. The pen fared worse. It happens. Good young pitchers will break your heart as often as they'll dazzle your senses and rebuilding teams get shelled by pennant-winning teams more often than they don't. Neil Walker hit two bombs, BTW.
Brewers 6, Twins 5: Milwaukee had a 5-2 lead in the bottom of the eighth and then blew it by allowing three runs. Then, in the ninth, Scooter Gennett hit a tiebreaking single to bring the Brew Crew back. Same basic thing happened to them against the Cardinals last week. If the Brewers end up having a mediocre year like most expect, it will mean little. If they exceed expectations, they'll get a rep as "the Comeback Kids" or something. Narratives are fun.
Indians 3, Mariners 2: When people talk about how the Indians have a bright future, that talk almost always centers on Francisco Lindor and their good pitching. Both of those things were on display yesterday in Cleveland. Lindor had three hits, scored a run, drew a bases-loaded walk and flashed some fantastic leather. Meanwhile, Carlo Carrasco allowed one run on four hits in six and a third. He wasn't as sharp as a tack, but that can be excused as early in the game he tweaked his ankle or foot when stepping awkwardly on the bag covering first base. He powered through, though.
Blue Jays 4, Orioles 3: Three in a row for the Jays while the O's have dropped four of five. Streaky teams are fun for everyone except the people who root for streaky teams in which case it's pass-the-Pepto time.
Athletics 3, Yankees 2: Jed Lowrie had four hits, including a double in the 11th inning which set up a Mark Canha single which put the A's ahead for good. Canha needed that hit as he's been struggling mightily.
Rays 3, Red Sox 0: All zeros for both teams until the tenth inning when Kevin Kiermaier homered. The Rays added two more insurance runs. It was a tough no-decision for Drew Smyly, who tossed eight one-hit shutout innings while striking out 11, but he got to celebrate all the same. In other news, Kiermaier is the first winner of the HardballTalk "Cool Clutch Cat Award," which is a photo of my adorable kittens given to a cool clutch player. Actually, for reasons explored this past offseason, Kiermaier will be the only player who ever gets the award, because it apparently annoys him that a grown man can love cats. So: going forward, any time Kiermaier does something cool, Rosie, Lucy and Scully Calcaterra will be his award. He should consider himself lucky and blessed, as my cats are really frickin' amazing. Here you are Kevin: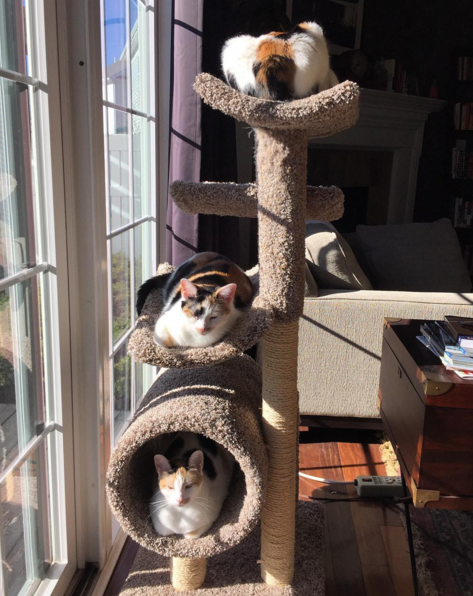 I hope Kiermaier has a great year, because I have a LOT of pictures of my cats.
Braves 8, Dodgers 1: Break up the Braves, the hottest team in baseball! Five of their pitchers, most of whom even their mothers couldn't pick out of a police lineup, stymied the Dodgers bats and Tyler Flowers and Mallex Smith each drove in three. The Dodgers played like clown shoes: three errors, two hit batsmen, a wild pitch and a passed ball.
Reds 4, Rockies 3: The Reds stole five bases. In a single inning, the second. Jay Bruce had two of them. All the more amazing is that Jorge De La Rosa is a lefty and lefties are supposed to be able to control the running game better given that they face first base from the stretch. Maybe he De La Rosa is suffering from that autoimmune disorder the woman who wrote "Brain on Fire" had and everything in one hemisphere was off-kilter. Unlikely, but we can't rule anything out.
Nationals 7, Marlins 0: Can we just give Bryce Harper his second MVP award already? It's early and all, but holy cats is he good. He was "only" 1-for-4 here but that 1 was a grand slam. He's on pace for 87 homers and 249 RBI. He probably won't reach those totals — and his 75 strikeout pace seems somewhat unsustainable in this day and age — but he is doing pretty well this year.
Royals 8, Tigers 6: Sal Perez homered and drove in five. I wish he would've credited his offseason raise for the production with some kind of flip "hey, you get what you pay for" quip. He's already a leader, now let's see him be a strong union man.
Rangers 7, Astros 5: I went to Texas a lot in the past four years and came to like a whole lot about it. Busting stereotypes is a good thing and I highly recommend you all do it. Downside: I can't use my old "Rangers and Astros to play in the Battle for Texas; loser gets stuck with Texas" joke. Oh well. Prince Fielder and Mitch Moreland homered.
White Sox 5, Angels 0: Mat Latos continues his amazing early season run, tossing shutout ball into the seventh and lowering his ERA to 0.49. I may have to consider giving him a Cool Clutch Cat Award at some point too, but not to taunt him. He likes cats, as many might remember, and even owns a cat named Cat Latos, which is a special kind of amazing.
Cubs 2, Cardinals 1: Jason Hammel allowed one run over six innings and drove in the Cubs' only two runs. Hammel has actually allowed fewer runs than he's driven in on the season. Ban the DH.
Padres 5, Pirates 4: Nic Cage in "Wicker Man" except instead of "not the beeeees!!!!" it's "not the balllllkss!!" Gonna go to my grave believing that Cage is the greatest actor of my lifetime, by the way. You watch: in a few years there will be some crazy reevaluation of him as a hidden genius.
Diamondbacks 3, Giants 0: Robbie Ray comes up big for the Snakes, tossing six shutout innings and striking out eight. Matt Cain looked good for a while but then ran out of gas in the fifth. We talk about spring training being too long for a ton of reasons, but pitchers really do need it.