At some point you learn not to get baited. It's a hard lesson to learn. I'm an old man who has been in the trolling game since before some of you were born, and even I get baited into making a dumb argument when silence or an eye roll would be the wiser choice. It happens. If you're a 21-year-old kid, though? God help you. You'll learn eventually, but in the meantime you're gonna take the bait more often than you don't.
That's the story of Rays minor leaguer Brent Honeywell, who took to Twitter today to respond to Bryce Harper's "Make Baseball Fun Again" hat from yesterday's postgame. Harper, of course, set off a new round of "Respect the Game" politics last month with an interview in ESPN the Magazine. That made a bunch of old coots angry and they raged for a bit and then, as it always does, it died down. This hat is a sly wink wrapped up in a Donald Trump joke, not a new offensive in this long and brutal war. Even if you're so crusty that you think Goose Gossage is a baseball-hating wuss, you'd probably, at best, think that Harper is a fool and go on with your day.
Not Honeywell. His account is here. I'll present his tweets as screencaps, because I feel like this one ends up with the Rays PR department telling him to delete the tweets: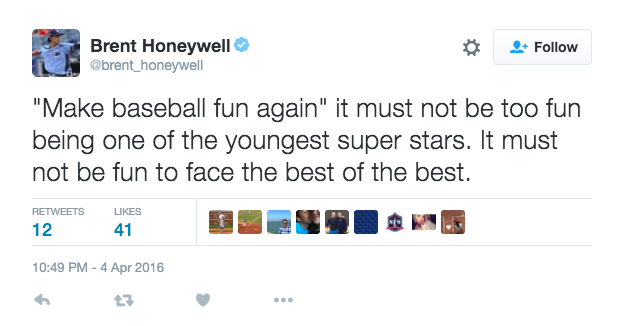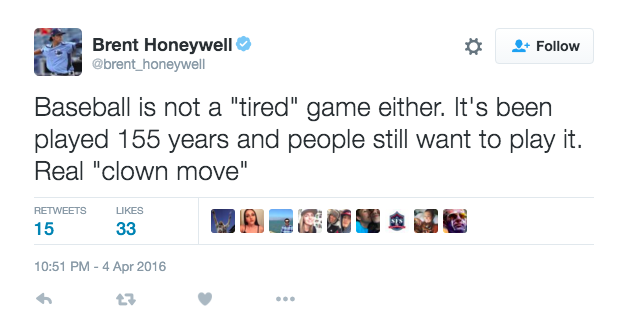 It seems he may have already deleted a tweet in which he suggested that Bryce Harper — a man who, while not that much older than Honeywell, DOES happen to be the reigning MVP — "respect the game a little bit."
Godspeed, Brent. I hope, as one of your tweet replies said, that you get to face Bryce Harper one day. I imagine that would be pretty interesting.